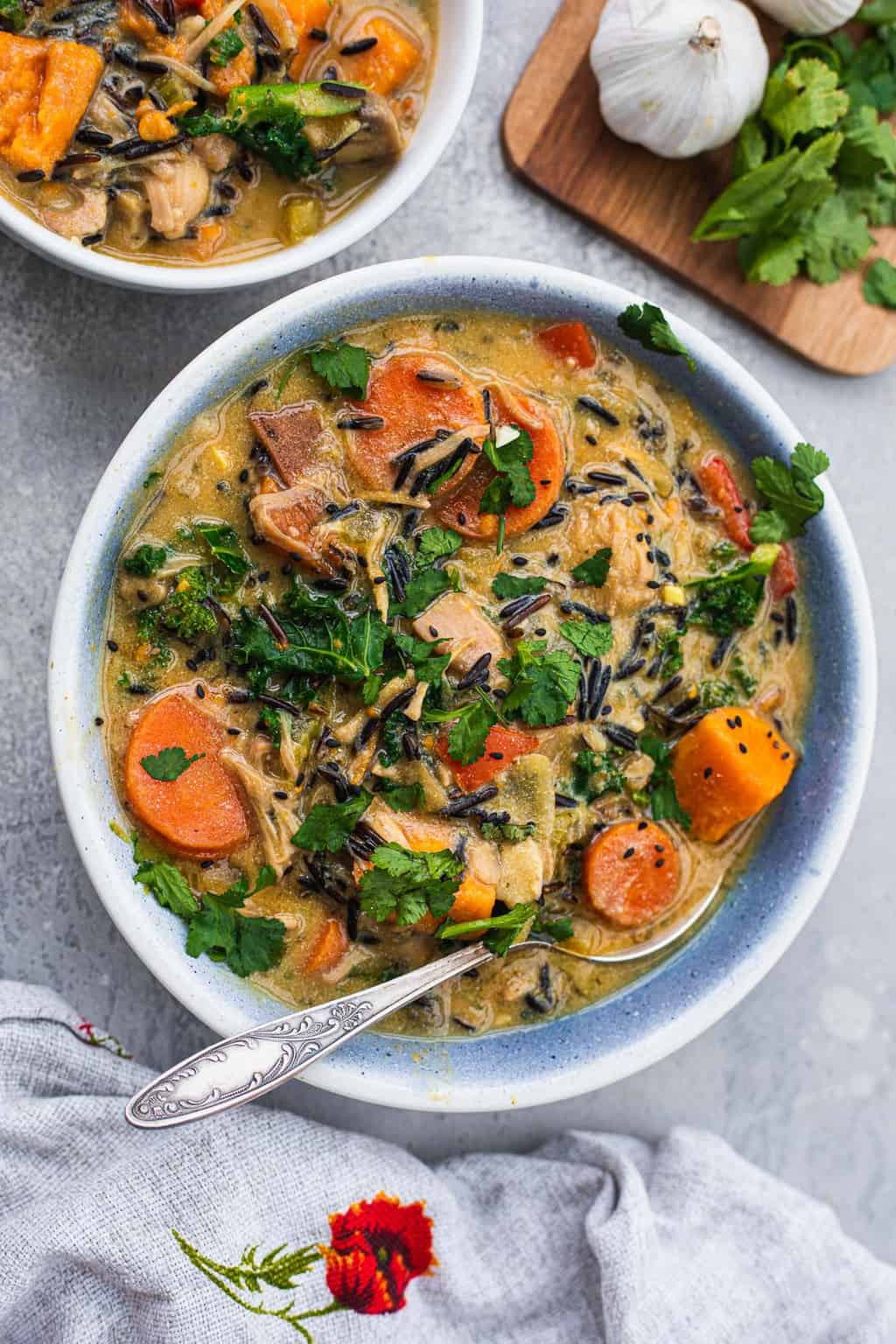 Vegan Wild Rice Soup With Jackfruit Recipe
By Earth of Maria
Ingredients
1 medium onion, chopped
2 cloves garlic, minced
1 large carrot, peeled and chopped
1 medium red bell pepper, chopped
2 ribs celery, chopped
1 1/2 cups button mushrooms, chopped
1 can jackfruit, (400g) drained and rinsed
1 tsp cumin
1 tsp onion granules
1 cup wild rice, uncooked
1 large sweet potato, (around 1lb/500g)
5 cups vegetable stock, (vegetable broth)
3 tbsp tamari
2 cups kale, de-stemmed and chopped
salt, to taste
2 1/4 cups plant based milk, unsweetened
1/2 cup buckwheat flour
Instructions
1Sauté the onion and the garlic in a non-stick saucepan for around 3-4 minutes, until fragrant.
2Add the carrots, red bell pepper, celery and mushrooms. Continue to sauté, adding a splash of water if necessary, for a further 3-4 minutes, until the vegetables soften.
3Add the jackfruit, cumin and onion granules, stirring for 2 minutes to coat.
4Add the wild rice and the sweet potato, also pouring in the vegetable stock. Bring to a boil, then simmer uncovered over a medium heat for around 45 minutes, until the rice is tender. Add more vegetable stock if necessary.
5Around 10 minutes before the end of the cooking process, prepare the cream. Add the flour and around 1/4 cup of the plant based milk to a non-stick frying pan and stir for a minute to combine. Then, pour in the rest of the milk and whisk until the cream thickens. This should take around 5 minutes.
6Transfer the cream to the saucepan and stir it in to combine together with the tamari and kale. Continue stirring until the kale wilts. Season to taste with more salt if necessary before serving.
View Full Recipe
Top Vegan Recipe Resources
🥑