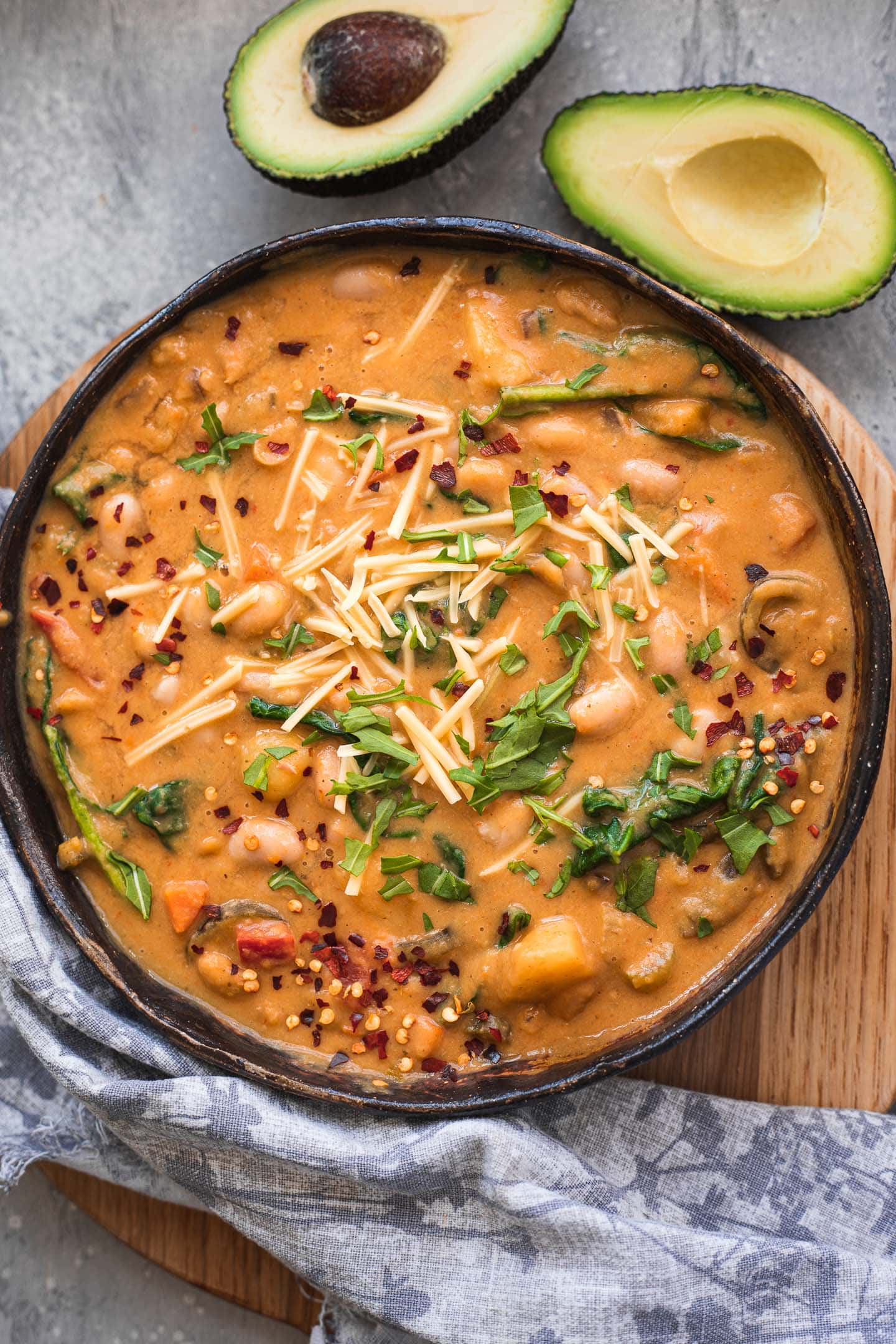 Vegan White Bean Chili Recipe Recipe
By Earth of Maria
🔪Prep Time: 0 mins
👩‍🍳Cook Time: 35 mins
Ingredients
1 tbsp olive oil
3 tbsp red chilies, de-seeded and chopped
2 cloves garlic
1 large onion, diced
1 cup celery, chopped
1 cup red bell pepper, diced
1 large carrot, peeled and chopped
1 tsp paprika
1 tsp garlic powder
3 1/2 oz tinned jalapenos, drained
2 1/2 cups cannellini beans
2 tbsp soy sauce
3 cups potatoes, peeled and diced
3 cups vegetable broth
1/4 cup nutritional yeast
1/2 tsp salt
2 tbsp cornstarch
3 cups spinach
Instructions
1Start by heating the olive oil in a large saucepan or wide frying pan over a medium-high heat, then add the chilli peppers, garlic, and onion. Cook for 5 minutes, until softened and fragrant.
2Add the celery, peppers, carrots, cumin, paprika and garlic powder. Continue cooking for a further 4-5 minutes, until the vegetables soften.
3Add the jalapeno peppers, cannellini beans, soy sauce, potatoes, vegetable broth and nutritional yeast. Bring to a simmer and cook, stirring frequently, for around 15 minutes, until the potatoes are fork tender. Add more vegetable broth if it starts to look too dry.
4Carefully pour 1/2 of the chili into a blender or food processor. Blend until smooth, then return back to the pan together with salt and cornstarch, and simmer for a further 5 minutes, stirring frequently.
5At the end, stir in the spinach and serve once the spinach wilts.
View Full Recipe
Top Vegan Recipe Resources
🥑