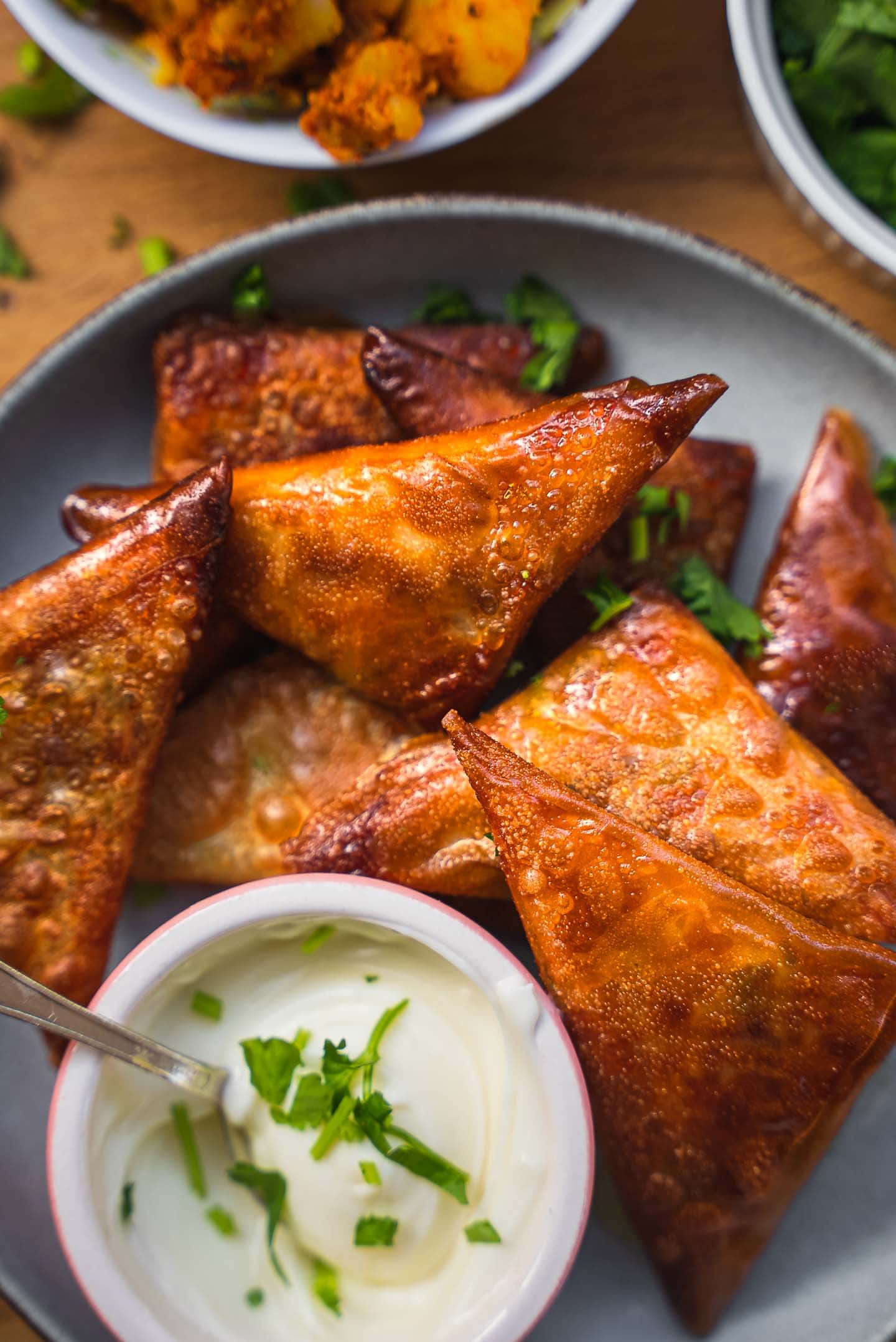 Vegan Samosas Recipe Recipe
By Earth of Maria
🔪Prep Time: 50 mins
👩‍🍳Cook Time: 25 mins
Ingredients
▢ 3 medium potatoes, (around 1lb total)
▢ 1 tbsp vegetable oil
▢ 1 tbsp coriander seeds
▢ 1 tbsp cumin seeds
▢ 2 tbsp ginger, grated
▢ 2 cloves garlic, minced
▢ 1 tsp garam masala
▢ 1 tsp cumin
▢ 1 tsp paprika
▢ 1 cup green peas
▢ 1 tbsp tomato paste
▢ 4 sheets filo pastry
▢ 2 tbsp plant based milk, (optional, for baking)
▢ 2 tbsp sesame seeds, (optional, for baking)
▢ vegetable oil, for frying
Instructions
1Place the whole potatoes in a large saucepan of water, cover and cook for around 30 minutes, or until fully fork-tender all the way through.
2When cool enough to handle, transfer the potatoes to a bowl and peel them. Then, mash them roughly using a potato masher or a fork. You don't want to mash them too much – they should still have a good amount of texture.
3Add the vegetable oil or olive oil to a large pan over a medium heat. Add the coriander seeds, cumin seeds, ginger and garlic. Cook for 4-5 minutes, stirring frequently, until fragrant.
4Add the mashed potatoes, garam masala, paprika, cumin, green peas and tomato paste. Stir together thoroughly and then continue stirring for a few minutes more, until all the ingredients are well-combined. Season with salt and pepper, remove from the heat and set aside.
5Refer to the step-by-step photos above and the recipe video for visual instructions on how to fold the samosas. Place the filo pastry sheets on a large, lightly floured surface and stack them on top of each other. Use a pair of kitchen scissors to divide them into long strips around 10cm in width.
6Take one of the pastry strips and set the others aside, making sure to cover them with a dish cloth so that they don't dry out. Fold in the bottom corner of the pastry strip so that it forms a triangle, then repeat the same motion two more times, going in opposite directions.
7Now gently pick up the pastry and place 2 tbsp of the filling in between the folds. Place it back down on the work surface and use your fingers to seal it together.
8Now continue folding in the same motion until you reach the end of the strip and one triangle remains. Dip your finger lightly in some water, run it around the edges of the triangle, and then seal the samosa. Trim off any excess pastry.
9TO FRY: Add a thin layer of olive oil to the bottom of a large, flat skillet. Allow it to warm up over a medium-high heat for a couple of minutes, then use a pair of kitchen tongs to place the samosas inside the skillet. Cook them for around 2-3 minutes, then flip and cook for a minute more, until crispy and golden brown. Transfer to a kitchen towel to allow any excess oil to drip off.
10TO BAKE: Preheat the oven to 180 degrees C/350 F. Place the samosas on a large baking tray lined with parchment paper. Brush lightly with plant based milk and sprinkle with sesame seeds, then bake in the preheated oven for 25 minutes, until crispy.
View Full Recipe
Top Vegan Recipe Resources
🥑