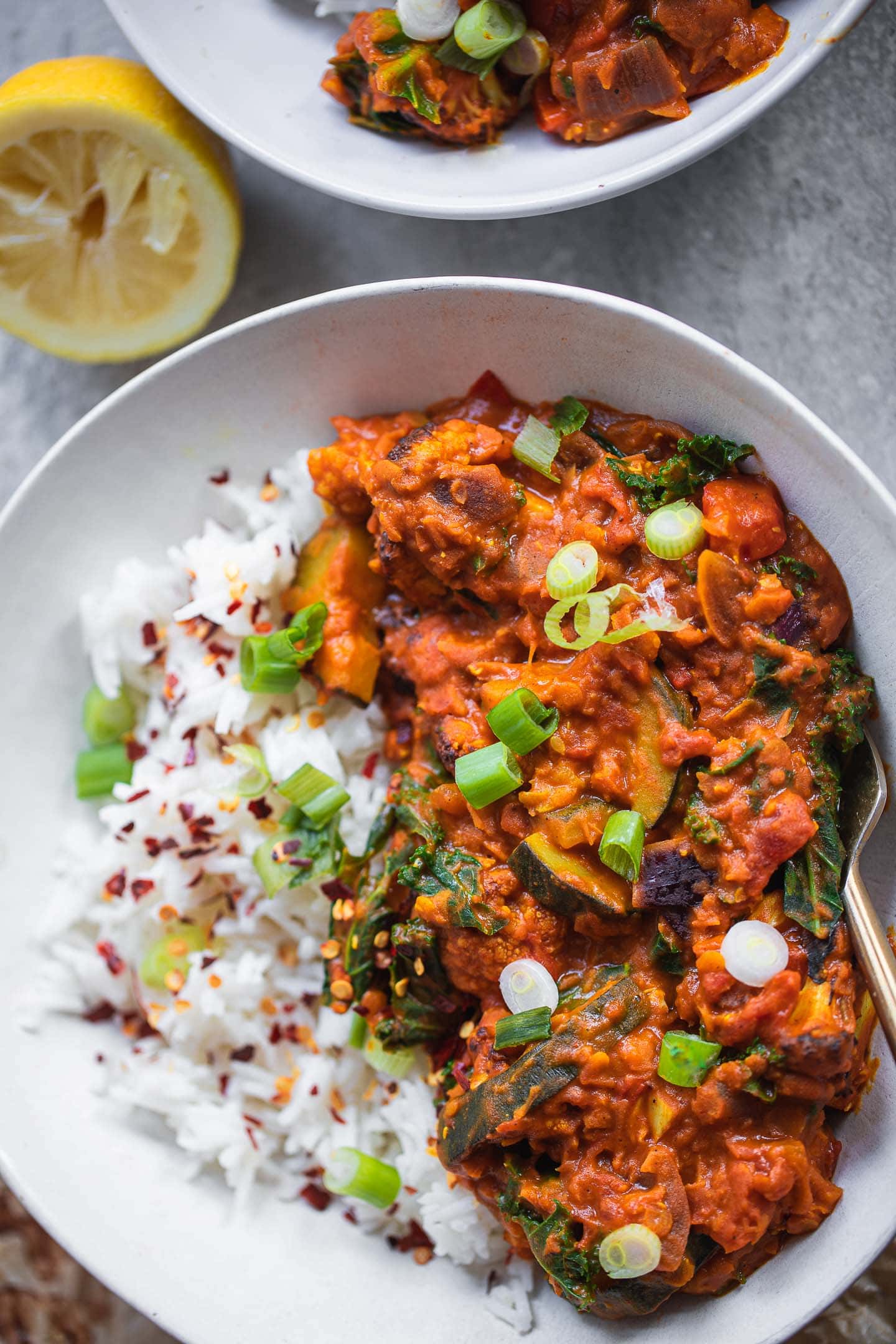 Vegan Red Lentil Cauliflower Dahl Recipe
By Earth of Maria
🔪Prep Time: 2 mins
👩‍🍳Cook Time: 25 mins
Ingredients
3 cups cauliflower florets
1 medium red onion, diced
1/2 medium zucchini, chopped
3 cloves garlic, minced
1 medium red bell pepper, diced
2 tbsp tomato paste
3/4 cup red lentils
1 tbsp curry powder
1/2 tsp turmeric
1 tsp paprika
1 tsp garam masala
1 tsp cumin
1 can tomatoes, 14 oz
1 can coconut milk, 14 oz
2 tbsp tamari
2 cups kale, de-stemmed and chopped
salt and pepper, to taste
Instructions
1Preheat the oven to 200 degrees C (400 F) and line a baking tray with parchment paper. Add cauliflower florets to the baking tray and roast for 20 minutes.
2Add the red onion, zucchini and garlic to a pan over a medium-high heat. Cook for 2-3 minutes, until softened. Now, add the bell pepper and tomato paste, cooking for 2 minutes more.
3Add the red lentils, curry powder, turmeric, paprika, garam masala and cumin. Stir together, then add the tinned tomatoes, coconut milk and tamari. Simmer, stirring occasionally, for 15 minutes, until the lentils soften.
4Stir in the roasted cauliflower and kale, simmering for 5 minutes more or until the kale wilts.
5Season to taste with salt and pepper before serving.
View Full Recipe
Top Vegan Recipe Resources
🥑