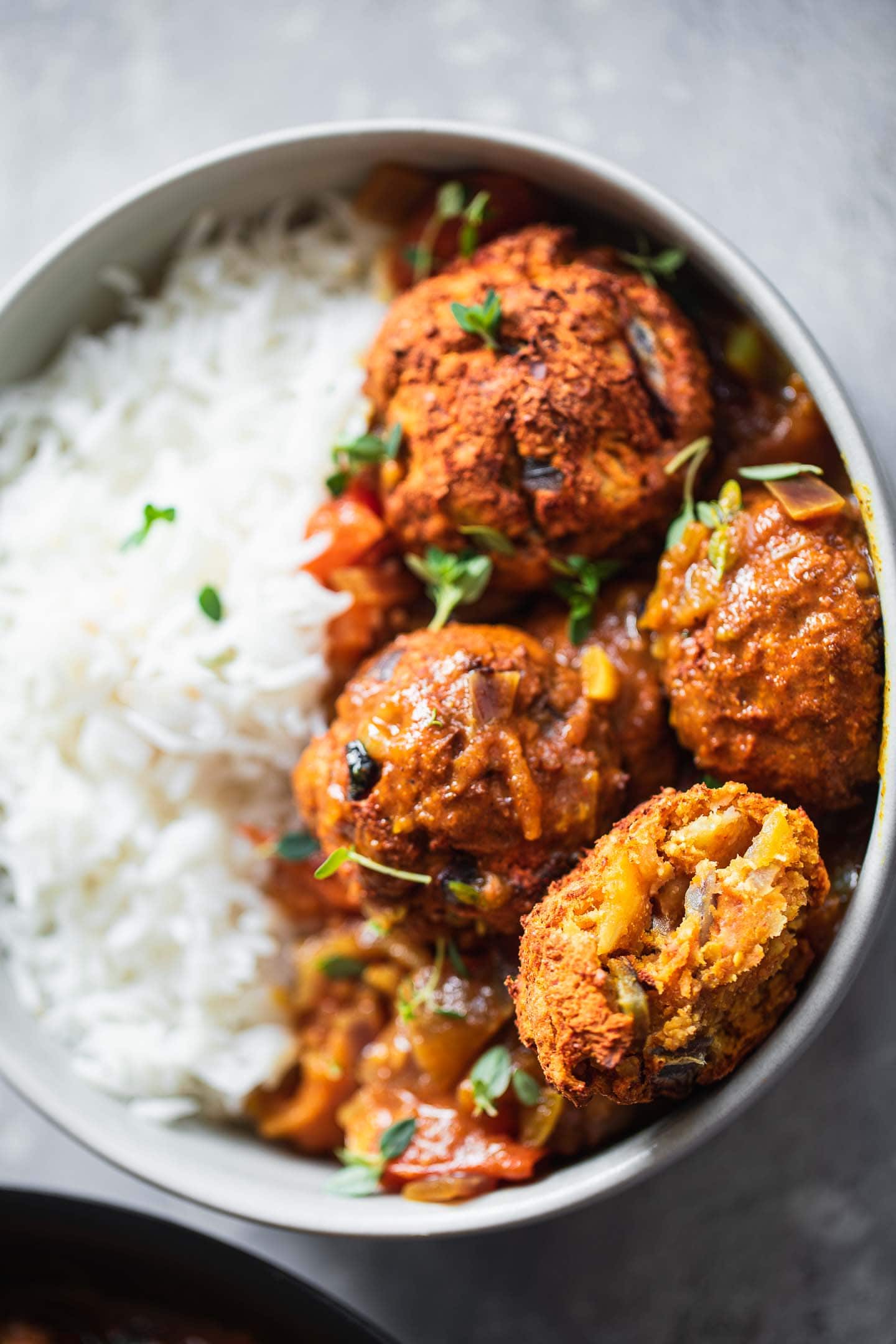 Vegan Lentil Meatballs In Curry Sauce Recipe
By Earth of Maria
🔪Prep Time: 25 mins
👩‍🍳Cook Time: 30 mins
Ingredients
1/2 cup red lentils
3 small potatoes, peeled and chopped , (about 300g or 10oz)
2 flax eggs
1/2 medium red onion, chopped
2 tbsp tomato paste
1 tbsp nutritional yeast
1/4 cup buckwheat flour
1 tbsp tamari
1/2 medium red onion, chopped
2 cloves garlic, minched
250 g vine tomatoes
2 tsp garam masala
1 tbsp curry powder
1/2 tbsp turmeric
1/2 tsp salt
1 cup full-fat coconut milk
Instructions
1Cook the red lentils for around 10 minutes, until they're soft but not mushy.
2At the same time, boil peeled and chopped potatoes until fully cooked through, which should take around 12-15 minutes.
3Preheat the oven to 180 degrees C (400 F) and line a baking tray with parchment paper.
4Mash the potatoes when done, then add them to a large mixing bowl together with the cooked lentils and the flax eggs, red onion, tomato paste, turmeric, nutritional yeast, buckwheat flour and tamari. Mix everything together well.
5Then, roll the mixture into even-sized balls. Make sure your hands are slightly damp to prevent sticking. The measurements in the recipe card below are enough for 8-9 large meatballs.
6Arrange the meatballs on the baking tray and bake in the preheated oven for 25-30 minutes, until golden and crispy on the outside.
7While the lentil meatballs are in the oven, start preparing the curry sauce. Add the onion and garlic to a non-stick pan and cook for 2-3 minutes to soften.
8Add the tomatoes, garam masala, curry powder, turmeric and salt. Cook for 4-5 minutes, until fragrant and the tomatoes soften.
9Add the coconut milk and simmer, stirring frequently, over a medium heat for around 15 minutes.
View Full Recipe
Top Vegan Recipe Resources
🥑