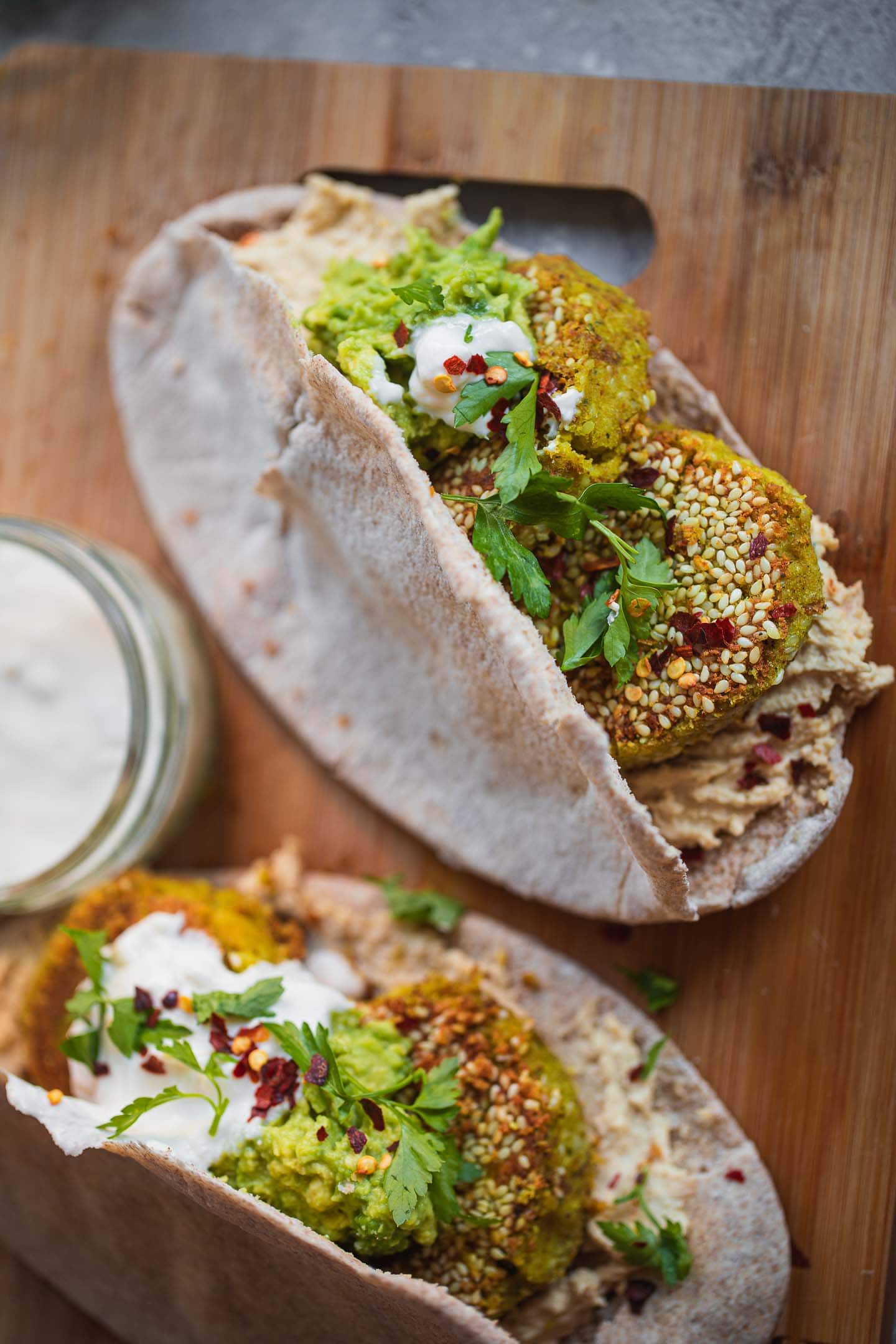 Vegan Falafel (Gluten-Free) Recipe
By Earth of Maria
🔪Prep Time: 5 mins
👩‍🍳Cook Time: 25 mins
Ingredients
1 cup dried chickpeas, or 3 cups (2 cans) canned chickpeas
1 medium onion, diced
3/4 cup chopped cilantro
3 cloves garlic
1/2 cup sesame seeds
3 tbsp buckwheat flour
1 tbsp rice flour
1/2 tsp turmeric
1 tsp cumin
1 tbsp dried basil
1 tsp salt
1/2 tsp smoked paprika
1 tbsp olive oil
1/2 lemon, juice of
Instructions
1If you are using dried chickpeas, soak them in cold water for at least 3 hours, or overnight. Drain and rinse them, and pat them dry with a paper towel.
2If using canned chickpeas, drain and rinse them, and pat them with a paper towel, making sure they are as dry as possible.
3Transfer the chickpeas to a blender or food processor together with the onion, cilantro, garlic, sesame seeds, buckwheat flour, rice flour, turmeric, cumin, dried basil, salt, smoked paprika, olive oil, and lemon juice. Set aside 1/4 cup of the sesame seeds to coat the falafel. Blend on a low setting for a few seconds, until mostly smooth, but with a bit of texture left.
4Scoop out around 2-3 tbsp of the mixture per falafel and shape them using your hands. If they stick, dip your hands in a little bit of flour before shaping. Dip the falafel in the sesame seeds on both sides and lay them out on a flat surface.
5To fry: To make fried falafel, heat a thin layer of olive oil or avocado oil in a large flat pan or skillet. Add the falafel to the pan, working in batches if necessary – it's important not to overcrowd the pan. Fry for around 2-3 minutes on one side, then flip and fry for 2 minutes more, until crispy and browned.
6To bake: If you want to make baked falafel, preheat the oven to 180 degrees C (350F) before blending. Lay out the falafel on a large baking tray lined with parchment paper. Bake in the preheated oven for 25 minutes, flipping half way through.
View Full Recipe
Top Vegan Recipe Resources
🥑