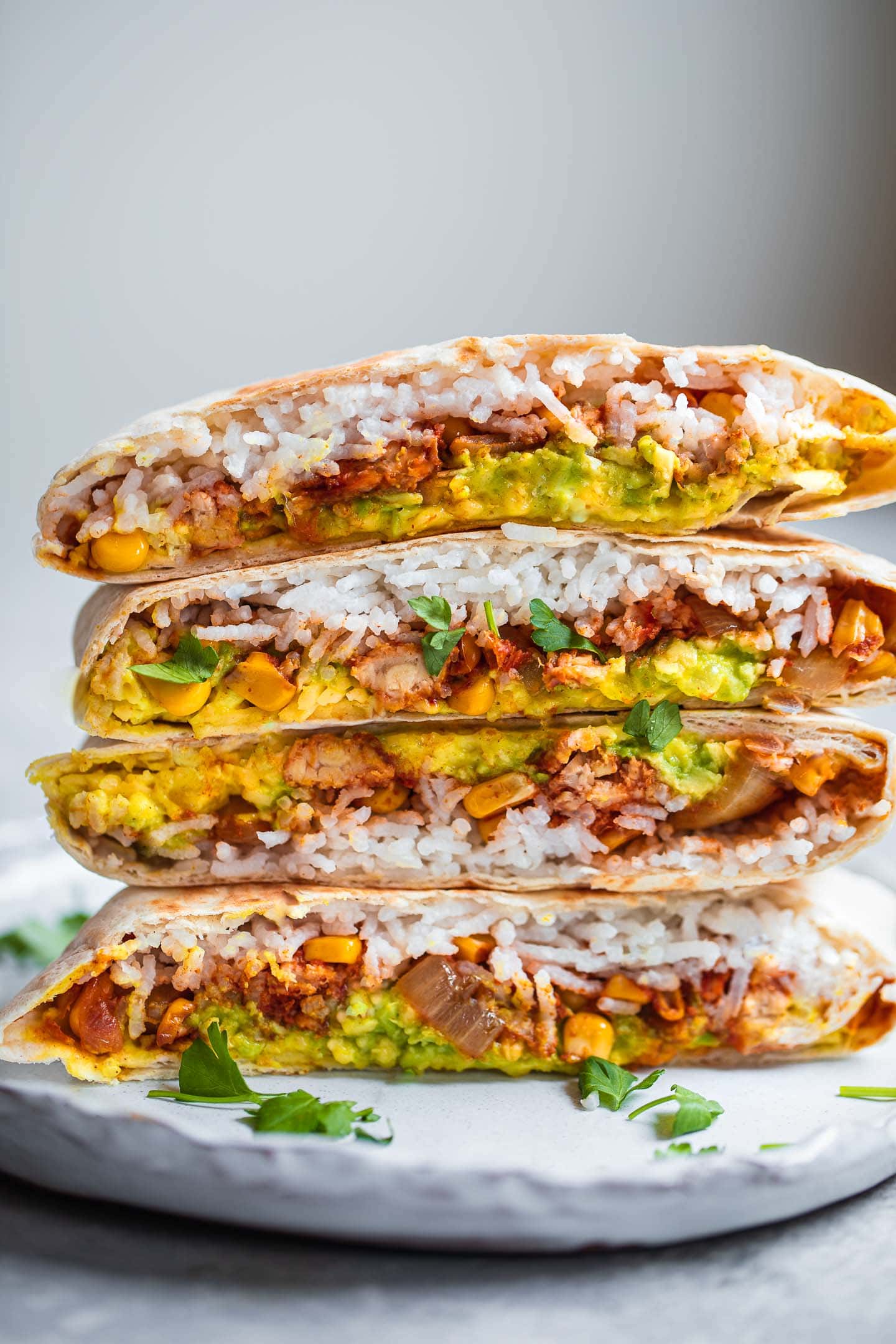 Vegan Crunchwrap Supreme Recipe
By Earth of Maria
🔪Prep Time: 10 mins
👩‍🍳Cook Time: 15 mins
Ingredients
1 tbsp olive oil
1 medium onion, diced
2 cloves garlic, minced
5 oz tempeh, crumbled
1/2 cup fresh sweetcorn
2 tbsp tomato paste
2 tbsp tamari
1 tsp cumin
1 tsp smoked paprika
1/2 cup coconut milk, full-fat, from a tin
1/2 tsp turmeric
1/2 tsp salt
3 tbsp nutritional yeast
1 tbsp apple cider vinegar
2 tbsp cornstarch
1/2 cup cooked rice
1 large avocado, mashed
1/4 cup vegan cheese, grated
Instructions
1Heat the olive oil in a non-stick frying pan over a medium-high heat. Add the onion and garlic, cooking for 2-3 minutes, until softened.
2Add the tempeh, sweetcorn, tomato paste, tamari, cumin and smoked paprika. Cook for 5 minutes, until the tempeh is lightly crispy.
3Add the coconut milk, turmeric, salt, nutritional yeast, apple cider vinegar and cornstarch to a saucepan. Whisk until the 'cheese' thickens.
4Place a large tortilla on a flat surface and add 3-4 tbsp rice in the middle, spreading it out into a circle.
5Add smoked tempeh on top, followed by a layer of mashed avocado. Finish with the homemade nacho 'cheese', and a sprinkle of grated vegan cheese.
6Place a smaller tortilla on top and press down lightly. You can either buy a small tortilla at the store, or make your own by placing a round cup or cookie cutter in the centre of a large tortilla and cutting around the edges.
7Fold the edges of the tortilla towards the centre until completely sealed. Press it down once again and flip.
8Now use a spatula to transfer the Crunchwrap to a lightly greased frying pan. Cook for 3-4 minutes on each side over a medium-high heat, until crispy.
View Full Recipe
Top Vegan Recipe Resources
🥑