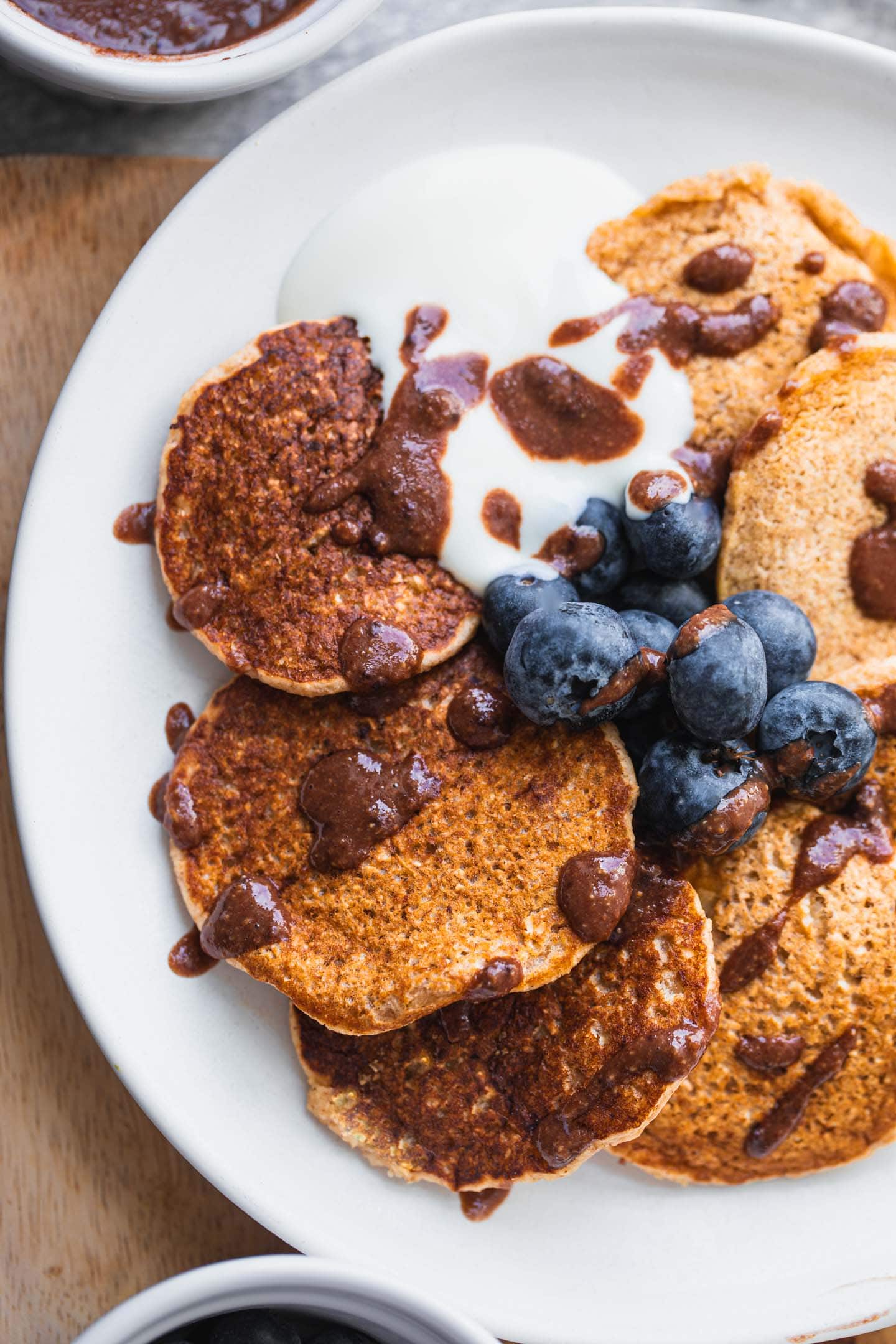 Vegan Cinnamon Pancakes With A Chocolate Sauce Recipe
By Earth of Maria
🔪Prep Time: 5 mins
👩‍🍳Cook Time: 15 mins
Ingredients
1 cup gluten-free oat flour
1/2 tsp cinnamon
1 tsp baking powder
1 tbsp apple cider vinegar
1/4 tsp vanilla extract
1/4 cup apple sauce
1/4 cup soy yoghurt
2 tbsp maple syrup
2 tbsp almond butter
1/2 tbsp cacao powder
1 tbsp maple syrup
3 tbsp plant based milk
Instructions
1Add the oat flour, cinnamon, baking soda, plant based milk, apple cider vinegar, vanilla extract, apple sauce, soy yoghurt and maple syrup to a mixing bowl and mix together thoroughly using a spatula or a spoon. Make sure there are no lumps remaining in the batter.
2Preheat a large, non-stick frying pan over a medium-high heat. You can use a little bit of oil or cooking spray if you want, to prevent sticking. Pour out around 2 tbsp batter per pancake and cook for 2 minutes, until golden brown around the edges.
3Flip and cook for a further minute on the other side.
4While the pancakes are cooking, making the chocolate sauce by whisking together the almond butter, cacao powder, maple syrup and plant based milk. Serve on top of the pancakes.
View Full Recipe
Top Vegan Recipe Resources
🥑