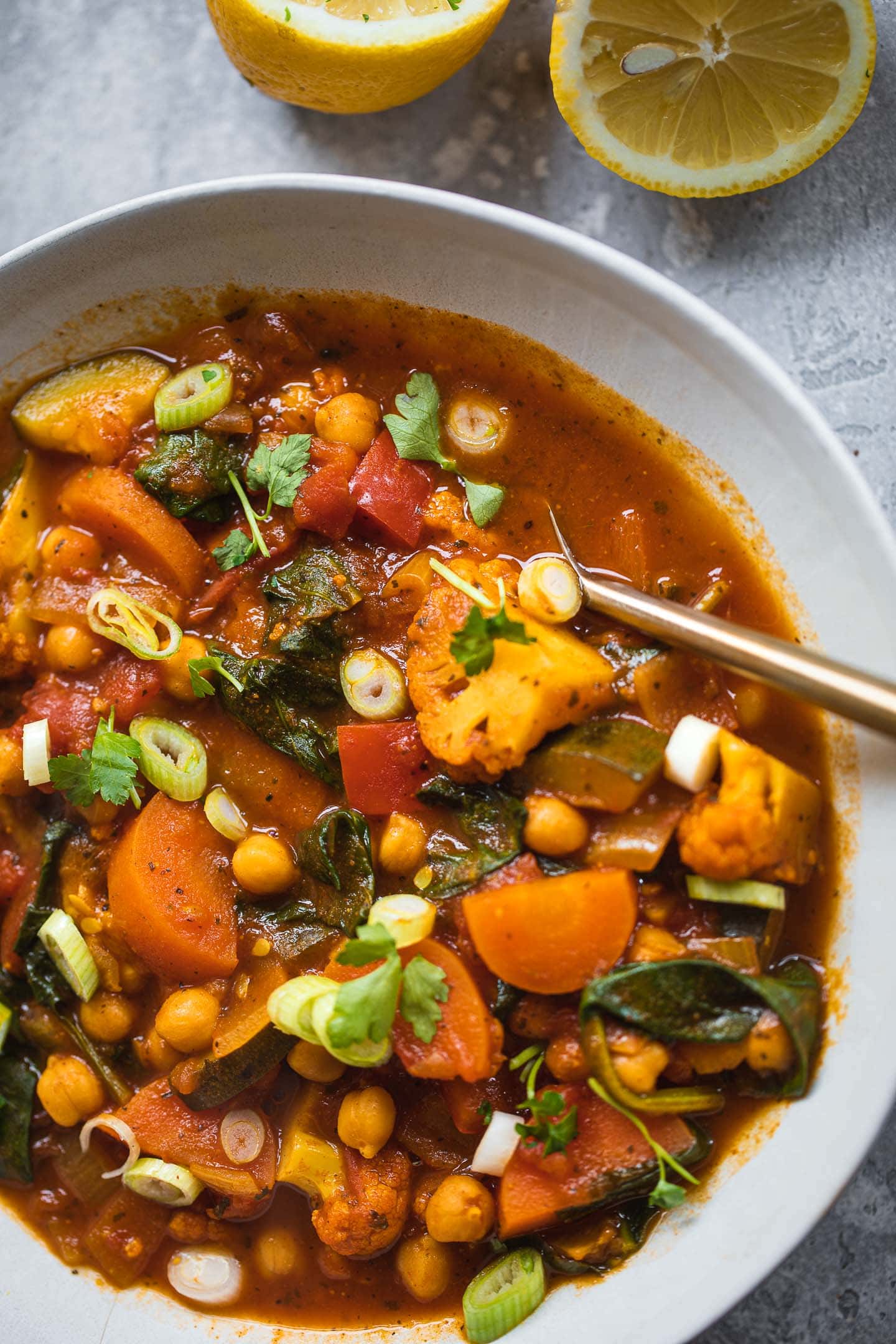 Vegan Chickpea Stew Recipe
By Earth of Maria
🔪Prep Time: 0 mins
👩‍🍳Cook Time: 27 mins
Ingredients
1 tbsp olive oil
1 large onion, diced
2 cloves garlic, minced
2 large carrots, peeled and chopped
2 large bell peppers, diced
3 tbsp tomato paste
3 cups cauliflower, florets
1 large zucchini, chopped
7 oz tomatoes, diced
2 tsp smoked paprika
1 tsp cumin
1/2 tsp turmeric
2 cans chickpeas, (1 1/2 cups or 14 oz cooked chickpeas)
2 cans tinned tomatoes, (14 oz)
3 cups veggie broth
2 tbsp tamari
1 tbsp dried basil
1 tbsp dried thyme
1 tbsp maple syrup
2 cups spinach
Instructions
1Heat olive oil in a pan over a medium heat, adding the onion and garlic. Cook for 2-3 minutes to allow them to soften.
2Add the carrots and bell peppers together with the tomato paste, cooking for 3-4 minutes more.
3Now add the cauliflower, zucchini and tomatoes. Stir the vegetables together, then add the paprika, cumin and turmeric. Cook for around 5 minutes, stirring frequently.
4Add the chickpeas, tinned tomatoes, veggie broth, tamari, dried basil, dried thyme and maple syrup. Simmer for 15 minutes, stirring occasionally. You may wish to add more veggie broth if necessary to achieve your desired thickness.
5At the last minute, stir in the spinach and serve with rice or any other side of your choice when it wilts.
View Full Recipe
Top Vegan Recipe Resources
🥑