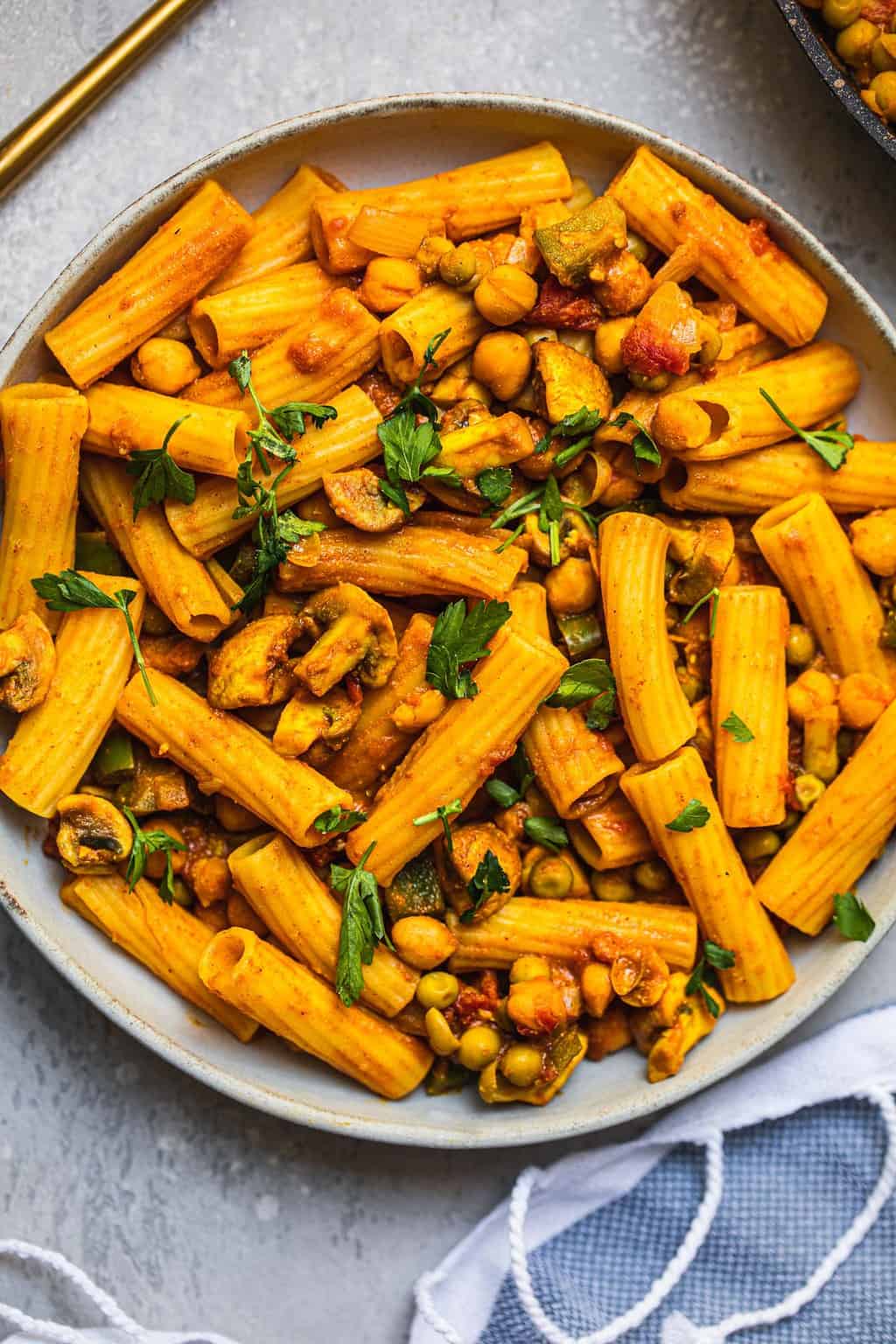 Vegan Chickpea Pasta With Mushrooms Recipe
By Earth of Maria
Ingredients
2 cups gluten-free pasta, of choice
1 medium onion, chopped
1 medium green bell pepper, chopped
2 tbsp tomato paste
1 cup chestnut mushrooms, chopped
1 tsp turmeric
1 tsp cumin
1 tsp garlic granules
1 tin chickpeas, drained and rinsed
1/2 cup chopped tomatoes
1/2 cup plant based milk, unsweetened
2 tbsp nutritional yeast
1/2 cup green peas
1/2 tsp sea salt, or to taste
Instructions
1Cook the pasta according to packaging instructions until al dente.
2Meanwhile, add the onion, garlic and tomato paste into a non-stick frying pan together with a splash of water (around 2 tbsp). Sauté for 2-3 minutes, until softened and fragrant.
3Add the mushrooms, turmeric, cumin, and garlic granules. Continue to sauté for a further 3-4 minutes, until the mushrooms start to cook down and soften.
4Add the chickpeas, chopped tomatoes, plant based milk and nutritional yeast. Simmer and stir over a medium heat for around 5 minutes to allow the sauce to thicken slightly.
5Drain and rinse the pasta. Transfer it to the frying pan and stir it through the sauce together with the green peas, seasoning with sea salt.
6Serve immediately, or divide between meal prep containers and store in the fridge for up to 5 days.
View Full Recipe
Top Vegan Recipe Resources
🥑