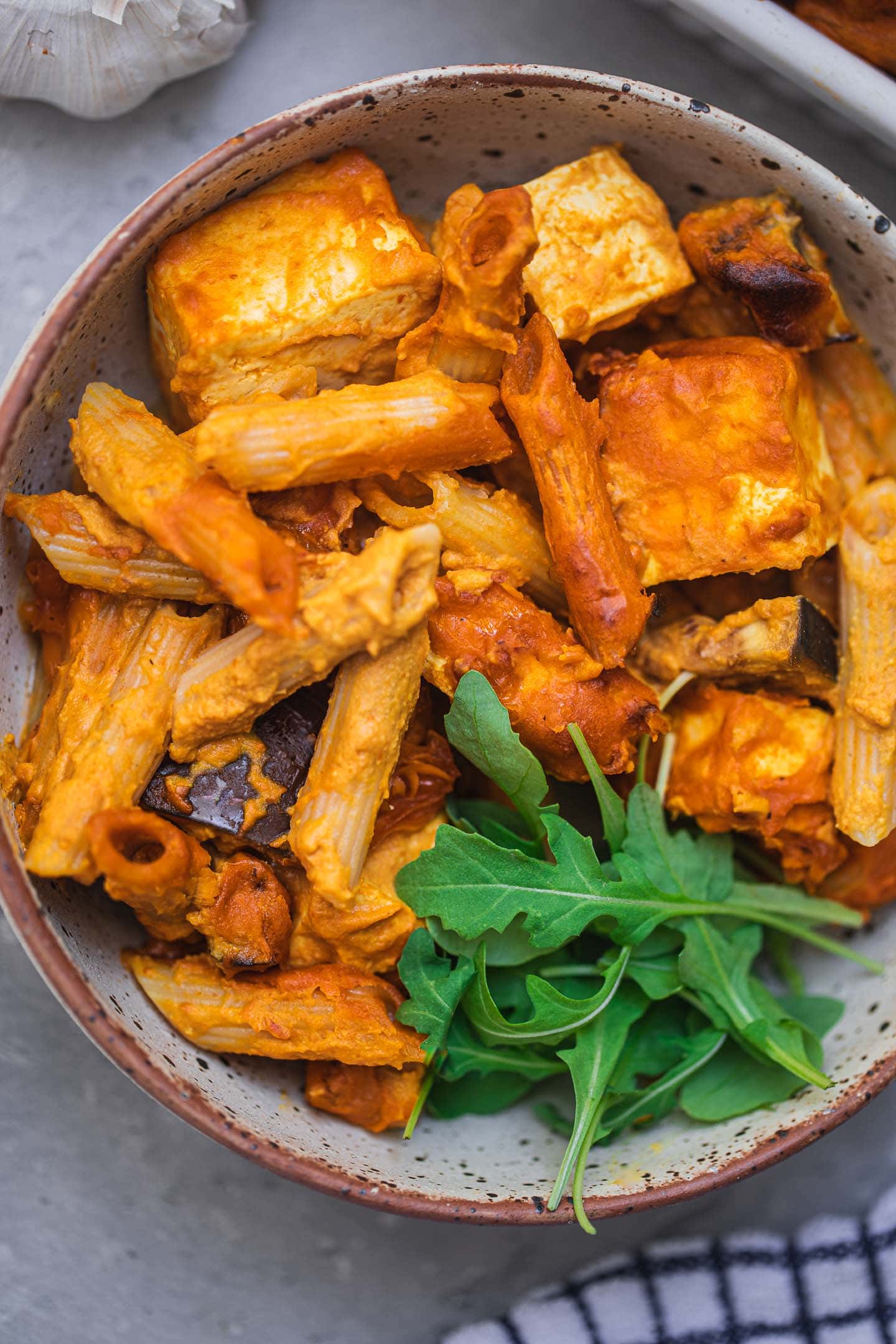 Simple Vegan Pasta Bake With Tofu Recipe
By Earth of Maria
🔪Prep Time: 5 mins
👩‍🍳Cook Time: 40 mins
Ingredients
4 cups gluten-free pasta
1 1/4 cups cashews, soak these overnight if not using a high speed blender
1 can chopped tomatoes
1 tsp turmeric
1 tsp cumin
1/4 cup nutritional yeast
2 tbsp tamari
1 medium onion, chopped
2 cloves garlic
1/2 lemon, juice of
15 oz extra-firm tofu, pressed for at least 10 minutes, if necessary
1 1/2 cups aubergine, chopped
1/2 cup plant based milk
1/4 cup vegan cheese, grated (optional)
Instructions
1Start off by cooking your pasta according to packaging instructions. The type of pasta you use is up to you, but I went for a gluten-free brown rice penne. Preheat the oven to 200 degrees C/392 F.
2Meanwhile, add all the sauce ingredients to a blender or food processor, which are: drained and rinsed soaked cashews, tinned tomatoes, turmeric, cumin, nutritional yeast, tamari, onion, garlic and lemon juice. Blend until very smooth.
3Once the pasta is cooked, drain and rinse it and transfer to a large mixing bowl. Combine with the tofu, eggplant, the sauce and plant based milk.
4Then, transfer to a casserole dish and if you want to, sprinkle vegan cheese on top. Bake in the preheated oven for around 20-25 minutes, or longer if you want it crispier (just make sure that the pasta doesn't start to burn). Serve immediately, or store in the fridge for 3-4 days in an airtight container.
View Full Recipe
Top Vegan Recipe Resources
🥑