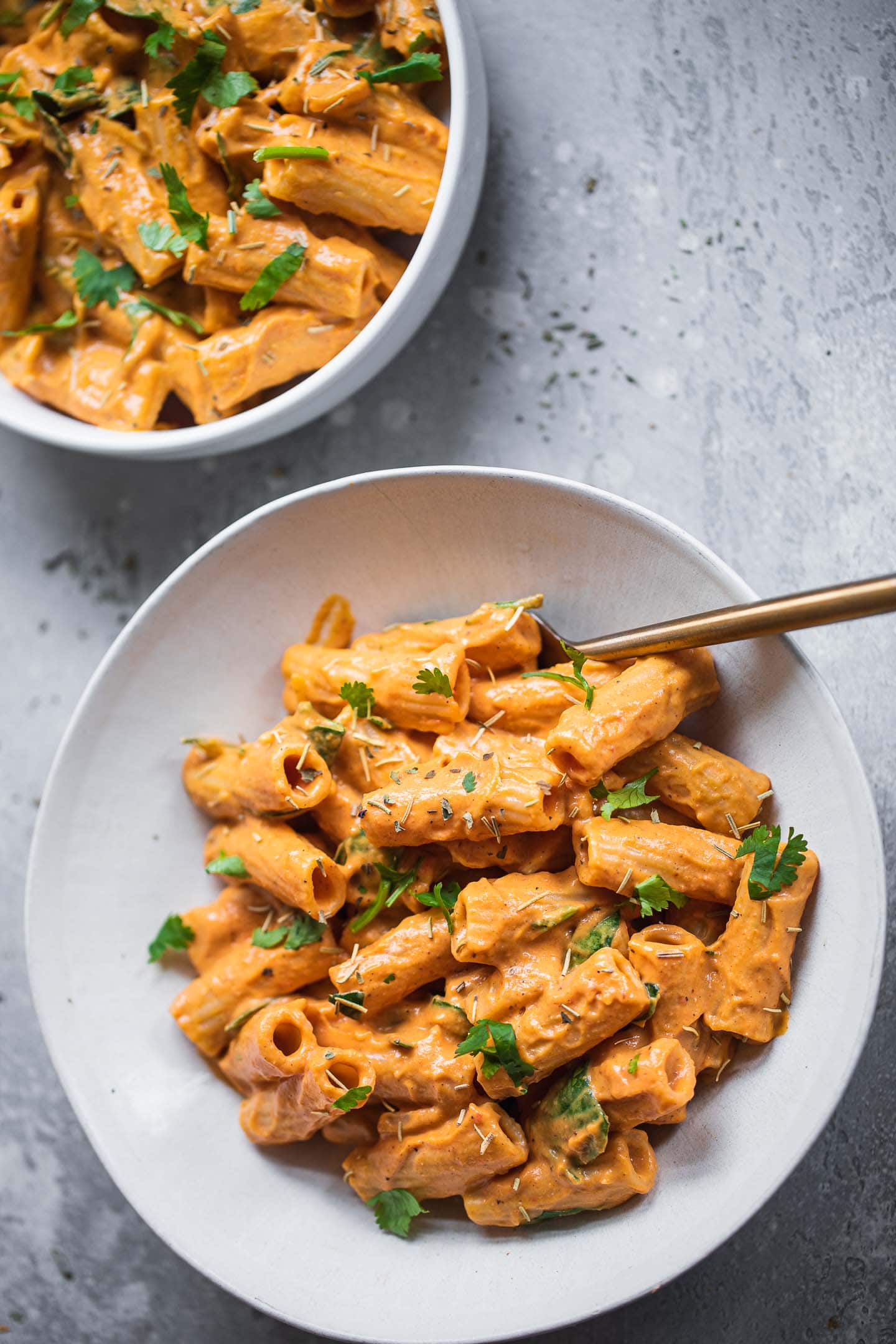 Vegan Butternut Squash Pasta Recipe
By Earth of Maria
🔪Prep Time: 10 mins
👩‍🍳Cook Time: 40 mins
Ingredients
2½ cups butternut squash, peeled and cubed
1 large red bell pepper, de-seeded and chopped
1 large carrot, peeled and chopped
2 tbsp olive oil
10 oz rigatoni, or any pasta of choice – ensure gluten-free if necessary
10 oz silken tofu
1 red chilli, de-seeded
½ tbsp maple syrup
¼ cup nutritional yeast
1 cup plant-based milk
1 tsp cumin
1 tsp paprika
1 tsp garlic powder
½ tsp turmeric
½ tsp salt
1 large onion, diced
2 tbsp tomato paste
⅓ cup vegan cheese, grated, optional
1 cup spinach, chopped
Instructions
1Preheat the oven to 200 degrees C (400 F) and line a large baking tray with parchment paper.
2Add the butternut squash, bell pepper, carrot and 1 tbsp of the olive oil to a mixing bowl and stir together well. Transfer the vegetables to the baking tray and bake for 25-30 minutes, until fully softened and crispy.
3When the vegetables are almost done, start cooking the rigatoni (or any other pasta of your choice) according to packaging instructions.
4Transfer the roasted vegetables to a blender together with the silken tofu, red chilli, maple syrup, nutritional yeast, plant based milk, cumin, paprika, garlic powder, turmeric and salt. Blend until smooth.
5Heat the rest of the olive oil in a large pan over a medium heat and add the onion. Cook for a minute, then add the tomato paste and cook for 2-3 minutes more, until softened.
6Pour the sauce into the pan and add the vegan cheese, together with the spinach. Stir until the spinach wilts.
7Drain the pasta and add it to the frying pan, stirring for a few minutes more. Serve with fresh herbs of your choice.
View Full Recipe
Top Vegan Recipe Resources
🥑