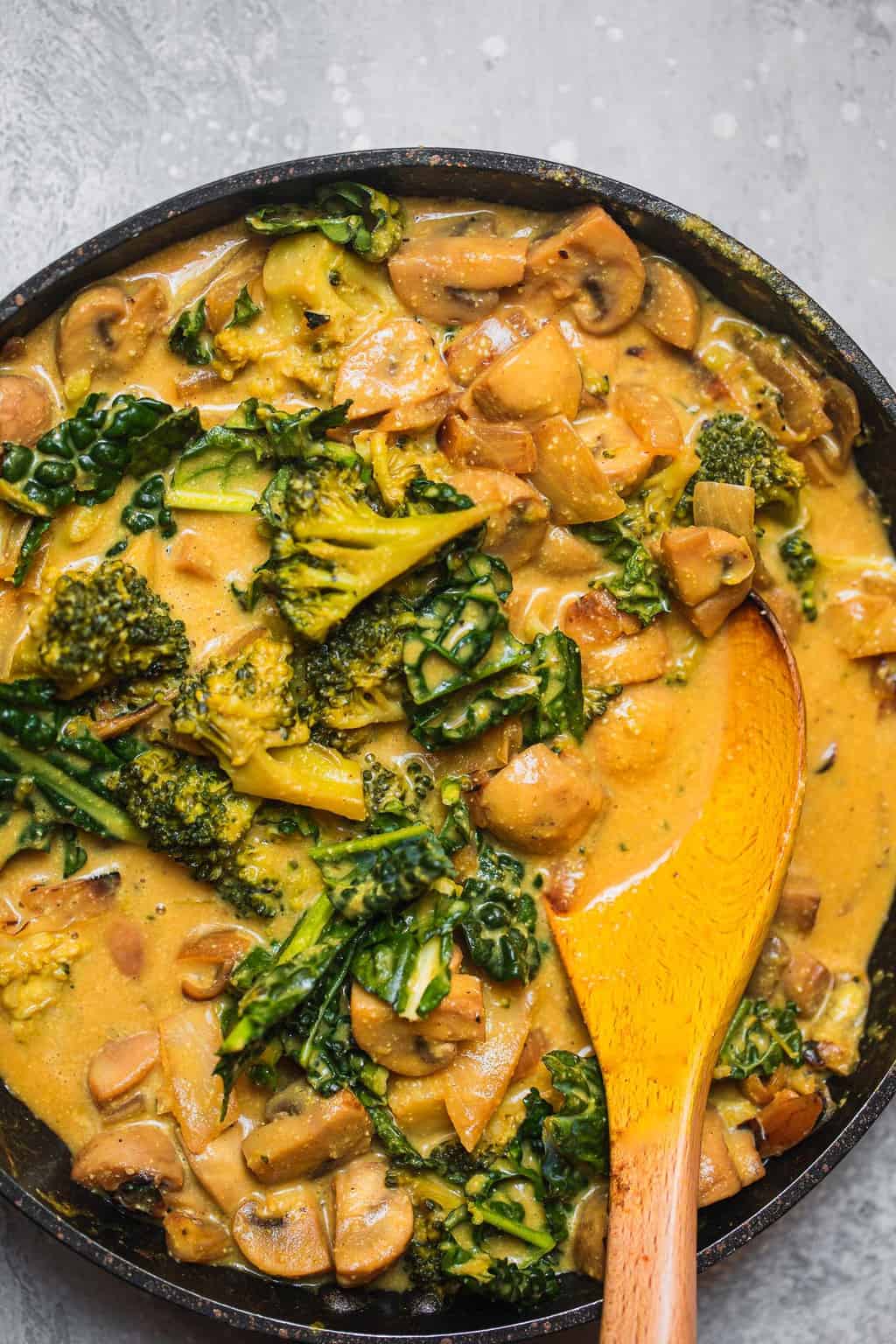 Vegan Broccoli Cheese Soup Recipe
By Earth of Maria
Ingredients
3 medium potatoes, peeled and chopped
1 large carrot, peeled and chopped
1 large onion, chopped
1 1/2 cups cabbage, chopped
1 1/2 cups button mushrooms, chopped
3 cups broccoli
1 cup water
1 1/2 cups plant based milk
2 tbsp tamari
1 cup cashews, (see recipe notes on soaking)
3 tbsp nutritional yeast
1/2 tsp turmeric
1 tsp pink Himalayan salt
1 lemon , juice of
1 1/2 cups kale, de-stemmed and chopped
Instructions
1Start by boiling the carrot and potatoes in a saucepan for 12-15 minutes, until fork tender.
2Meanwhile, add the onion and cabbage to a different saucepan and sauté for 2-3 minutes, until they start to soften. Then, add the mushrooms and sauté for a further 2 minutes.
3Add the broccoli, water, 1 cup of the plant based milk and tamari. Stir together and leave to simmer for 5-7 minutes, until the broccoli is bright green and soft.
4Once the potatoes and carrots are cooked, drain them, but retain and set aside 1/2 cup of the cooking water. Transfer the vegetables to a blender or food processor together with the cashews, nutritional yeast, turmeric, salt, the rest of the plant based milk, lemon juice, and the cooking water. Blend until very smooth.
5Stir the 'cheese' sauce into the saucepan with the broccoli. Simmer for a further 5 or so minutes to allow the soup to thicken, adding the kale around half way through to allow it to wilt.
View Full Recipe
Top Vegan Recipe Resources
🥑