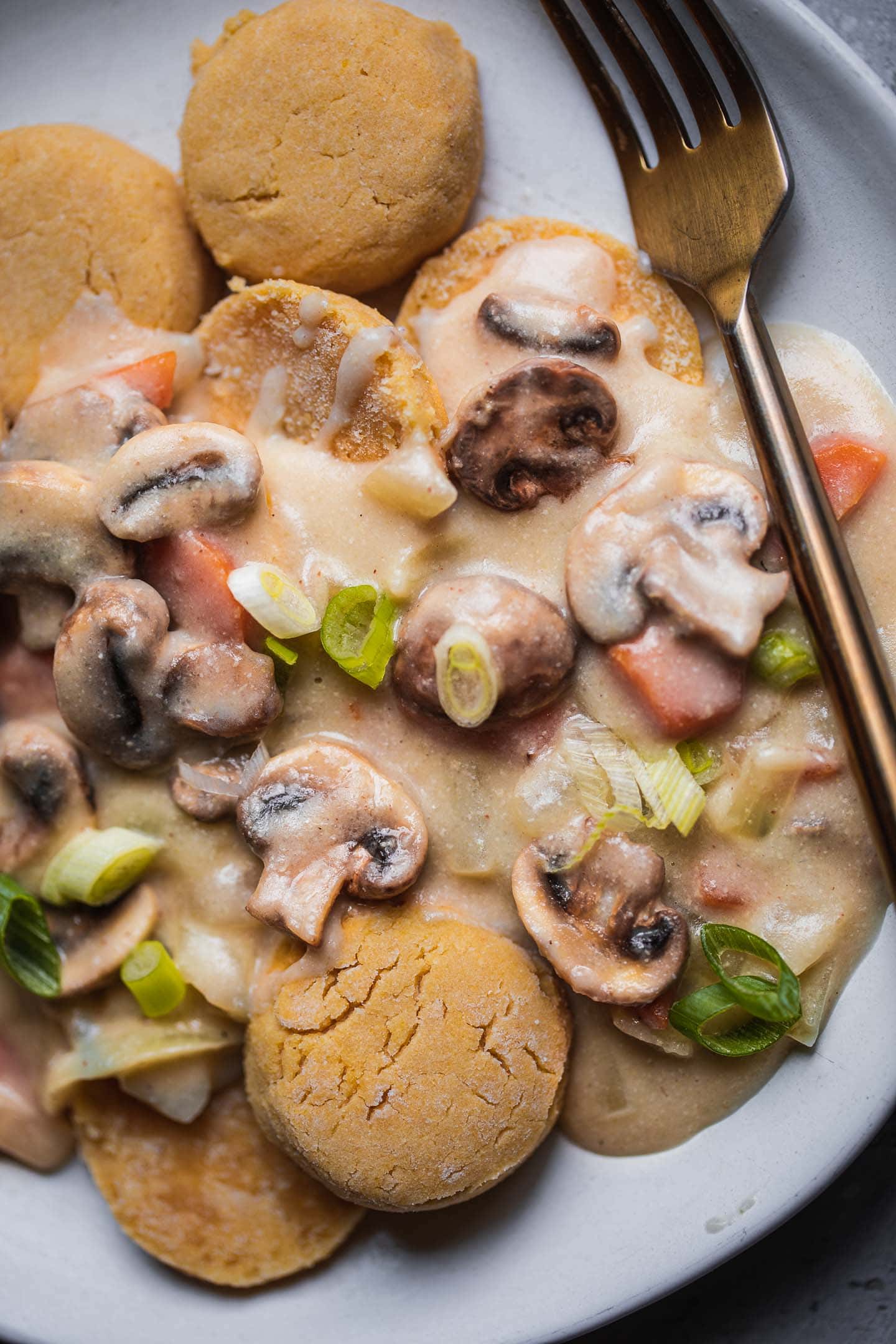 Vegan Biscuits And Gravy Recipe
By Earth of Maria
🔪Prep Time: 10 mins
👩‍🍳Cook Time: 25 mins
Ingredients
1 cup plant based milk
2 tbsp apple cider vinegar
2 1/2 cup brown rice flour
1 cup cornmeal
2 tsp baking powder
2 tsp sugar
1 tsp xanthan gum
1/2 cup vegan butter
1 tbsp vegan butter
1 medium onion, diced
1 large carrot, peeled and diced
2 cups mushrooms, chopped
1 can coconut milk
2 tbsp nutritional yeast
1/2 tsp salt
1/4 cup buckwheat flour
1/2 cup plant based milk, from a carton
Instructions
1Stir together the plant based milk and apple cider vinegar and set aside for around 10 minutes to curdle. When it is almost done, preheat the oven to 180 degrees C/350 F.
2Meanwhile, in a large mixing bowl combine the brown rice flour, cornmeal, baking powder, sugar and xanthan gum. Now add the vegan butter and use a palette knife to make a crumbly texture. Do not use your hands to mix, as this will melt the butter.
3Pour in the 'buttermilk' mixture and mix together using a rubber spatula until a dough forms.
4Transfer the dough to a lightly floured surface and roll out into a flat rectangle. Fold the rectangle in half, and then roll out once more into a sheet around 3/4 inch in thickness.
5Use a cookie cutter to cut out the biscuit shapes and transfer them to a baking tray lined with parchment paper. Bake in the preheat oven for 20-25 minutes, until lightly golden brown.
6Melt the butter in a saucepan. Next, add the onion and carrots, and cook for 3-4 minutes, until they start to soften.
7Add the mushrooms and cook for 3-4 minutes more, until they start to soften.
8Pour in the coconut milk, also adding the nutritional yeast, salt, buckwheat flour and plant based milk. Stir until the sauce thickens.
View Full Recipe
Top Vegan Recipe Resources
🥑