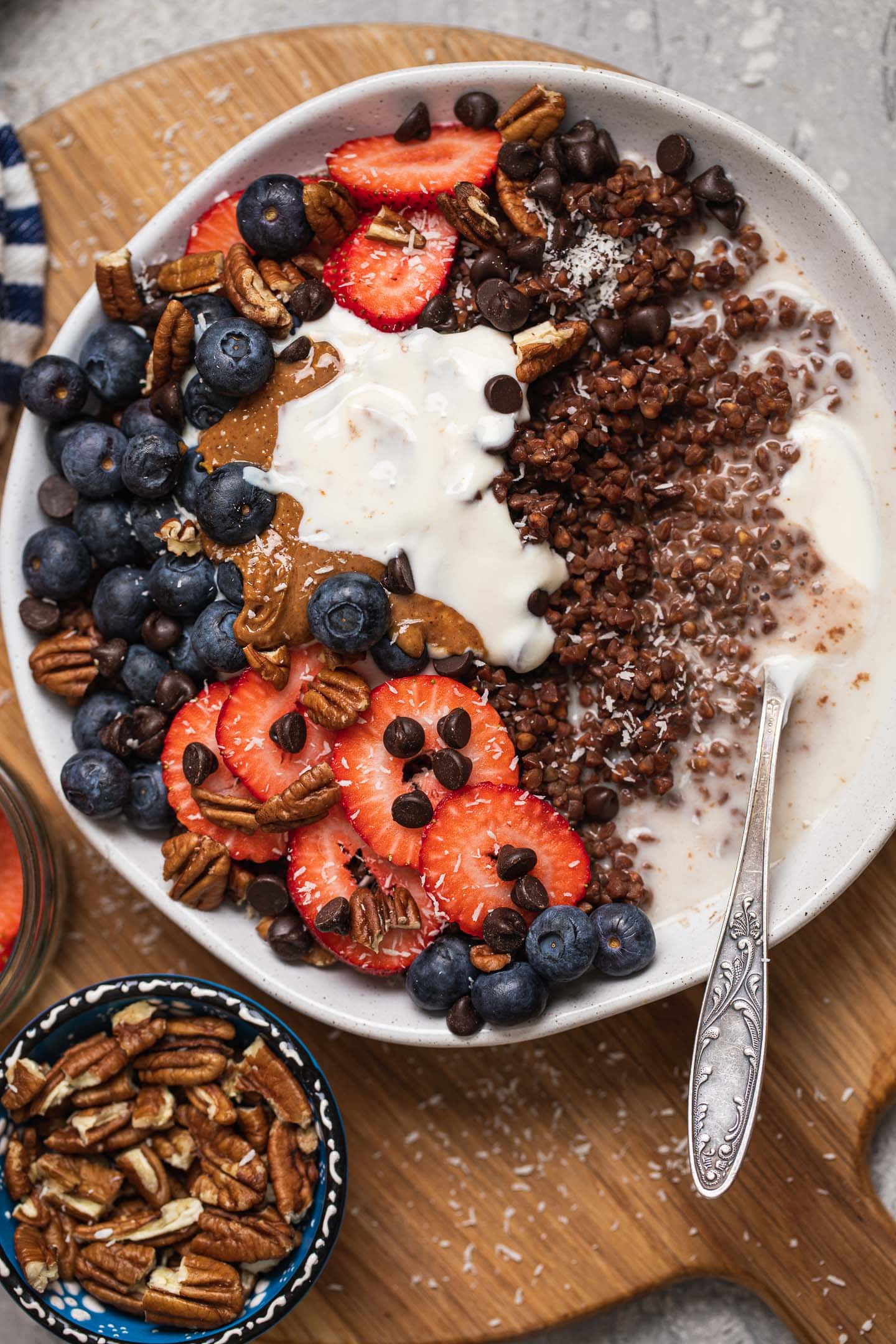 Simple Chocolate Buckwheat Porridge Recipe
By Earth of Maria
🔪Prep Time: 0 mins
👩‍🍳Cook Time: 15 mins
Ingredients
1 cup raw buckwheat groats, (or roasted buckwheat/kasha)
2 tbsp cacao powder
1 cup plant based milk
2 tbsp maple syrup
1/2 cup plantbased milk
1/2 cup blueberries
1/2 cup strawberries, chopped
3 tbsp pecan nuts
3 tbsp dark chocolate chips
2 tbsp soy yoghurt
2 tbsp peanut butter
1 tbsp desiccated coconut
Instructions
1If you are using buckwheat groats, start by soaking the buckwheat in twice the amount of water for at least 4-5 hours, preferably overnight. Drain and rinse it well before you start cooking. If using kasha, there is no need to soak.
2Add the buckwheat, cacao powder, plant based milk and maple syrup to a saucepan. Avoid adding too much liquid at the start – if it gets too dry, simply pour in more milk or water as you cook the porridge.
3Bring to a light simmer and cook for around 10 minutes, stirring frequently, over a low-medium heat. If you are using kasha, it will take less time (6-7 minutes).
4Transfer to a bowl and serve with the toppings.
View Full Recipe
Top Vegan Recipe Resources
🥑