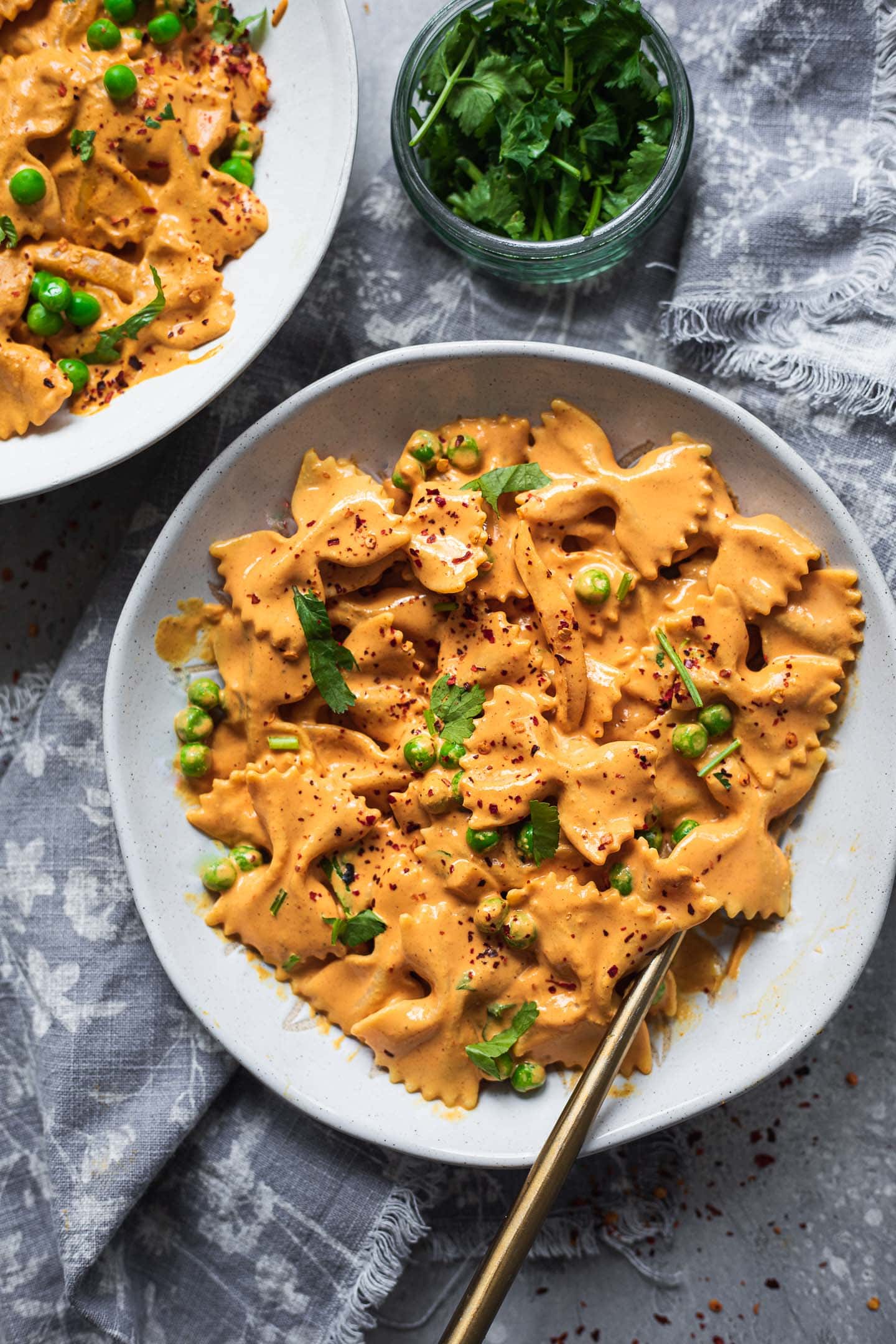 Roasted Red Pepper Pasta Recipe
By Earth of Maria
🔪Prep Time: 10 mins
👩‍🍳Cook Time: 35 mins
Ingredients
2 large red bell peppers, de-seeded and chopped
2 1/2 tbsp olive oil
1/2 tbsp dried oregano
1/2 tbsp dried thyme
10 oz pasta
1 cup plant based milk
2 tbsp tamari
1 tbsp apple cider vinegar
1/2 tsp turmeric
1/2 tsp cumin
3 tbsp nutritional yeast
1 1/2 cups cashews, soaked
1 large onion, chopped
2 cloves garlic, minced
2 tbsp tomato paste
1 cup green peas
Instructions
1Firstly, preheat the oven to 180 degrees C (350 F).
2Add the red bell pepper to a rectangular baking dish, drizzle it with 1 1/2 tbsp olive oil and sprinkle dried oregano and thyme on top. Bake in the preheated oven for 35 minutes, until the bell pepper is fully softened.
3When the bell pepper is almost done roasting, start cooking the pasta you're using according to packaging instructions. This usually takes around 10-12 minutes.
4Transfer the roasted bell pepper to a blender or food processor together with plant based milk, tamari, apple cider vinegar, turmeric, cumin, nutritional yeast, and soaked cashews. Blend on a high speed until a very smooth texture is achieved.
5Heat the rest of the olive oil in a large pan over a medium-high heat. Add the onion, garlic and tomato paste, cooking for 5 minutes until the onion softens.
6Add the sauce, cooked pasta, and green peas. Stir together for around 3 minutes, seasoning to taste with extra salt and pepper if necessary before serving.
View Full Recipe
Top Vegan Recipe Resources
🥑