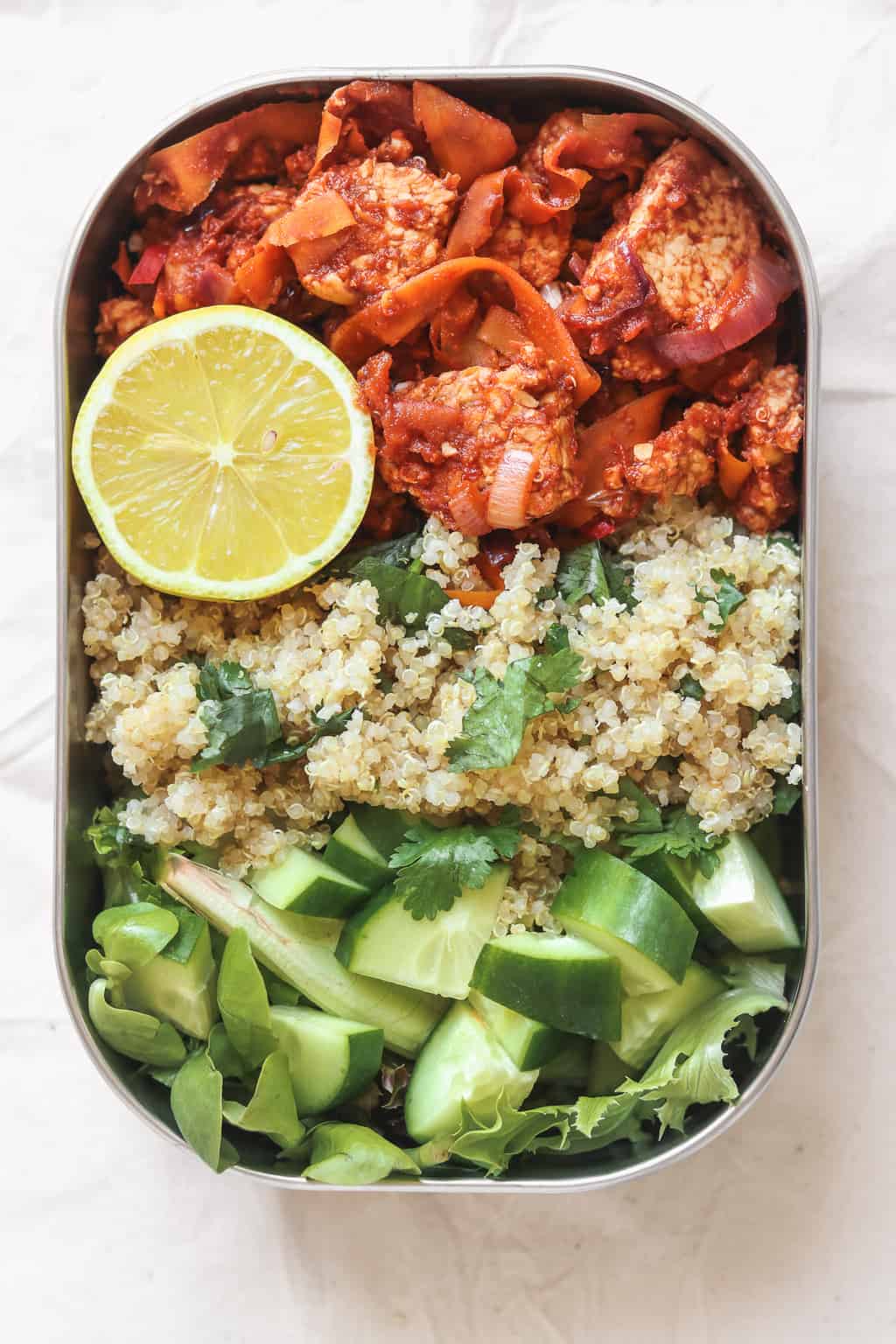 Quinoa And Tempeh With Tomato Sauce (Vegan Meal Prep) Recipe
By Earth of Maria
🔪Prep Time: 5 mins
👩‍🍳Cook Time: 20 mins
Ingredients
1 cup quinoa, dry
1 large red onion, diced
2 cloves garlic, minced
1/2 fresh red chilli, de-seeded and chopped
3 medium carrots, peeled into ribbons (simply continue peeling the carrot once you have removed the outer edge)
15 oz tempeh, small bite-sized pieces
1 tbsp garlic powder
4 tbsp tomato paste
14 oz canned tomatoes
1 tsp paprika
2 tbsp balsamic vinegar
2 tbsp maple syrup
1/2 cup fresh coriander
1 lemon, juice of
Instructions
1Cover the quinoa with around 4 cups boiling water and simmer on a medium heat for 20 minutes, until cooked.
2Meanwhile, add the red onion, garlic, and fresh chilli into a large non-stick frying pan with around 1 tbsp water and cook on a medium-high heat for around 3 minutes, until softened.
3Add the carrot strips and stir for a further minute.
4Add the tempeh pieces, garlic powder, and tomato paste. Cook for 5 minutes, stirring occasionally, until the tempeh is lightly browned.
5Lower the heat and pour in the canned tomatoes, followed by the paprika, balsamic vinegar and maple syrup. Simmer on a low-medium heat for 8-10 minutes, or until the sauce reaches your desired consistency.
6Once the quinoa is cooked, stir in the fresh coriander and lemon juice.
7Distribute the quinoa and the sauce evenly between 4 airtight containers with cucumber and fresh greens.
View Full Recipe
Top Vegan Recipe Resources
🥑