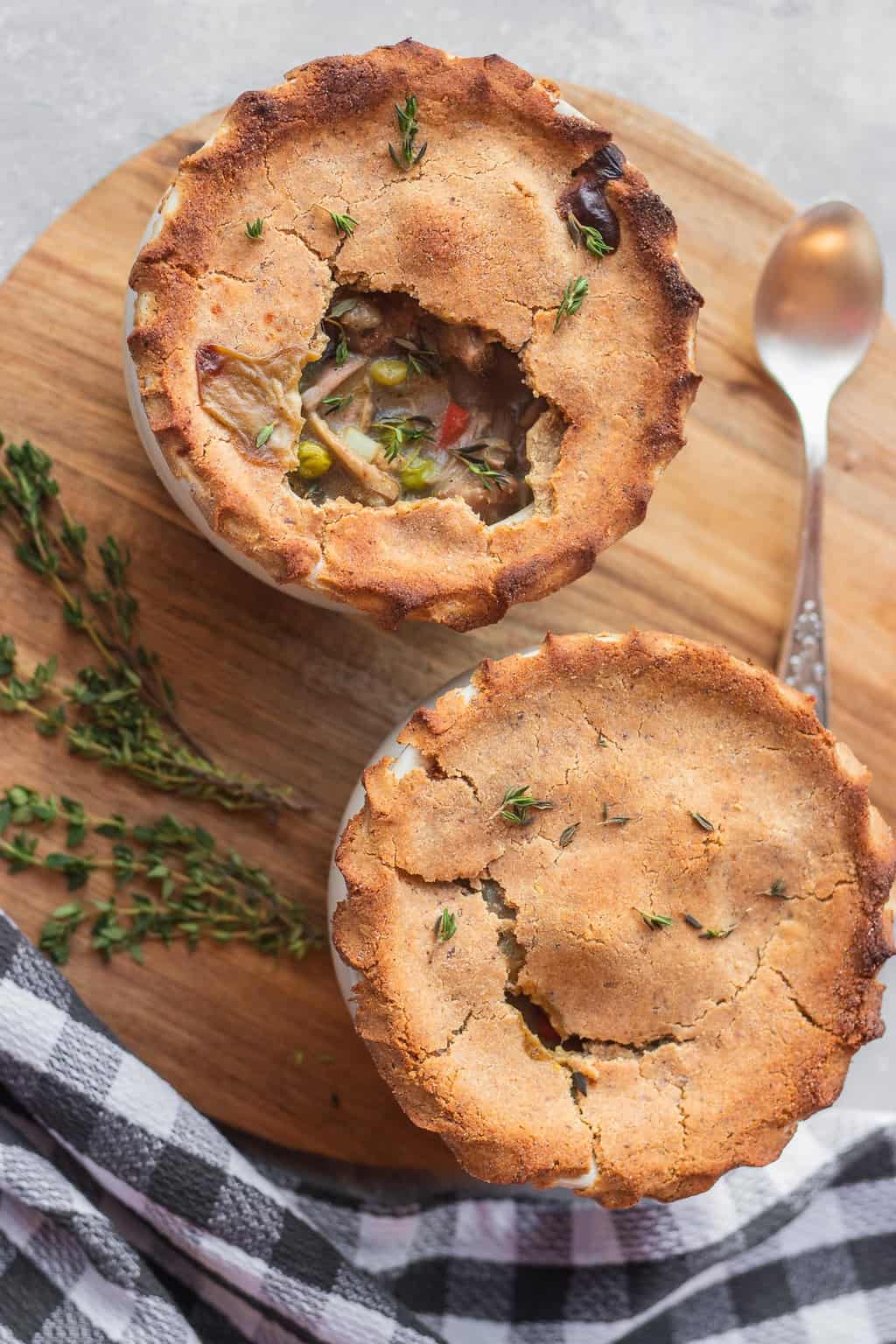 Pot Pie With Jackfruit Recipe
By Earth of Maria
🔪Prep Time: 10 mins
👩‍🍳Cook Time: 40 mins
Ingredients
1 can canned jackfruit, 240g drained
1/2 large onion
2 cloves garlic, minced
1 tsp garlic powder
1/2 large leek, chopped
1 large red bell pepper, chopped
2.5 cups oyster mushrooms, chopped
2 cups veggie stock
1/4 cup buckwheat flour
1/2 cup green peas
1/2 tsp dried basil
1 tsp cumin
1/4 cup buckwheat flour
1 tbsp ground flaxseed
1/4 tsp salt
3 tbsp tahini
2 tsp water
Instructions
1To make the crust, add the buckwheat flour, ground flaxseed, salt, tahini and water to a mixing bowl. Mix together until a dough forms.
2Roll out the dough into a sheet about 1/4 inch in thickness. Place the pot you're using upside down on the sheet and cut around the edges. Repeat until you have enough circles for the amount of pot pies you are making. Set aside.
3Preheat the oven to 170 degrees C/340 F. Meanwhile, using your hands or a fork, break apart the jackfruit pieces.
4Add the onion and garlic to a saucepan with a splash of water. Sauté on a medium-high heat for 2-3 minutes, until softened.
5Add the garlic powder, leek, bell pepper, oyster mushrooms and jackfruit. Cook, stirring frequently, for around 5 minutes, until the mushrooms shrink down.
6Pour in the veggie stock together with the buckwheat flour, green peas, dried basil and cumin. Season to taste with salt and pepper. Lower the heat, and simmer on a low-medium heat, stirring occasionally, for around 7-10 minutes, until the sauce thickens.
7Distribute the filling evenly between soup bowls or ramekins. Cover with the dough circles and press down firmly around the edges.
8Bake in the oven for 18-20 minutes, until the crust is golden. Serve straight away, or store in the fridge for up to 4 days, reheating as needed.
View Full Recipe
Top Vegan Recipe Resources
🥑