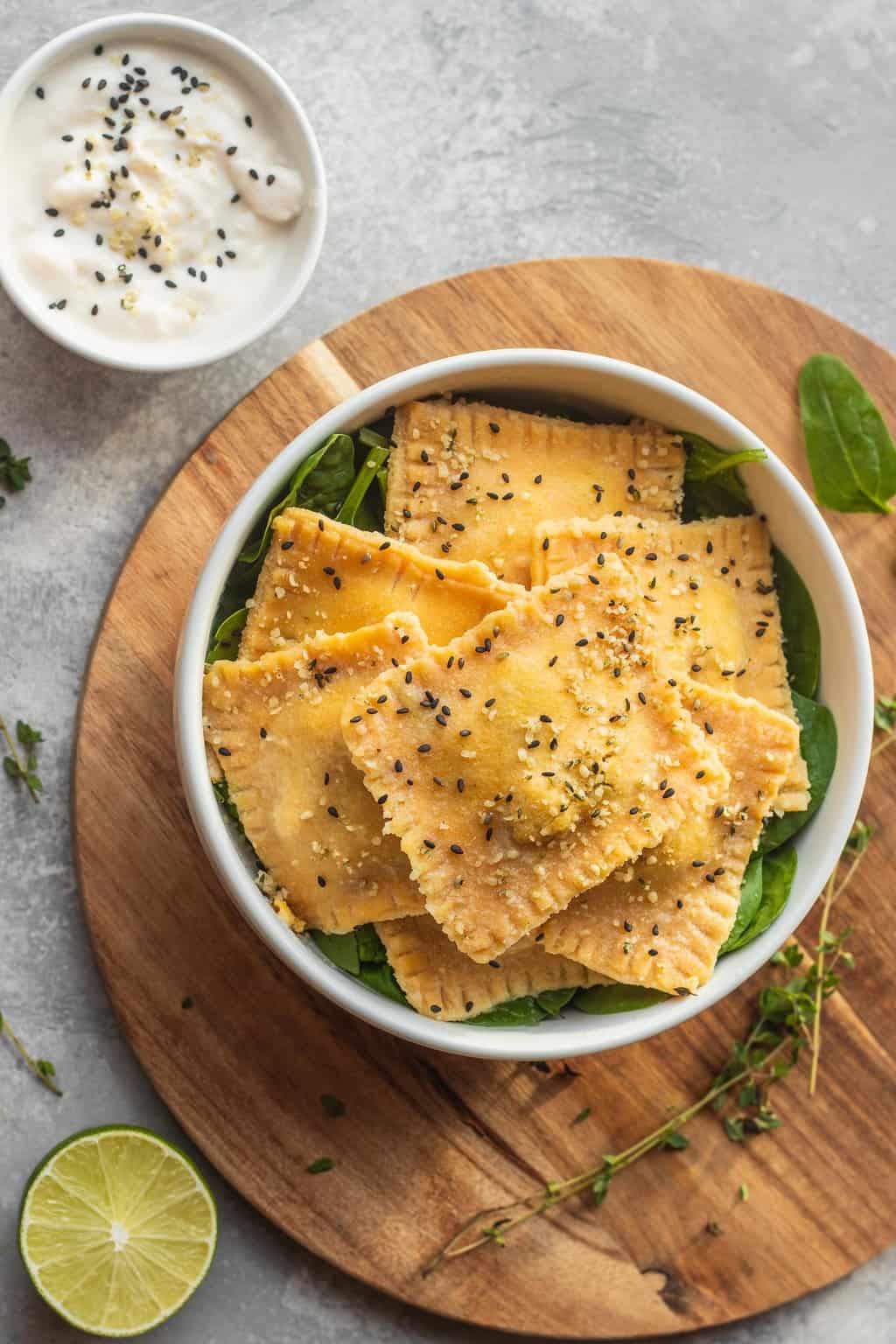 Homemade Ravioli With Tofu And Spinach Recipe
By Earth of Maria
🔪Prep Time: 20 mins
👩‍🍳Cook Time: 8 mins
Ingredients
1/2 cup water , + 2 tbsp
1/2 tsp turmeric
1/2 tsp salt
2/3 cup rice flour
4 tsp cornstarch
1 1/2 cups spinach, chopped
4 oz firm tofu, crumbled
1/2 medium onion, chopped
Instructions
1Add water to a non-stick saucepan together with the turmeric. Bring to a simmer, then add the flour, cornstarch and salt. Stir until a stretchy dough forms. Remove and set aside to cool for around 10 minutes, using this time to prepare the filling.
2To make the filling, add the spinach, tofu and onion to a non-stick frying pan. Sauté for 2-3 minutes until the onion softens, then add the black pepper and tamari, stirring briefly to mix everything together.
3Roll out the dough into a thin roughly square layer, about 1/8-1/4 inch in thickness. If the layer of dough is too small for your work surface, divide it into 2 and repeat the process twice. Mark an equal amount of scores along each edge of the dough, and use them as guidance to cut the dough so that a 'grid' forms (see the instruction photos).
4Place small dollops of the filling on every square in alternating rows, making sure to leave plenty of room around the edges. Then, use the empty squares to cover the filling and press down the edges using either your fingers or a fork.
5Transfer them to a baking sheet and prepare a pot of lightly boiling water. Cook them in small batches for around 2-3 minutes, until they float to the surface. Transfer to a plate using a slotted spoon, and enjoy!
View Full Recipe
Top Vegan Recipe Resources
🥑