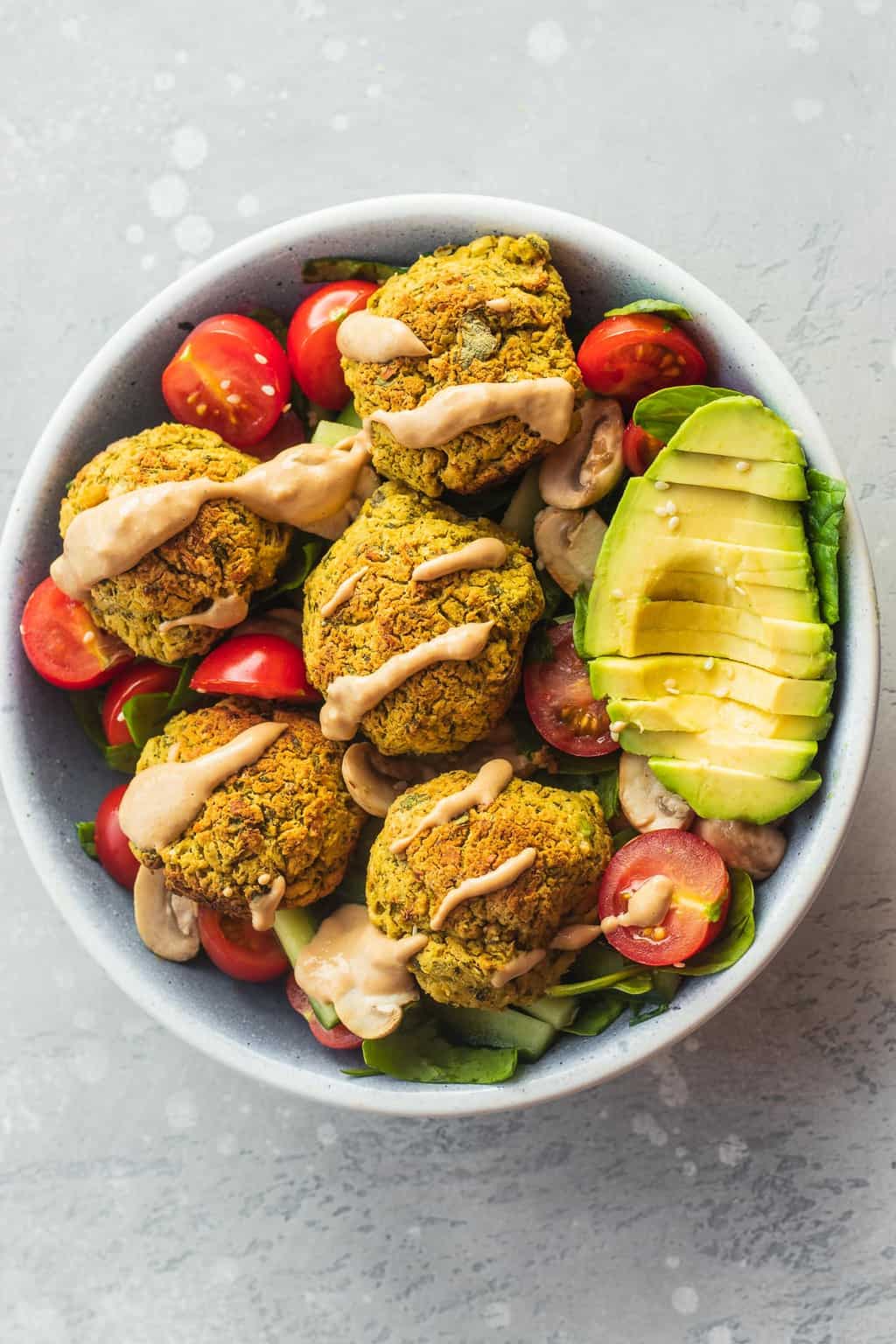 Falafel Salad With Tahini Dressing Recipe
By Earth of Maria
🔪Prep Time: 5 mins
👩‍🍳Cook Time: 25 mins
Ingredients
1 can tinned chickpeas, (about 1.5 cups or 240g)
1 medium onion, chopped
juice of 1 lemon
1/2 cup spinach, chopped
1 clove garlic, minced
1/4 cup coriander
1 tbsp tahini
2 tbsp brown rice flour
2 tbsp tahini
juice of 1 lemon
1 tbsp tamari
1/2 tsp black pepper
2 tbsp water
5 oz mushrooms, chopped
1.5 cups spinach, chopped
5 oz cherry tomatoes
1/2 large cucumber
1 large avocado
Instructions
1Preheat oven to 200 degrees C/390 degrees F.
2Add the chickpeas, onion, lemon juice, spinach, garlic, coriander, tahini and brown rice flour to a blender or food processor. Blend until smooth, adding a couple of tbsps of water if it is too dry.
3Roll the dough into 8 even-sized spheres and place them on a sheet of baking paper. Bake for 25 minutes, or until crispy.
4Meanwhile, add the mushrooms to a non-stick frying pan and sauté for around 5 minutes, until they cook down. At the same time, prepare the dressing by whisking together the tahini, lemon juice, tamari, black pepper and water.
5Once the falafels are ready, mix together the salad ingredients (mushrooms, spinach, cherry tomatoes, cucumber and avocado) and serve with the falafel and tahini dressing. Store the dressing separately from the salad if you are meal prepping this dish. The falafel lasts in the fridge for up to 5 days.
View Full Recipe
Top Vegan Recipe Resources
🥑