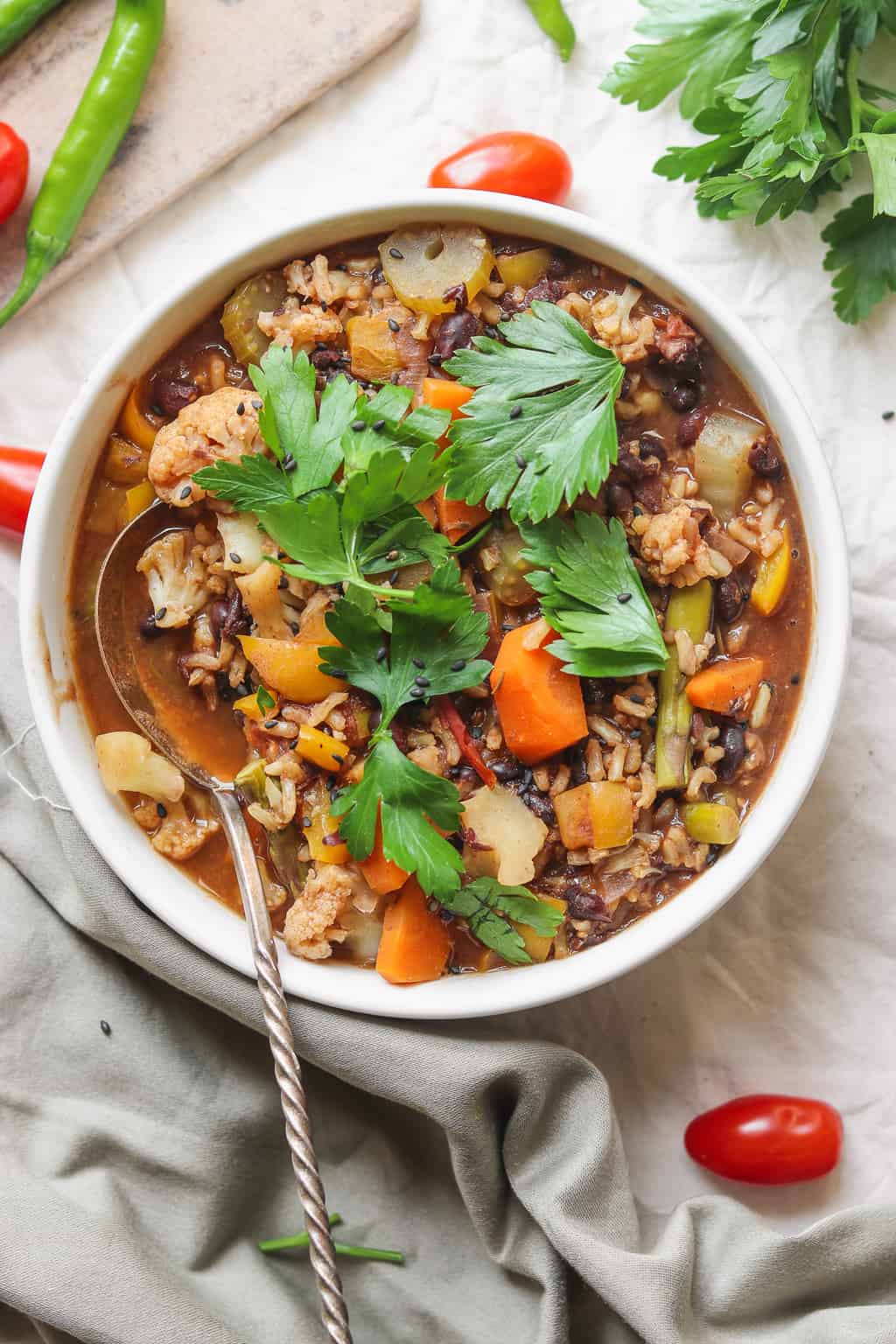 Easy Vegetable Rice Soup With Black Beans Recipe
By Earth of Maria
Ingredients
1 medium red onion
2 cloves garlic, minced
1/2 medium green chilli pepper, finely chopped, optional
1 tsp paprika
1 tsp garlic granules
1 tsp garam masala
1 tbsp curry powder
2 medium yellow bell peppers, finely diced
2 medium carrots, peeled and chopped
3/4 cup wholegrain rice, dry
1.5 cups cauliflower, florets
2 stalks celery, chopped
1.5 cups cherry tomatoes, chopped
10 stalks asparagus , chopped
2.5 cups cooked black beans
6 cups vegetable broth, adjust depending on how thick you want your soup to be
1 tbsp brown rice miso paste
pinch dried thyme
salt and pepper to taste
fresh parsley and sesame seeds, to garnish
Instructions
1Add the onions, garlic cloves, green chilli peppers, paprika and garlic granules to a saucepan on a medium-high heat. Stir for 2-3 minutes, until softened and fragrant.
2Add bell pepper and carrots with the garam masala and curry powder and allow those vegetables to soften for 2 minutes or so before adding the wholegrain rice, cauliflower, celery, cherry tomatoes and 4 cups of the water/veggie stock. Lower the heat, cover and simmer for 15 minutes.
3After 15 minutes, stir in the black beans, asparagus, miso paste, dried thyme and remaining water. Season to taste with salt and pepper. Cover and simmer once more for a further 10 minutes, or until the rice is cooked through.
4Serve immediately with fresh parsley and sesame seeds.
View Full Recipe
Top Vegan Recipe Resources
🥑