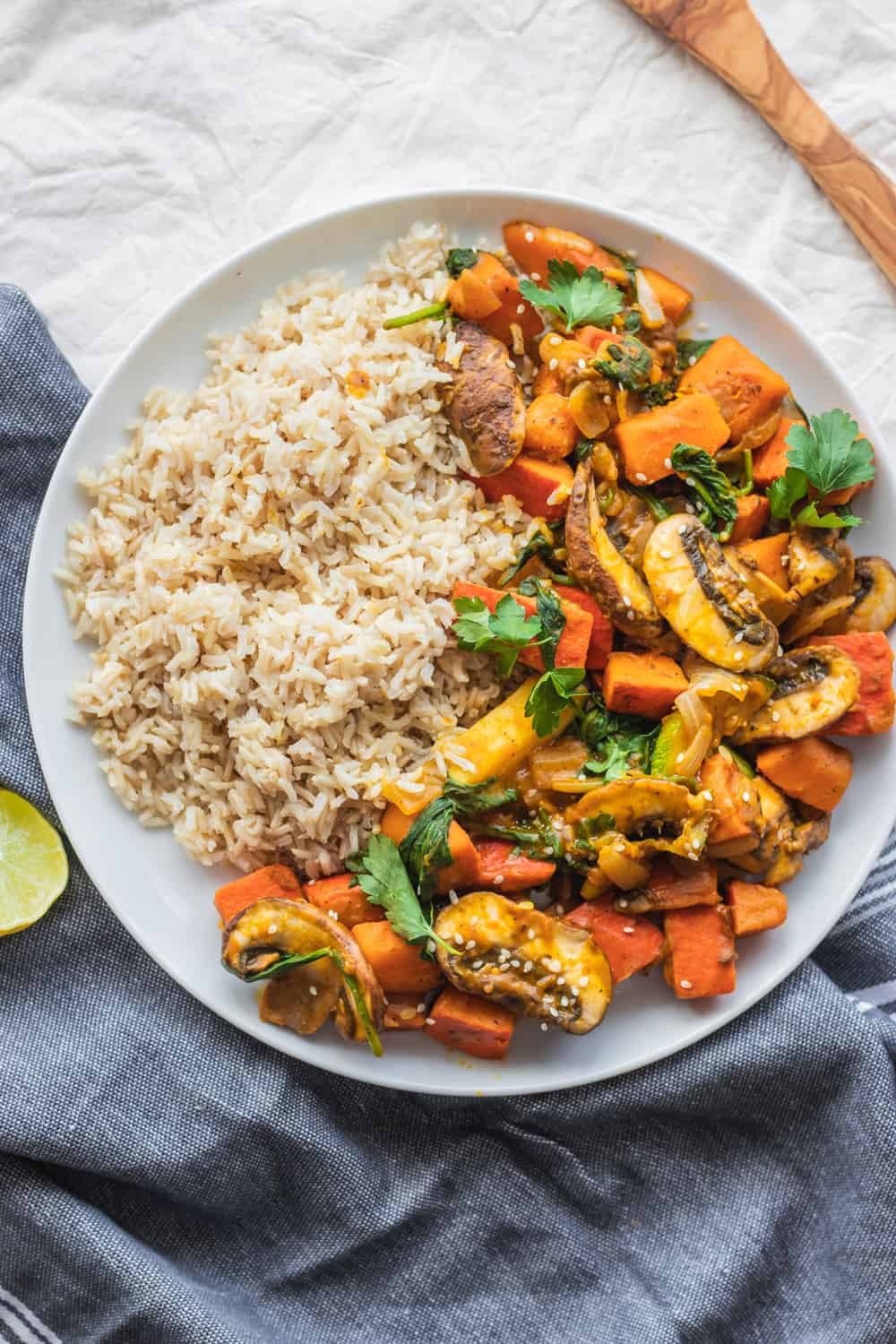 Easy Vegetable Pumpkin Stir-Fry Recipe
By Earth of Maria
🔪Prep Time: 5 mins
👩‍🍳Cook Time: 17 mins
Ingredients
1 Red Kuri squash , (about 500g) or any other pumpkin of your choice
1 cup zucchini, chopped
1.5 cups chestnut mushrooms
1 tsp dried corinader
black pepper to taste
1/4 cup cashew milk, or any other plant milk of choice
1 large handful fresh spinach
rice or noodles, to serve
1.5 tbsp tamari , or soy sauce if not GF/liquid aminos
1 tbsp maple syrup
1 tsp corn starch
3 tbsp water
Instructions
1Chop the red Kuri squash in half and scoop out the seeds. Cut it into bite-sized pieces.
2Add the squash to a large frying pan or wok on a medium-high heat with around 1/4 cup water. Cook for around 5 minutes, rotating the pieces occasionally, until they start to soften.
3Meanwhile, stir together the tamari, maple syrup, 3 tbsp water and cornstarch in a small mixing bowl.
4Add the onion, zucchini and mushrooms to the frying pan. Season well with dried coriander and black pepper, cooking and stirring for 5 minutes, until the vegetables start to soften.
5Lower the heat and pour in the cashew milk together with the sauce, stirring on a low-medium heat for 5-6 minutes until the vegetables are cooked through and the sauce has thickened.
6Turn off the heat and stir through the fresh spinach. Serve immediately with cooked rice or noodles.
View Full Recipe
Top Vegan Recipe Resources
🥑