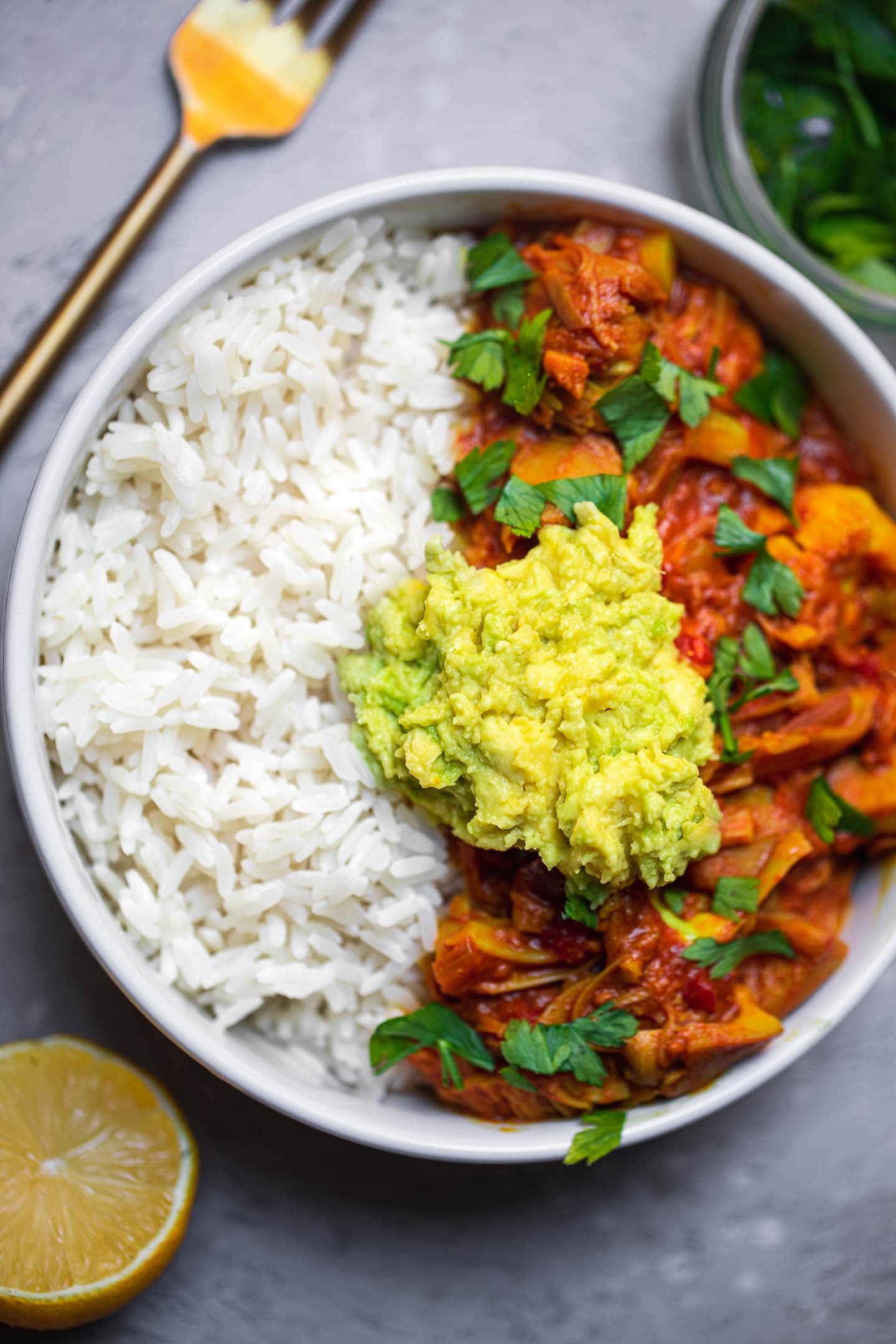 Easy Vegan Jackfruit Curry Recipe
By Earth of Maria
Ingredients
1 medium onion, chopped
2 cloves garlic, minced
7 oz cauliflower, chopped into florets
1 tin green jackfruit
2 tsp garam masala
1 tsp turmeric
1 tsp paprika
1 tin coconut milk, either full fat or reduced fat
1 tin chopped tomatoes
2 tbsp tamari
1 1/2 tbsp curry powder, or vegan curry paste
1 tbsp nutritional yeast
1 tbsp coconut sugar
1/2 lemon, juice of
1/2 tsp salt, or to taste
1/4 tsp black pepper, or to taste
Instructions
1Sauté the onion, garlic and cauliflower in a pan for 3-4 minutes, until softened and the onion and garlic are fragrant. Use either water or oil, depending on whether you want to keep this meal oil-free.
2Add the jackfruit. You can either pull apart the chunks using a fork before adding them to the pan, or break them up using a wooden spoon when they're in the pan already.
3Add the garam masala, turmeric and paprika. Stir together to coat the vegetables and jackfruit, and cook for 4-5 minutes, stirring occasionally, to allow the jackfruit to acquire a crispier texture.
4Pour in the coconut milk and tomatoes. Simmer over a medium heat for around 5 minutes, stirring occasionally.
5Add the tamari, curry powder, nutritional yeast and coconut sugar and simmer for further 15-20 minutes, stirring every few minutes and adding plant based milk or veggie broth if it starts to get too dry.
6At the last minute, add the lemon juice and season to taste with salt and pepper.
View Full Recipe
Top Vegan Recipe Resources
🥑