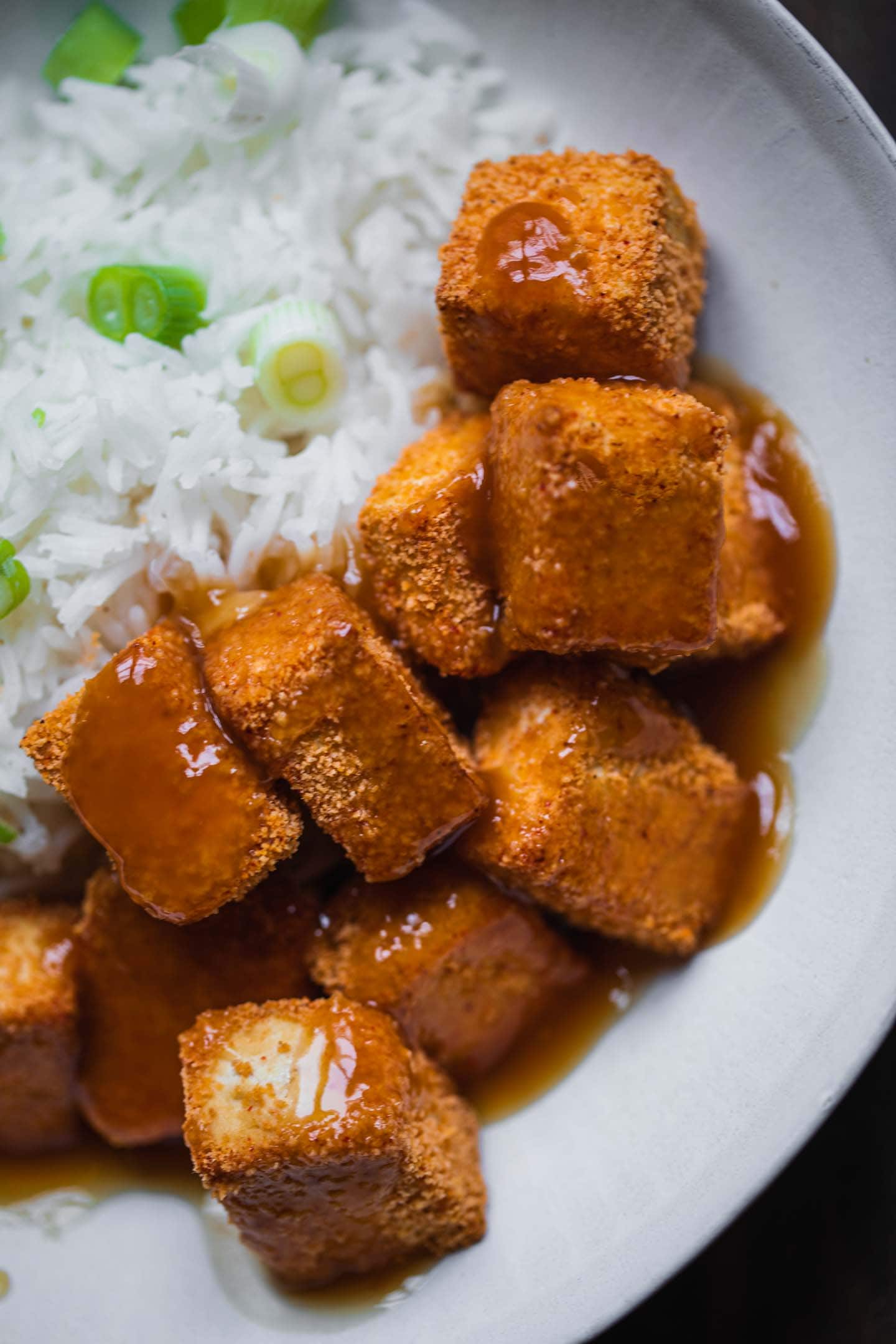 Easy Vegan Crispy Tofu (Baked Or Fried) Recipe
By Earth of Maria
🔪Prep Time: 5 mins
👩‍🍳Cook Time: 30 mins
Ingredients
1/2 cup breadcrumbs, gluten-free if necessary
1/2 tsp salt
1/2 tsp cumin
1/2 cup cornstarch
1 cup plant based milk
3 tbsp sesame oil
10 oz extra firm tofu, cubed
10 oz extra firm tofu, cubed
2 tbsp tamari
1 tbsp maple syrup
1/2 cup breadcrumbs, gluten-free if necessary
1/2 tsp paprika
1/2 tsp onion granules
Instructions
1Whisk together the breadcrumbs, salt and cumin.
2In a separate bowl, add cornstarch to plant based milk and whisk together thoroughly.
3Heat a thin layer of sesame oil (around 3 tbsp) in a frying pan or wok. Add the tofu cubes to the oil, making sure not to overcrowd the pan. Allow to cook for 2-3 minutes, lightly shaking the pan occasionally, before rotating the cubes. Repeat until golden brown on all sides.
4Stir the tofu cubes together with tamari and maple syrup and set aside to marinade for 30 minutes.
5When done, preheat the oven to 200 degrees C (400 F) and line a baking tray with a sheet of parchment paper.
6Whisk together the breadcrumbs, paprika and onion granules. Dip each tofu cube in the breadcrumb mixture and lay out on the baking tray, making sure not to overcrowd. If necessary, use more than one baking tray.
7Bake in the preheated oven for 30 minutes, until golden and crispy.
View Full Recipe
Top Vegan Recipe Resources
🥑