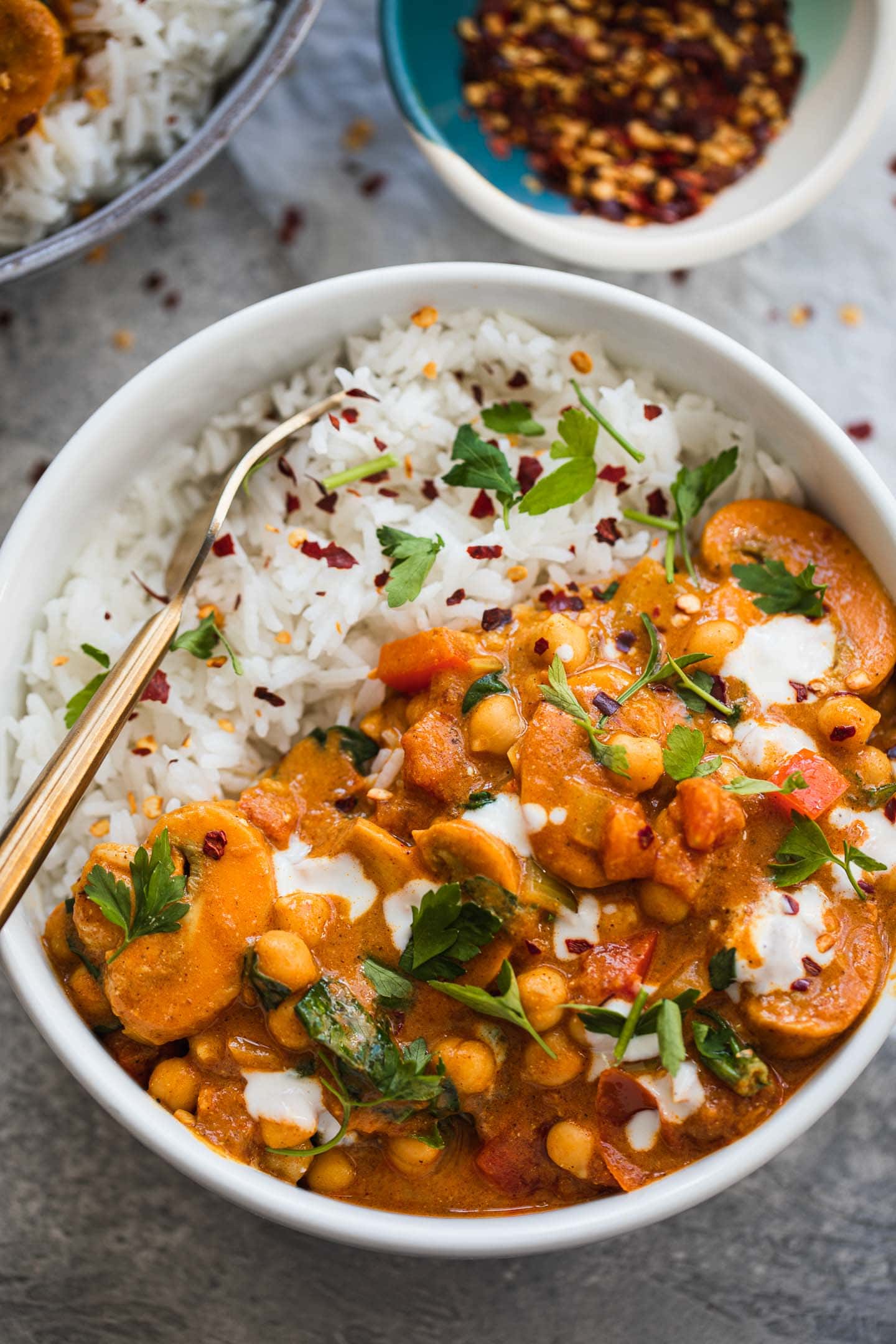 Chickpea Tikka Masala (Vegan) Recipe
By Earth of Maria
🔪Prep Time: 0 mins
👩‍🍳Cook Time: 25 mins
Ingredients
1 tbsp olive oil
1 cup tomatoes, diced
2 tbsp tomato paste
1 large onion, diced
2 cloves garlic, minced
1 large red bell pepper, diced
1 tsp cumin
1 tsp turmeric
1 tsp paprika
4 tsp garam masala
2 cups mushrooms, chopped
1 1/2 cans chickpeas, drained and rinsed (14 oz cans)
1 can chopped tomatoes, (14 oz)
1 can coconut milk
1/2 cup soy yoghurt
1/2 tbsp chilli paste
1 tsp salt, or to taste
3 cups spinach
Instructions
1Heat the olive oil in a large pan for around 30 seconds over a medium-high heat. Add the tomatoes, tomato paste, onion and garlic. Cook for around 5 minutes, stirring frequently, until softened and fragrant.
2Add the red bell pepper, cumin, turmeric, paprika, and garam masala. Cook for 5 minutes more, allowing the bell pepper to soften. Now add the mushrooms and cook for another 2-3 minutes, until they begin to shrink down.
3Add the chickpeas, canned tomatoes, coconut milk, soy yoghurt, and chilli paste. Stir together, then lower the heat to a medium and simmer for around 10 minutes, stirring occasionally.
4Season to to taste with salt and stir in the spinach. Serve once the spinach wilts.
View Full Recipe
Top Vegan Recipe Resources
🥑