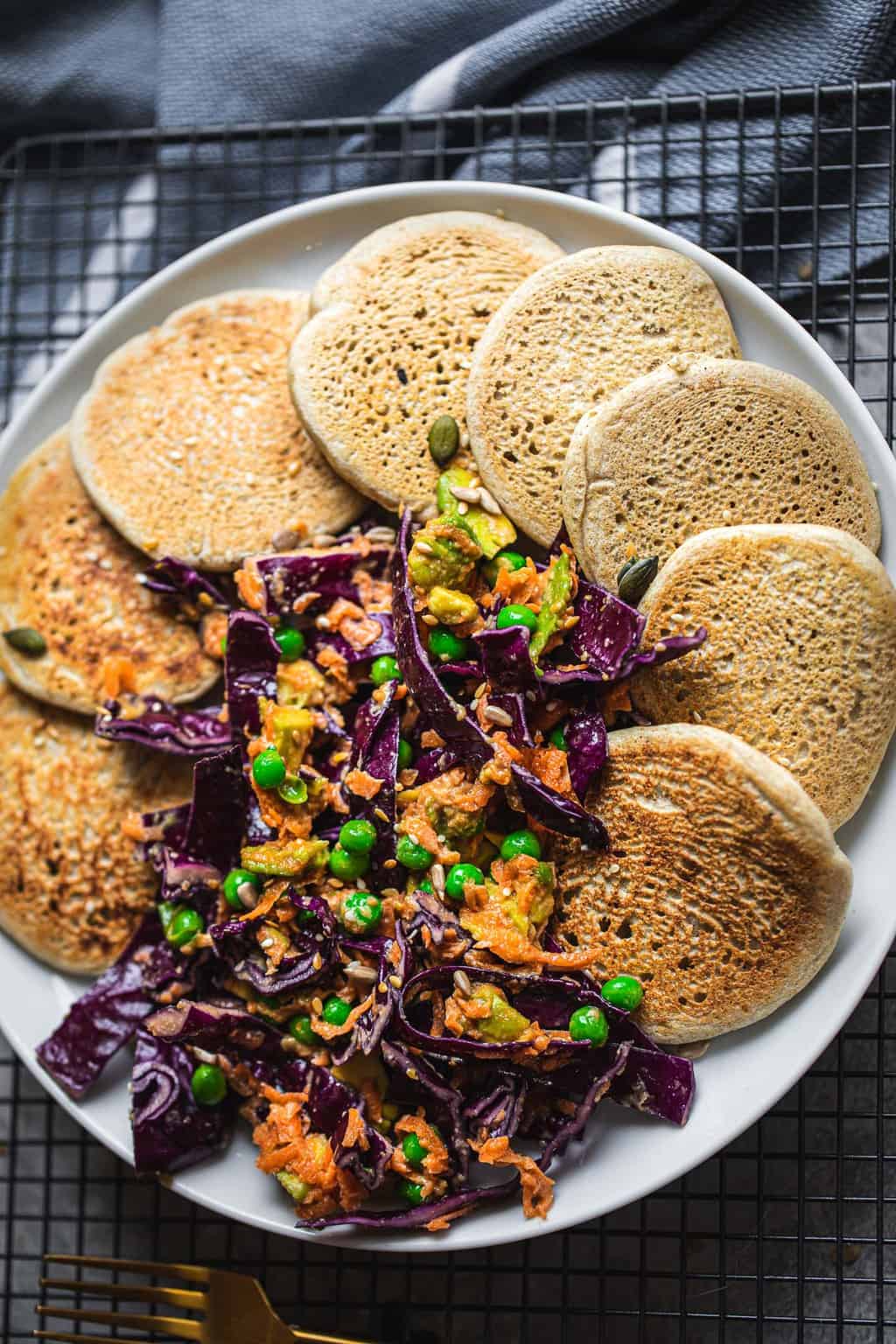 Buckwheat Pancakes With Tahini Veggie Slaw Recipe
By Earth of Maria
🔪Prep Time: 10 mins
👩‍🍳Cook Time: 15 mins
Ingredients
1 cup buckwheat flour
1/2 tbsp baking powder
1 tsp cumin
1 tbsp apple cider vinegar
1 cup water
1 medium carrot, peeled and grated
1 cup red cabbage, chopped
1/2 cup green peas
1/2 large avocado, ripe, cubed
1.5 tbsp tahini
2 tbsp tamari, (or soy sauce if not avoiding gluten-free/coconut aminos for a soy-free version)
Instructions
1Add the pancake ingredients (buckwheat flour, baking powder, paprika, GF nutritional yeast, onion, almond milk and apple cider vinegar to a blender or food processor. Blend until smooth and set aside for 5 minutes
2Meanwhile, make the veggie slaw by stirring together the carrot, cucumber, red cabbage, avocado, petit pois, tahini and sesame seeds. Season generously with pink Himalayan salt and black pepper.
3Heat a non-stick frying pan on a medium-high heat. Use around 2-3 tbsp batter per pancake and cook for around 1.5 minutes (until bubbles form on the surface) before slipping. Cook for a further minute before setting aside on a plate.
4Serve immediately by stacking the pancakes with the veggie slaw in between.
View Full Recipe
Top Vegan Recipe Resources
🥑