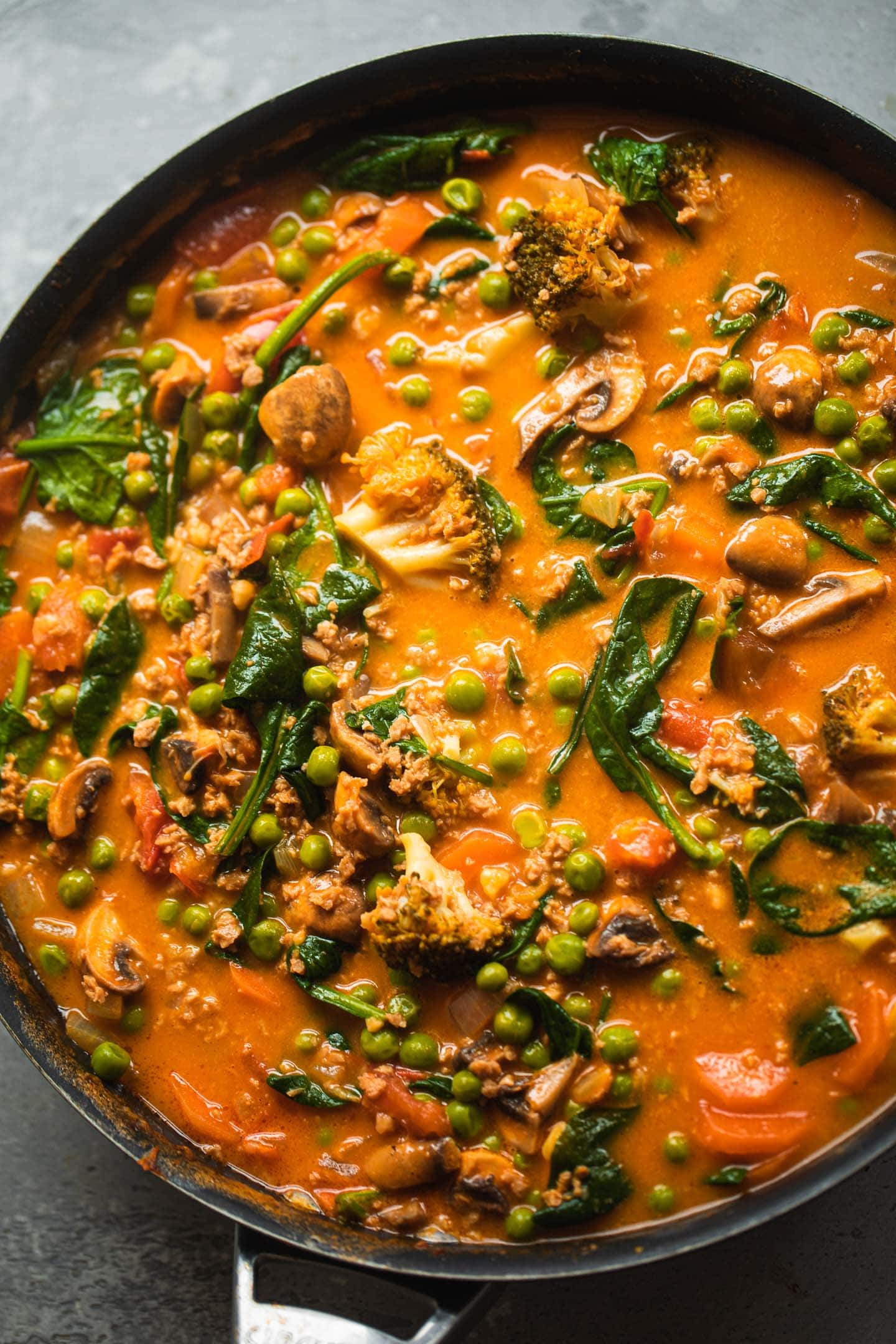 Vegetable And Pea Stew Recipe
By Earth of Maria
🔪Prep Time: 0 mins
👩‍🍳Cook Time: 30 mins
Ingredients
1 tbsp olive oil
2 cloves garlic, minced
1 large onion, diced
2 cups tomatoes, diced
2 tbsp tomato paste
1 tsp paprika
1 tsp cumin
1 tbsp nutritional yeast
1 1/2 cups textured vegetable protein
1 cup mushrooms, chopped
2 large carrots, peeled and chopped
2 cups broccoli florets
1 can coconut milk
2 cups vegetable stock
1 tbsp sriracha
2 cups green peas
3 cups spinach, chopped
1 lemon, juice of
salt and pepper, to taste
Instructions
1Heat the olive oil in a large pan over a medium-high heat for around 30 seconds. Add the garlic, onion, tomatoes, tomato paste, paprika, cumin and nutritional yeast. Cook for 5 minutes, until fully softened and fragrant.
2Soak the TVP in twice the amount of water (in cups) for around 5 minutes. Drain if necessary before using.
3Add the mushrooms, carrots and broccoli. Cook for around 2-3 minutes more, stirring frequently.
4Add the TVP, coconut milk, vegetable stock and sriracha. Lower the heat to a medium, and simmer for 15-20 minutes, stirring occasionally. Add more vegetable stock if necessary.
5Add the green peas and spinach. Stir for a few minutes more, until the spinach had wilted and the peas are bright green. Before serving, squeeze in the lemon juice and season to taste with salt and pepper.
View Full Recipe
Top Vegan Recipe Resources
🥑