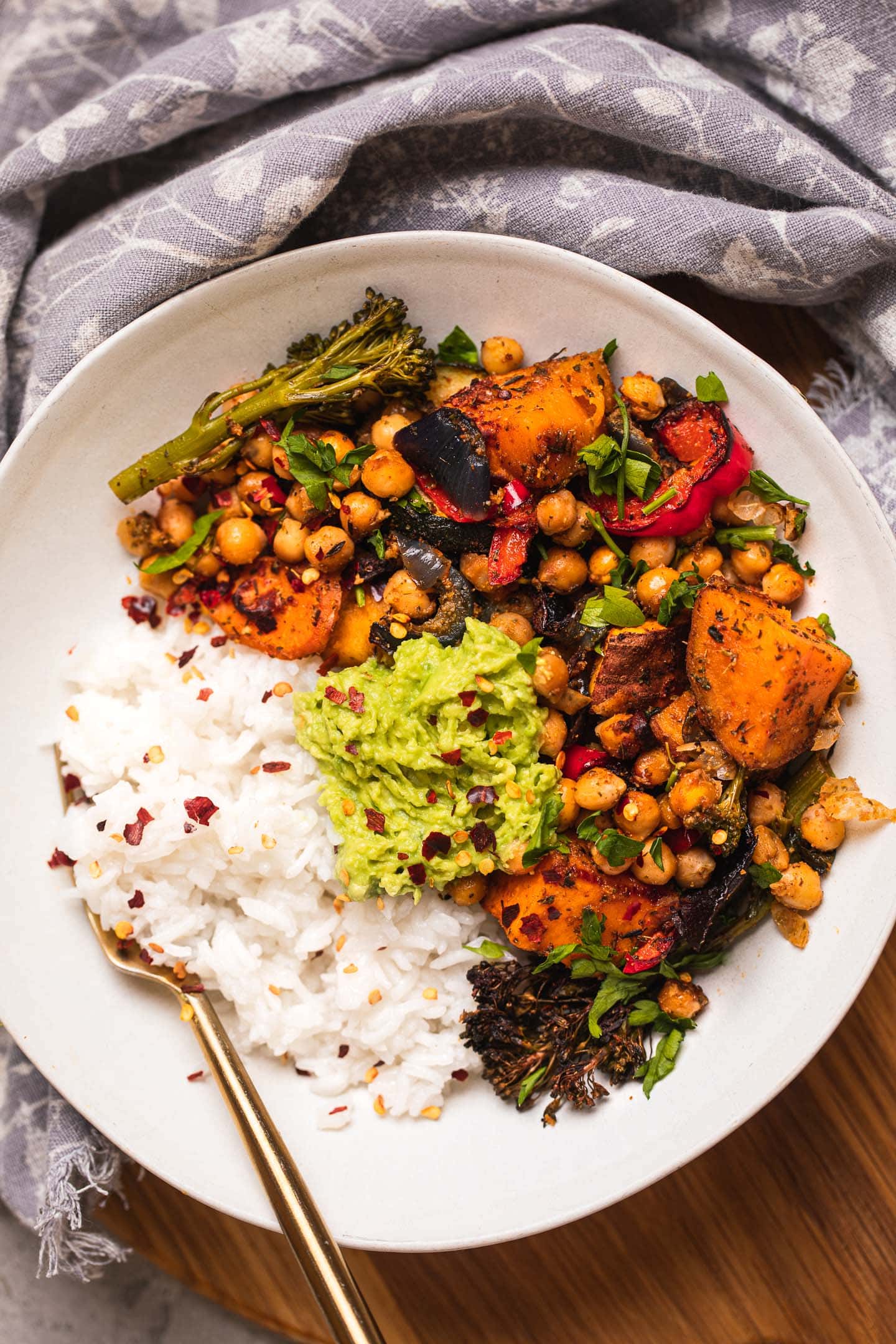 Vegetable And Chickpea Sheet Pan Meal Recipe
By Earth of Maria
🔪Prep Time: 5 mins
👩‍🍳Cook Time: 40 mins
Ingredients
1 1/2 cups broccolini, chopped
1/2 cup red onion, chopped
1 cup bell pepper, de-seeded chopped
1 cup carrots, peeled and chopped
1 cup zucchini, chopped
2 cups sweet potatoes, diced
1 can chickpeas, drained and rinsed
1 tbsp olive oil
1/2 tbsp dried thyme
1/2 tbsp dried oregano
2 tbsp tamari
2 cloves garlic, minced
1 tsp cumin
1 tsp garlic powder
1 tsp paprika
Instructions
1Preheat the oven to 180 degrees C/ 350 F and line a large baking tray with parchment paper. Alternatively, you can lightly grease it with olive oil.
2Add the broccolini, red onion, bell peppers, carrots, zucchini, sweet potatoes and chickpeas to a large mixing bowl. Stir together well, then add the olive oil, dried thyme and oregano, tamari, garlic, cumin, garlic powder and paprika, and mix together once again.
3Transfer the vegetables and chickpeas to the baking tray, spreading them out into a single layer. Bake in the preheated oven for 35-40 minutes, until all of the vegetables are cooked through and crispy.
View Full Recipe
Top Vegan Recipe Resources
🥑