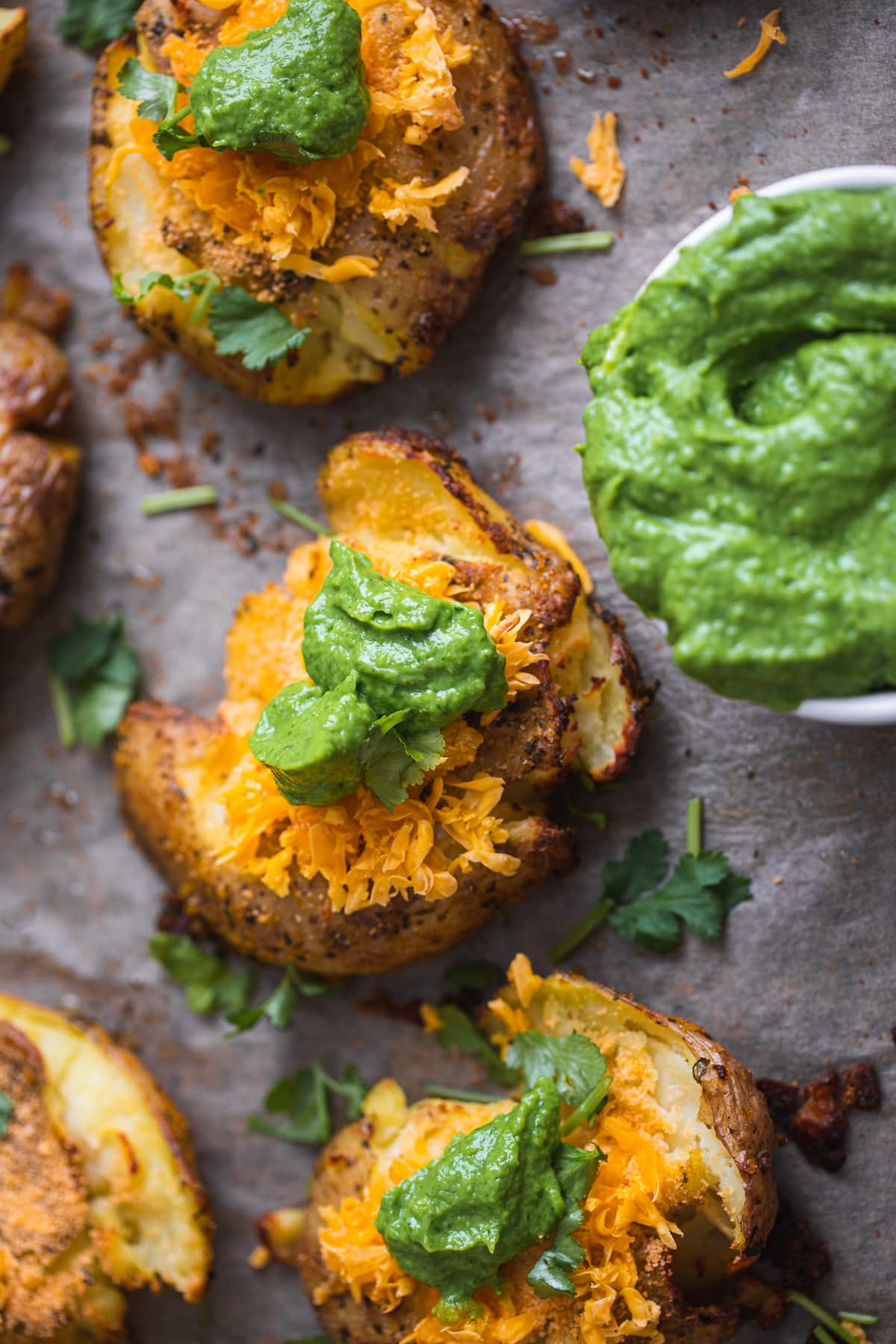 Vegan Smashed Potatoes With Avocado Sauce Recipe
By Earth of Maria
🔪Prep Time: 30 mins
👩‍🍳Cook Time: 20 mins
Ingredients
8 medium potatoes, (around 1kg/2.2 lbs)
2 tbsp olive oil
1/4 cup nutritional yeast
1 tbsp dried oregano
1 tbsp dried basil
1 tbsp dried rosemary
1/2 cup breadcrumbs, gluten-free if necessary
1/2 cup vegan cheese, optional
2 large avocados
1 large onion, peeled and chopped
2 cloves garlic
3 cups spinach
1 cup cilantro, chopped
1 tsp salt
1/4 cup lemon juice, (juice of 1 lemon)
Instructions
1Boil the potatoes. This will take around 25 minutes for medium-sized potatoes. Test by taking out a potato using a slotted spoon, waiting for it to cool down, and testing using a knife.
2Preheat the oven to 180 degrees C (350 F) and line a large baking tray with parchment paper.
3Drain and rise the potatoes and transfer them to a large mixing bowl. Drizzle with olive oil, before adding the nutritional yeast and the oregano, basil and rosemary. Stir together well.
4Arrange the potatoes on the baking tray. Make sure not to overcrowd it and leave plenty of room for each potato. Use either a potato masher or the bottom of a cup to flatten them down gently.
5Sprinkle each potato with around 1 tbsp breadcrumbs, followed by 1-2 tbsp grated vegan cheese. You can also add extra olive oil and dried herbs if you wish.
6Bake in the preheated oven for 20 minutes, until crispy on golden brown.
7To a blender or food processor, add the avocados, onion, garlic, spinach, fresh cilantro, salt and lemon juice. Blend until very smooth and serve with the potatoes.
View Full Recipe
Top Vegan Recipe Resources
🥑