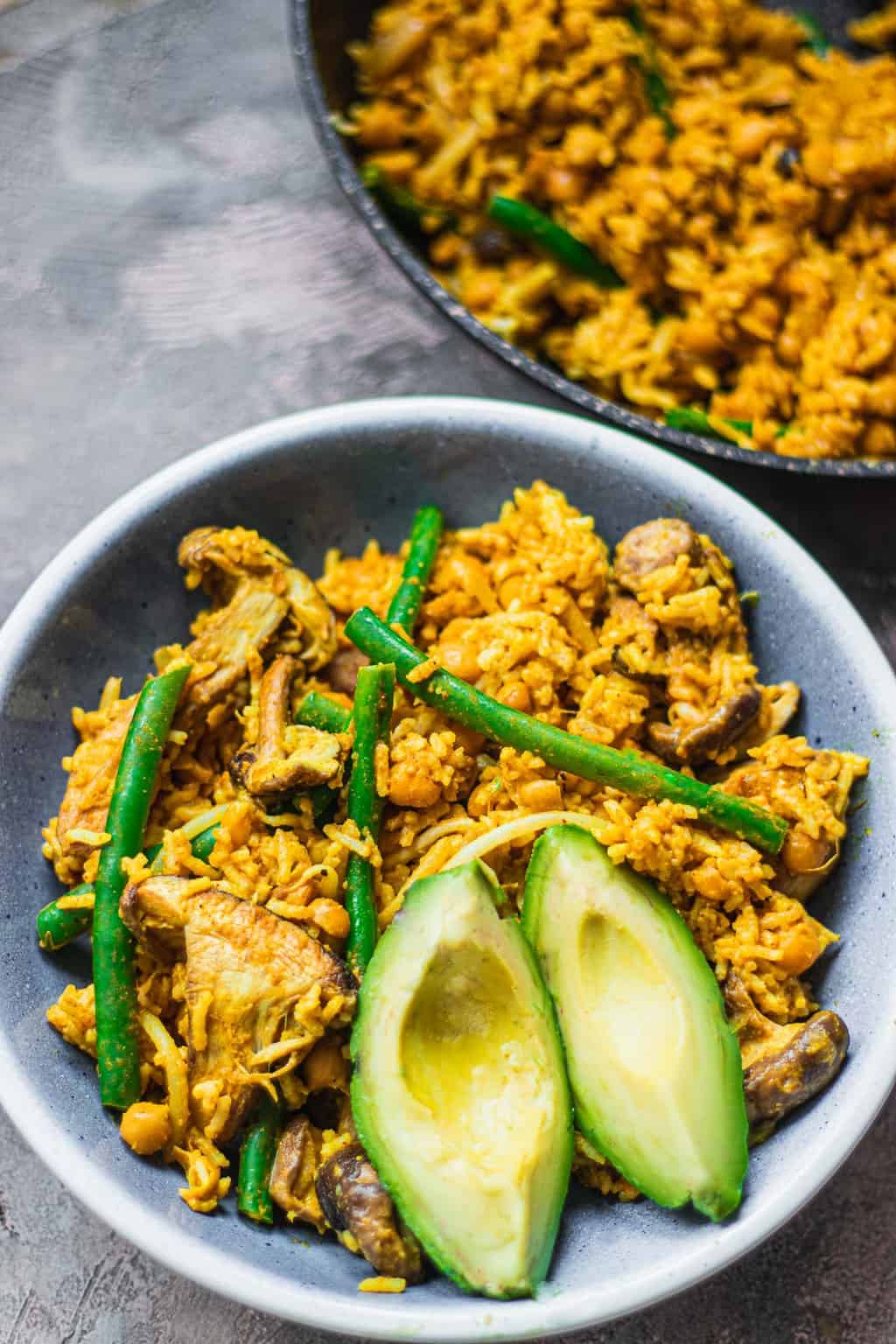 Vegan Fried Rice Recipe
By Earth of Maria
Ingredients
1 cup Basmati rice, dry*
1 can chickpeas, drained and rinsed (240g)
1 tbsp tahini
2 tbsp tamari
1 tbsp nutritional yeast
1 tsp cumin
1 tsp garlic salt
1/2 tsp turmeric
1 tsp curry powder
1/2 tsp black salt
1 medium onion, chopped
7 oz shiitake mushrooms
5 oz green beans, trimmed
5 oz beansprouts
2 tbsp tomato paste
Instructions
1Cook the rice according to packaging instructions, until soft and fluffy but not overcooked. This usually takes 15-20 minutes.
2Add the chickpeas, tahini, tamari, nutritional yeast, cumin, garlic salt, turmeric, curry powder and black salt to a mixing bowl. Stir together well and mash the chickpeas down lightly with a fork.
3Add the onion and the shiitake mushrooms to a non-stick frying pan or wok and sauté for 4-5 minutes, until the mushrooms soften. Then, add the beansprouts and green beans and stir for a further 2-3 minutes, until the beans are bright green.
4Stir in the chickpeas together with the tomato paste and cook for 2 minutes, stirring frequently, to combine the ingredients.
5Drain and rinse the rice, then transfer it to the frying pan. Turn down the heat to low and stir for 2-3 minutes, ensuring that the rice is well-coated in the chickpea 'egg' sauce.
View Full Recipe
Top Vegan Recipe Resources
🥑