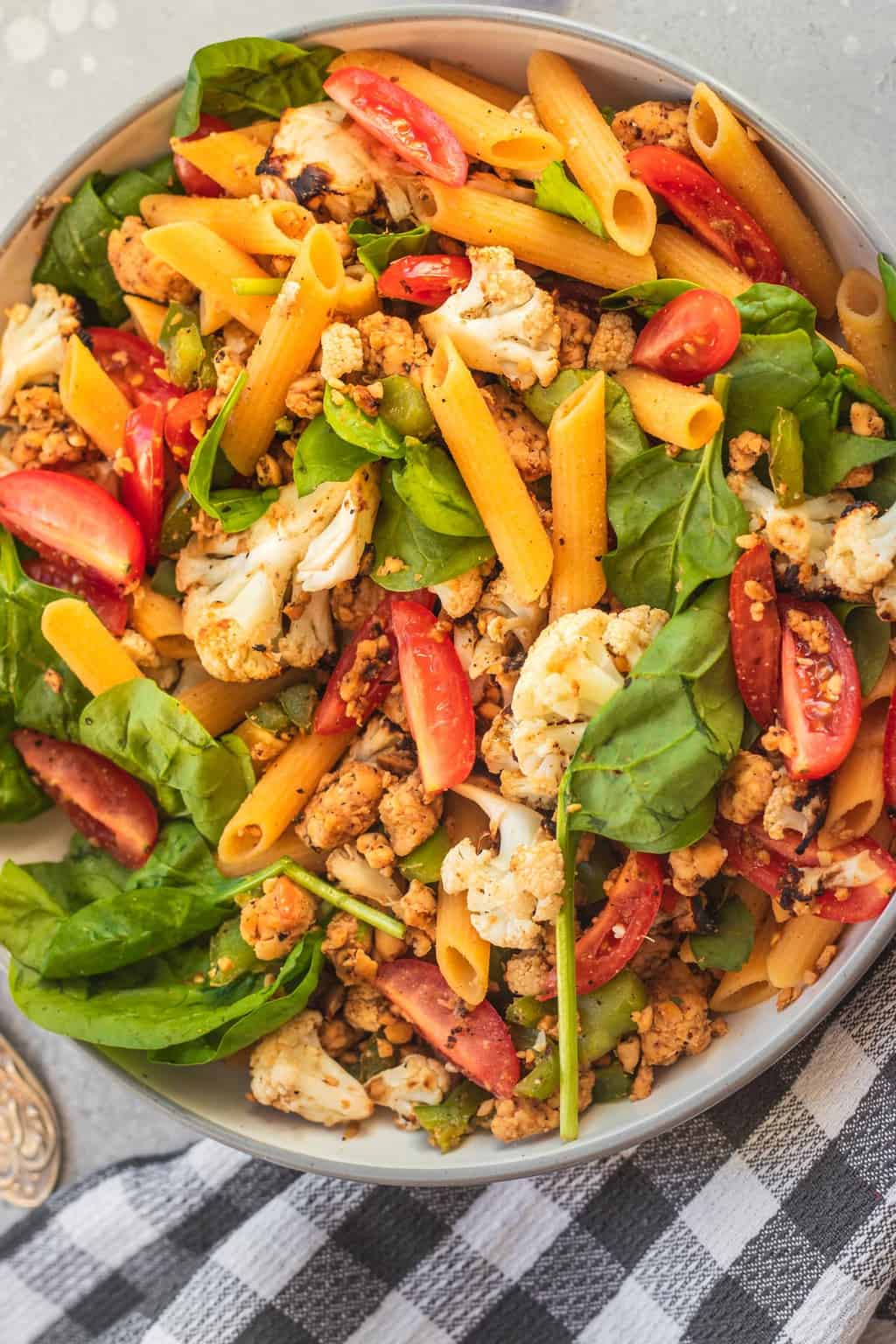 Tempeh Pasta With Roasted Cauliflower Recipe
By Earth of Maria
🔪Prep Time: 5 mins
👩‍🍳Cook Time: 20 mins
Ingredients
2 cups red lentil pasta, or any other pasta variety of choice, dry
18 oz cauliflower , florets
2 tsp cumin
2 tbsp balsamic vinegar
1 tsp salt
1/2 tsp black pepper
7 oz tempeh, crumbled
2 tbsp tamari
2 tsp paprika
2 cloves garlic, minced
2 medium green bell pepper, chopped
2 cups spinach
7 oz cherry tomatoes
2 tbsp tahini, to serve
Instructions
1Preheat oven to 200 degrees C/ 392 F. Cook pasta according to instructions on packaging.
2In a large mixing bowl, toss the cauliflower florets with the cumin, balsamic vinegar, salt and pepper. Arrange on a non-stick baking sheet or baking paper and bake in the oven for around 20 minutes, until golden and crispy.
3Add the garlic and green bell pepper to a non-stick frying pan and cook on a medium-high heat for 2-3 minutes, until softened. Then, add the tempeh, and cook for a further 5-7 minutes, until crispy and cooked through.
4Combine the cauliflower and tempeh with the spinach and cherry tomatoes. Serve straight away with the tahini, or store in the fridge in an airtight container for 4-5 days.
View Full Recipe
Top Vegan Recipe Resources
🥑