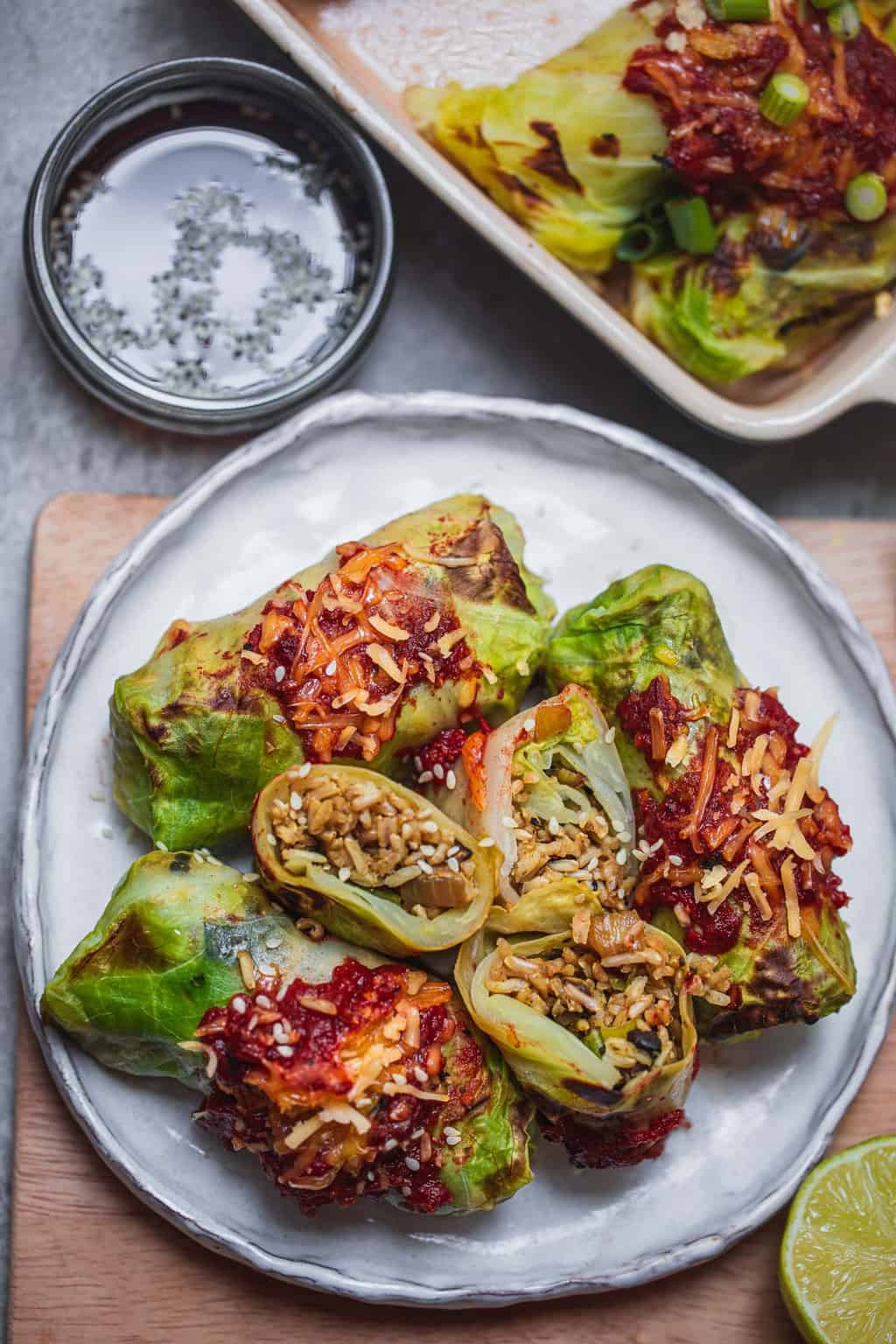 Stuffed Cabbage Rolls Recipe
By Earth of Maria
🔪Prep Time: 40 mins
👩‍🍳Cook Time: 30 mins
Ingredients
2/3 cup wholegrain rice, or any other rice of your choice
1 medium green cabbage
1 medium onion, finely chopped
2 cups mushrooms, finely chopped
1 tsp cumin
2 tsp apple cider vinegar
1 1/2 tbsp tamari
2 stems spring onion, chopped
2 cloves garlic, minced
2 tbsp tomato paste
1/2 tsp salt
1 tsp paprika
1 tin chopped tomatoes , (14oz)
1 lime, juice of
1/4 cup vegan cheese
Instructions
1Boil your rice according to packaging instructions. If using wholegrain rice, this is going to take 25-30 minutes, but white rice varieties such as white Basmati usually take 12-15.
2While the rice is cooking, remove as much of the stem as possible from a large white cabbage, submerge it in boiling water (you can add a little bit of salt if you want) and boil for around 10 minutes.
3Drain, allow to cool, and when cool enough to handle, remove the larger leaves from the outside and set them aside*.
4Add the onion and mushrooms to a non-stick frying pan. Sauté for 3-4 minutes, allowing them to soften and cook down.
5Next, add the cumin, apple cider vinegar, tamari, cooked rice and spring onion. Stir together for a few minutes before removing from the heat.
6Add the minced garlic and tomato paste to a non-stick frying pan and cook for 2-3 minutes, stirring frequently, so that the garlic becomes super fragrant.
7Next, add salt, paprika, tinned tomatoes, and lime juice. Simmer over a medium heat for around 5 minutes, stirring frequently.
8Lay out each cabbage leaf on a flat surface and place 3 tbsp-1/4 cup of the filling near the stem. Roll the leaf carefully, making sure it doesn't break and tucking in the sides as you go.
9Transfer the leaves to a rectangular baking dish. Add a generous layer of the tomato sauce on top as well as optional vegan cheese. Cover with aluminium foil and bake in the preheated oven for 25-30 minutes.
View Full Recipe
Top Vegan Recipe Resources
🥑