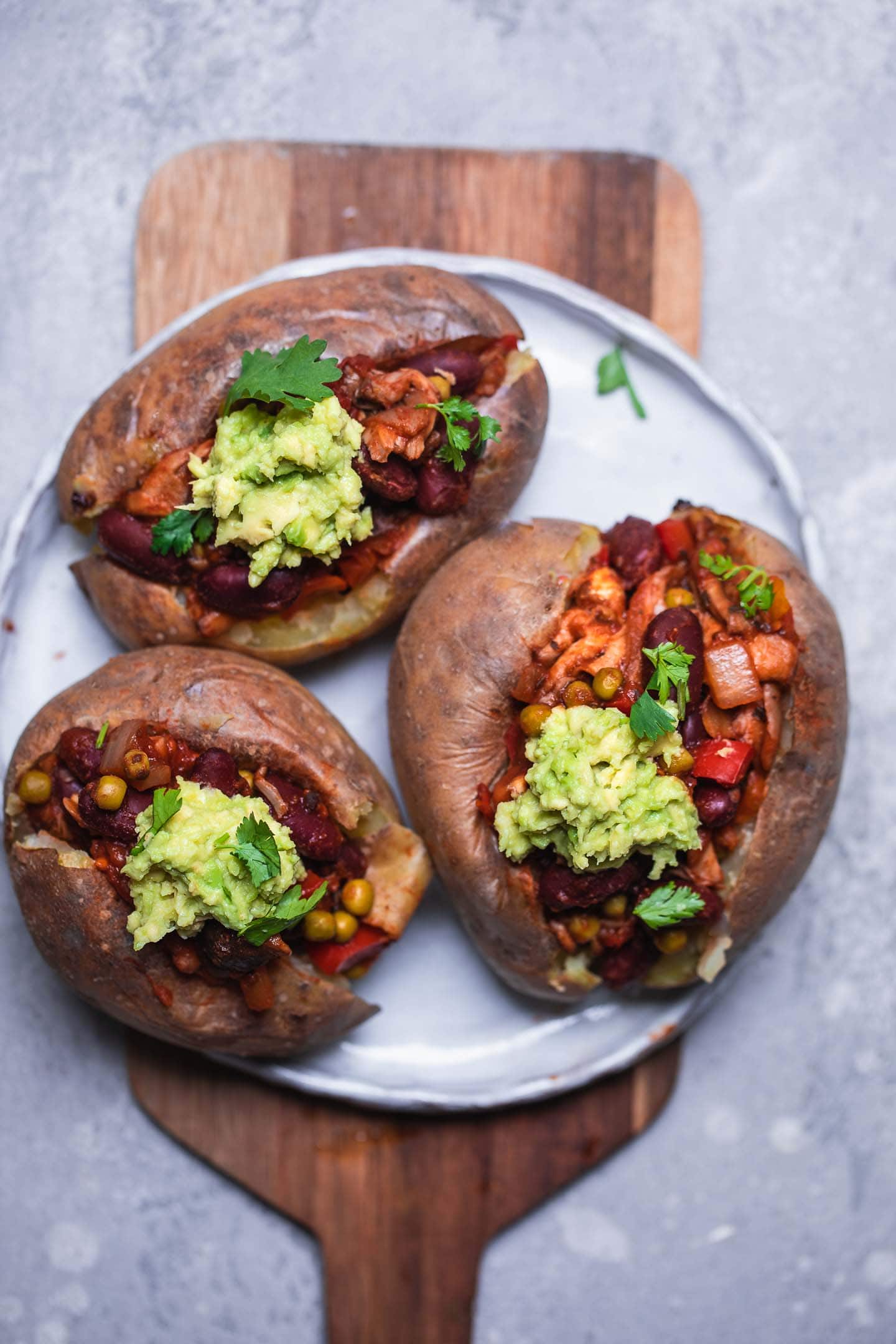 Spicy Kidney Bean Baked Potatoes Recipe
By Earth of Maria
🔪Prep Time: 5 mins
👩‍🍳Cook Time: 50 mins
Ingredients
3 large baking potatoes
1 medium onion, chopped
2 cloves garlic, minced
1/2 red bell pepper, finely chopped
2 cups oyster mushrooms, shredded
2 tsp paprika
1 tsp cumin
1 tsp dried basil
1 can red kidney beans, drained and rinsed
1/2 can tomatoes
2 tbsp tamari
1 tbsp apple cider vinegar
1/2 cup green peas
1/2 large avocado, mashed
Instructions
1Preheat the oven to 200 decrees C/390 F. Arrange the potatoes on a sheet of baking paper and bake in the oven for around 45-50 minutes, until soft. This will depend on the size of the potatoes you use.
2Meanwhile, add the onion, garlic and red bell pepper to a non-stick frying pan with around 1/4 cup water and sauté for 2-3 minutes, until softened.
3Add the oyster mushrooms together with the paprika, cumin and basil. Cook for a further 3-4 minutes, until the mushrooms soften.
4Add the kidney beans, tinned tomatoes, tamari and apple cider vinegar. Cook for around 5-7 minutes, stirring frequently and the last minute stir in the green peas.
5Serve in the baked potatoes with mashed avocado on top.
View Full Recipe
Top Vegan Recipe Resources
🥑