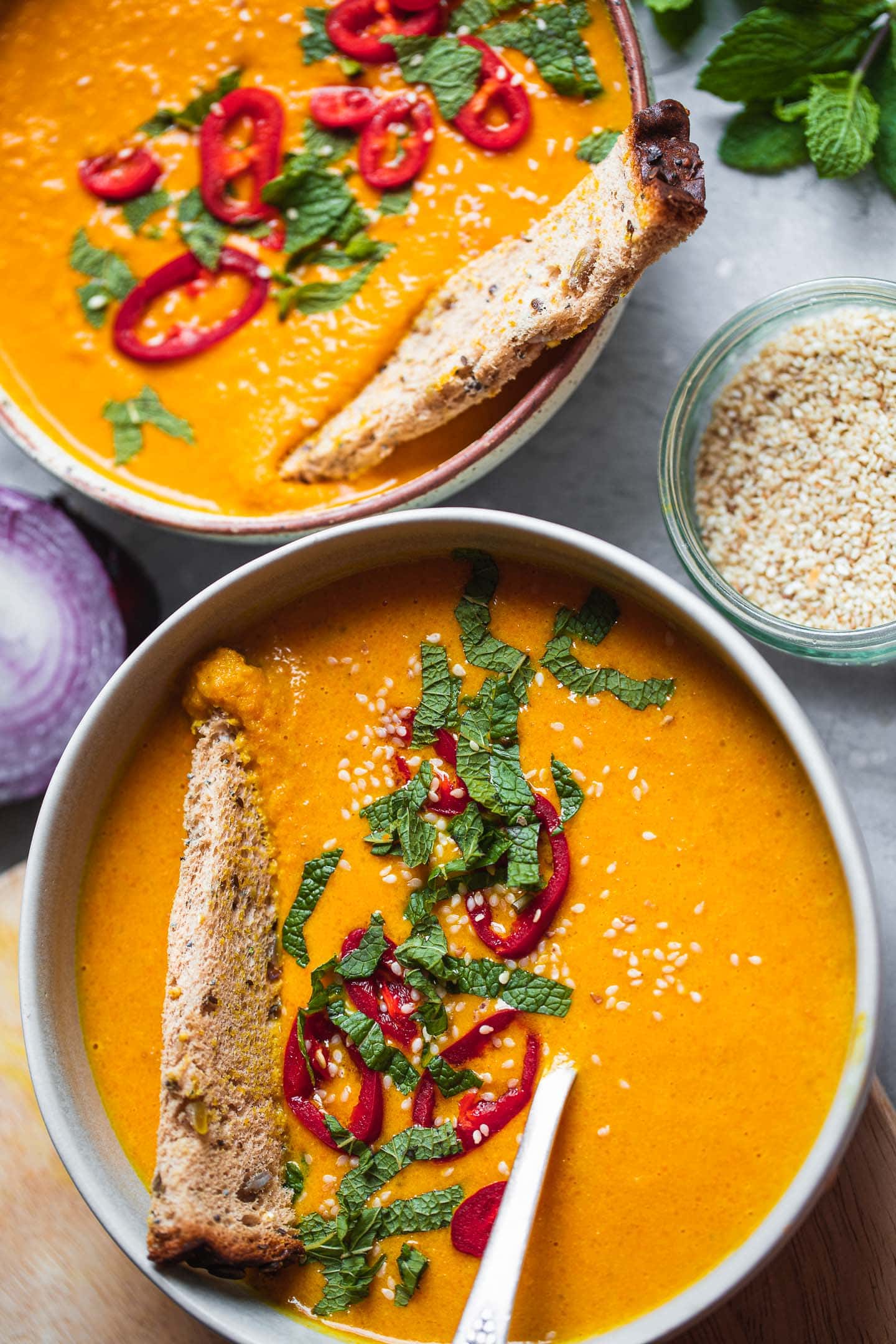 Spicy Butternut Squash Soup Recipe
By Earth of Maria
🔪Prep Time: 10 mins
👩‍🍳Cook Time: 30 mins
Ingredients
2 cups butternut squash, peeled and chopped
1 1/2 tbsp olive oil
1 medium red onion, peeled and chopped
1 large carrot, peeled and chopped
1 stick celery
1 cup coconut milk, from the can
3 gloves garlic
2 tbsp tomato paste
1 tsp cumin
1 tsp turmeric
1 tsp paprika
1/2 tsp salt
1 fresh chilli pepper
1/2 lemon, juice of
Instructions
1Prepare a baking tray by lining it with parchment paper and preheat the oven to 180 degrees C (350F).
2Spread the butternut squash cubes over the baking tray and drizzle with olive oil. Bake in the oven for 30 minutes, until tender.
3Meanwhile, add the red onion, carrot and celery to a saucepan and cook for around 15 minutes, until fully softened. Drain the vegetables, but retain a cup of the vegetable cooking water.
4Transfer the vegetables and the butternut squash to a blender, also adding the vegetable cooking water, coconut milk, garlic, tomato paste, cumin, turmeric, paprika, salt, chilli pepper and lemon juice. Blend until smooth. You can also use an immersion blender to do this.
5Serve immediately with toasted bread and garnishes of your choice.
View Full Recipe
Top Vegan Recipe Resources
🥑