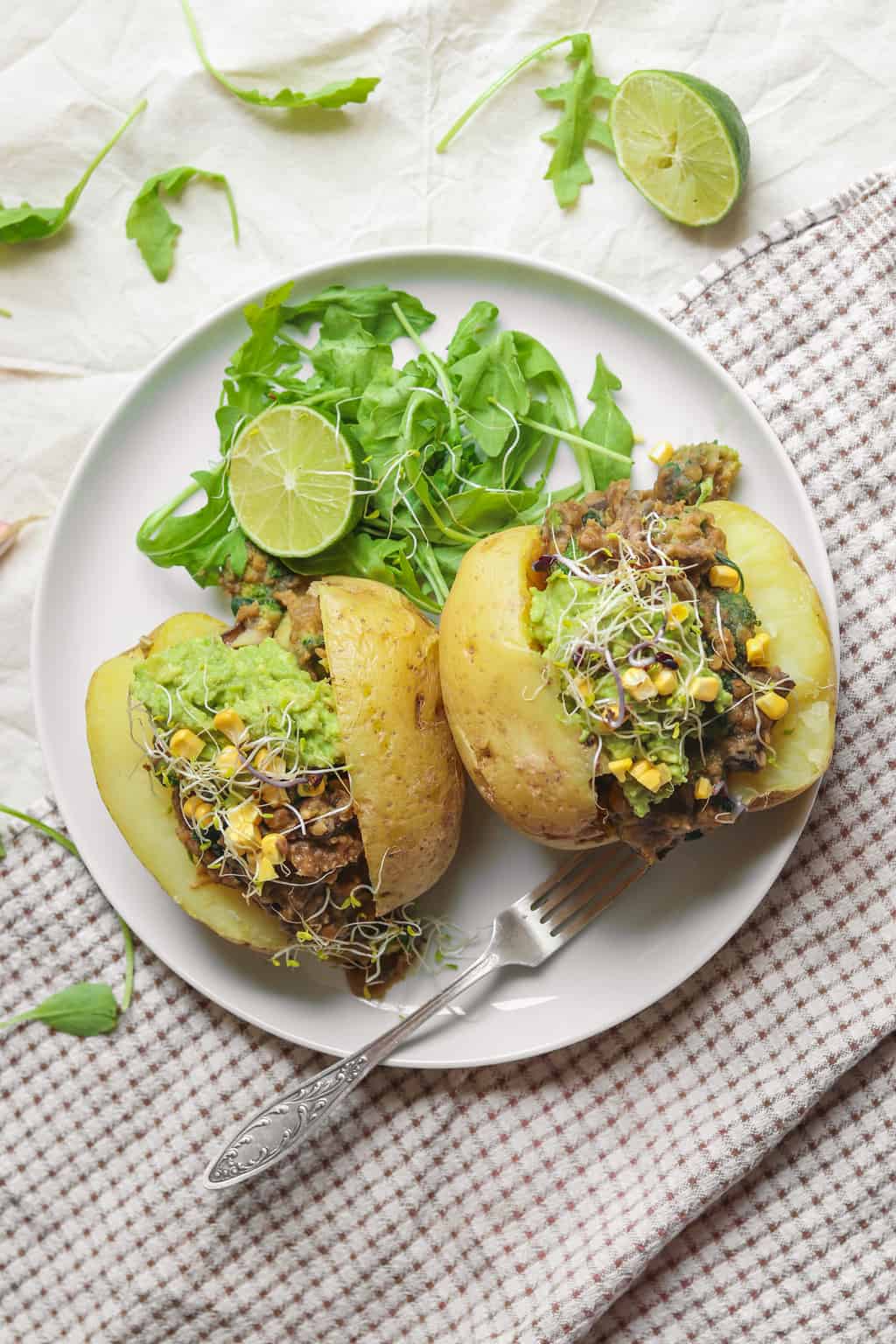 Simple Baked Potatoes With A One-Pot Lentil Filling Recipe
By Earth of Maria
🔪Prep Time: 5 mins
👩‍🍳Cook Time: 50 mins
Ingredients
4 large potatoes
1 large red onion, diced
4 cloves garlic, minced
1 tsp garlic power
2.5 cups chestnut mushrooms, chopped
2 cups red lentils
salt and pepper, to taste
1 cup cashew milk
2.5 cups broccoli , chopped
5 tbsp nutritional yeast
2.5 cups spinach leaves
2 medium avocados
juice of 1 lime
sea salt to taste
fresh sweet corn
alfalfa sprouts
Instructions
1Preheat an oven to 200 degrees C/392 F. Bake the potatoes for 45-50 minutes, depending on the size of the potatoes.
2Add the red onion, garlic and garlic powder to a non-stick saucepan on a medium-high heat and stir for 2-3 minutes, until translucent. Add the mushrooms and continue stirring for around 4 minutes more.
3Lower the heat and add the red lentils and cover with water, but be sure not to pour in too much. Season to taste with salt and pepper.
4Simmer on a low-medium heat for 15-20 minutes, stirring occasionally and adding more water when necessary. Around 10 minutes into the cooking process, pour in the cashew milk.
5At the last minute, stir in the broccoli, nutritional yeast and spinach. Cook until the spinach wilts and the broccoli softens slightly.
6To make the avocado sauce, mash the avocados using a fork in a mixing bowl with lime juice, seasoning to taste with salt.
7Serve the potatoes with the lentil filling, avocado sauce, fresh sweetcorn and alfalfa sprouts. The lentil filling can be stored in the fridge for 3-4 days in an airtight container.
View Full Recipe
Top Vegan Recipe Resources
🥑