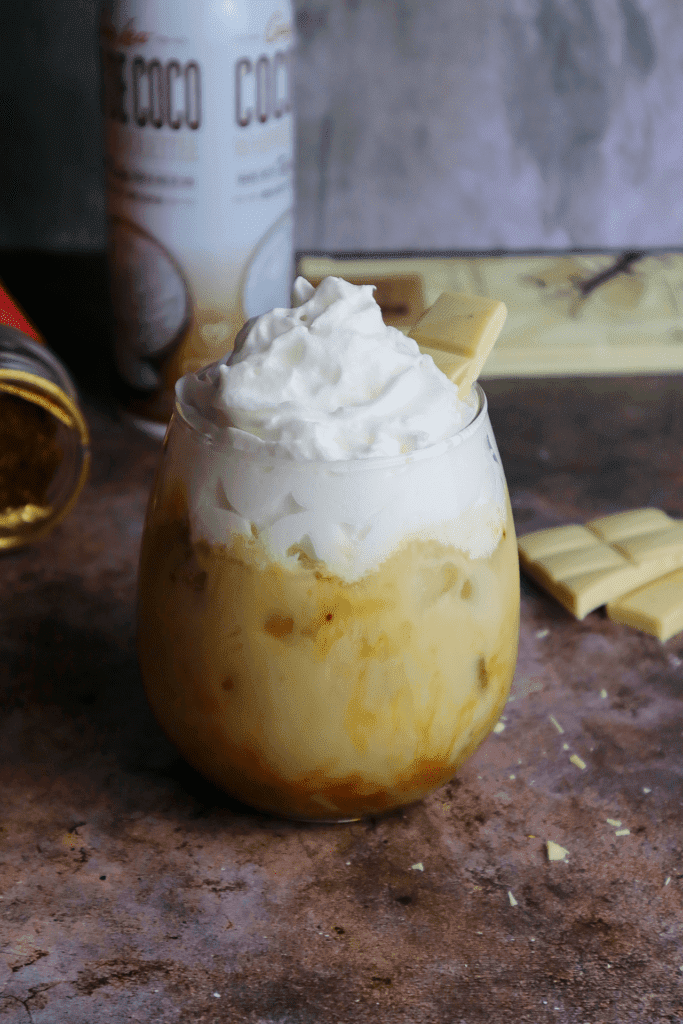 Iced White Chocolate Mocha Recipe
By Peanut Palate
Ingredients
For the Syrup
2 tbsp vegan white chocolate chopped finely
2 tbsp oat milk sub: another plant based milk. taste will be different though
1-2 tsp liquid sweetener (eg. coconut syrup, brown rice syrup, agave, 100% pure maple syrup – or xylitol, a dry sweetener, would work) start with 1 tsp, add more later after the syrup is made, if desired
¼ tsp vanilla extract
For the Drink
1 cup oat milk Sub: any other plant based milk. taste will be different though
2 tbsp black coffee sub: espresso, or coffee powder mixed with water to make 2 tbsp. If using espresso, use half as much – add 1 tbsp first and add more later as desired
Ice enough to fill one cup
For the Topping
vegan whipped cream I used Gay Lea brand of Coconut Whipped Cream
Instructions
1Add the sauce ingredients to a saucepan over low heat (except the vanilla). Allow the mixture to melt and thicken for 2-4 minutes, continuously stirring and making sure the chocolate isn't burning. Once it has thickened, remove from heat and stir in the vanilla.
2Pour the ice into a cup, then add the oat milk over top. Pour the coffee on top of this.
3Then pour the white chocolate mixture over top of this, and gave it a stir.
4Top with vegan whipped cream (optional, but of course recommended!)
5Drink right away!
View Full Recipe
Top Vegan Recipe Resources
🥑