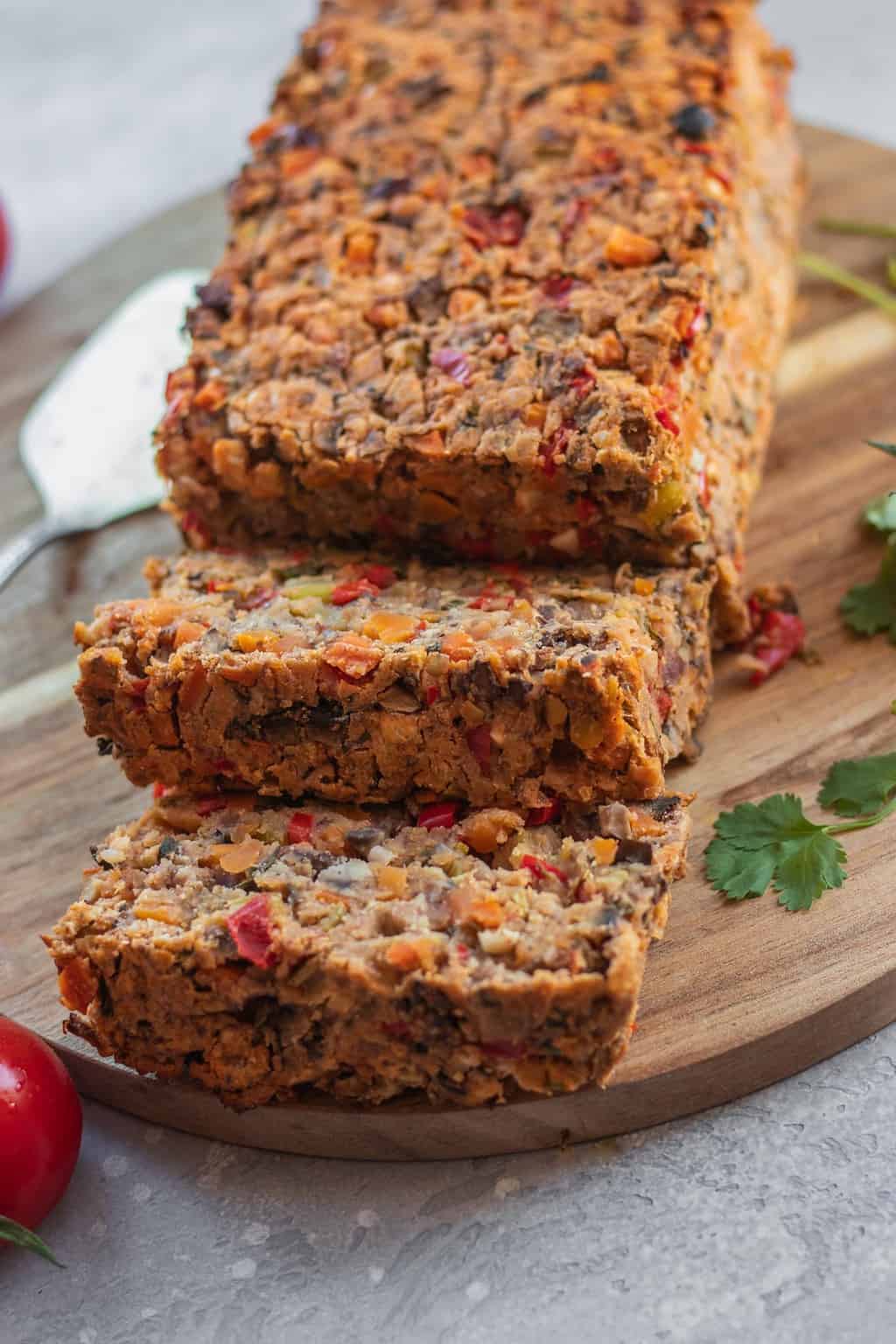 Easy Vegan Lentil Loaf Recipe
By Earth of Maria
🔪Prep Time: 20 mins
👩‍🍳Cook Time: 40 mins
Ingredients
1 cup red lentils, uncooked
3 cups chestnut mushrooms , finely chopped
1/2 medium aubergine, finely chopped
1 medium onion , finely chopped
1 large carrot , finely chopped
1 large red bell pepper , finely chopped
3 stalks celery, chopped
2 tbsp tomato purée
1/2 tsp black pepper
2 tbsp cranberries, chopped
3 cloves garlic, minced
1 small bunch cilantro, chopped
1 tbsp ground flaxseed
sea salt, to taste
2 tbsp buckwheat flour
Instructions
1Preheat oven to 180 degrees C/356 F. Meanwhile, cook the red lentils according to instructions on packaging - this usually takes 10-15 minutes. Make sure they are cooked through but not mushy.
2Add the mushrooms and aubergines to a baking tray lined with baking paper and roast in the preheated oven for around 10-15 minutes.
3Meanwhile, add the onion to a non-stick frying pan. Cook over a medium heat for a few minutes. Then, add the bell pepper, carrot, celery, tomato purée and black pepper. Lower the heat and cook, stirring frequently, on a low heat for around 10 minutes.
4When all the ingredients are ready, add them to a large mixing bowl together with the cranberries, garlic, cilantro and flax egg. Season to taste with salt and pepper. Wait a few minutes until the mixture had cooled down and stir in the buckwheat flour.
5Transfer the mixture to a loaf tin lined with parchment paper and roast in the oven for 35-40 minutes, making sure it doesn't burn. Serve immediately, or leave in the fridge in an airtight container for up to 5 days.
View Full Recipe
Top Vegan Recipe Resources
🥑