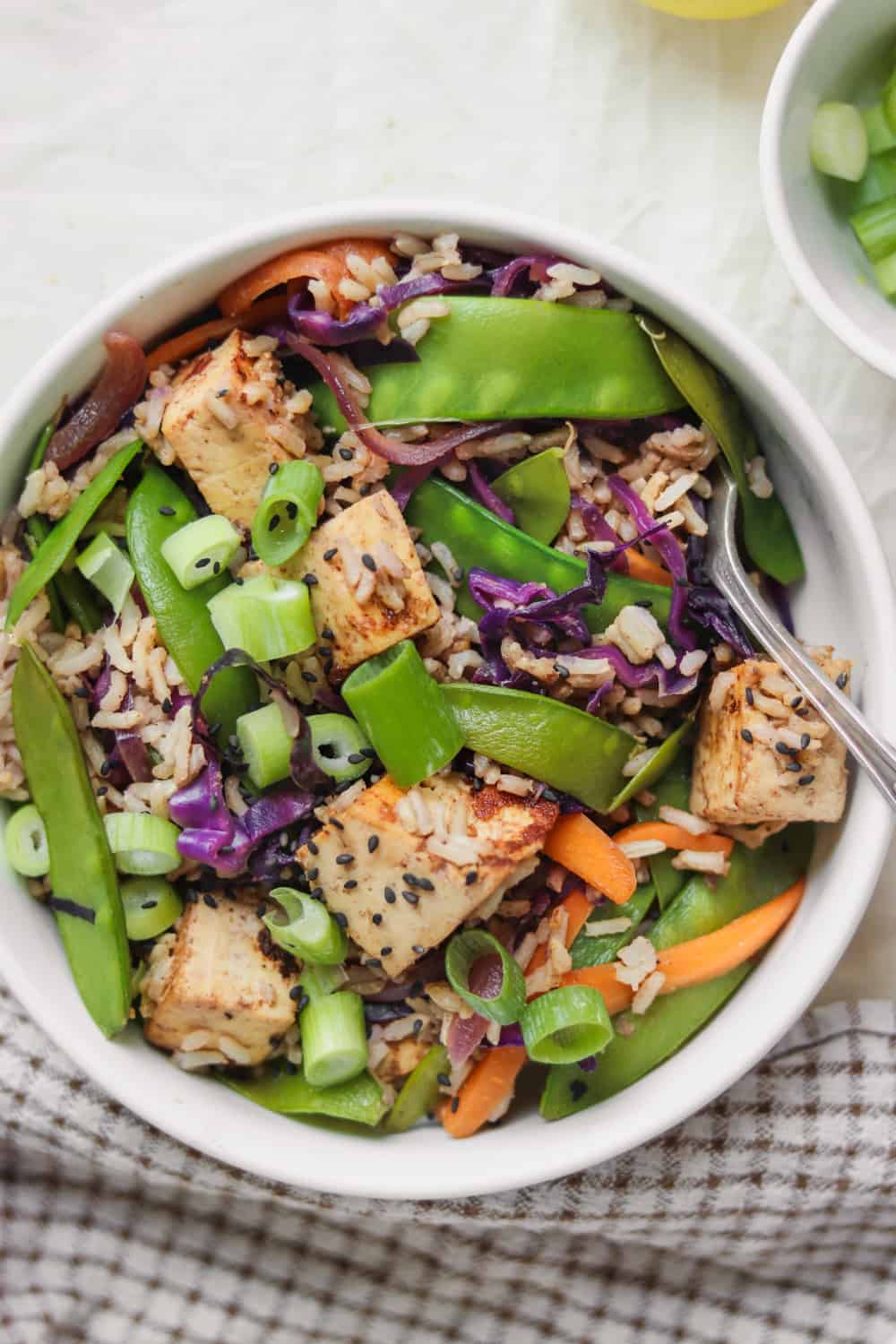 Sweet Almond Tofu Rice Stir-Fry Recipe
By Earth of Maria
🔪Prep Time: 5 mins
👩‍🍳Cook Time: 25 mins
Ingredients
1 cup brown rice , uncooked
10 oz firm tofu
1 tbsp sesame oil
2 cloves garlic
1 small red onion, chopped
1 large carrot, chopped into matchsticks
1/4 medium red cabbage, chopped
5 oz snow peas
1 tsp garlic granules
2 tbsp tamari
2 tbsp rice vinegar
sesame seeds, to serve
2 tbsp tamari
2 tbsp maple syrup
2 tbsp almond butter
2 tbsp plant based milk
Instructions
1Cook the brown rice according to packaging instructions. This usually takes around 25 minutes.
2Combine the sauce ingredients (tamari, date syrup, almond butter and plant milk) in a bowl. Add the tofu and set aside for 5-10 minutes.
3Heat the sesame oil in a wok or frying pan over a medium-high head. Add the tofu and cook for 5-6 minutes, until golden brown on all sides. Remove from heat and set aside.
4Add the onion and the garlic to the same frying pan and cook on a medium-high heat for 2-3 minutes, until translucent. Then, add the carrots, cabbage and snow peas with around a quarter cup water, garlic powder, tamari and rice vinegar. Cook for a further 5 minutes, until the vegetables have softened.
5At the last minute, stir in the cooked brown rice and the tofu. Serve immediately, or store in the fridge in an airtight container for 3-4 days.
View Full Recipe
Top Vegan Recipe Resources
🥑