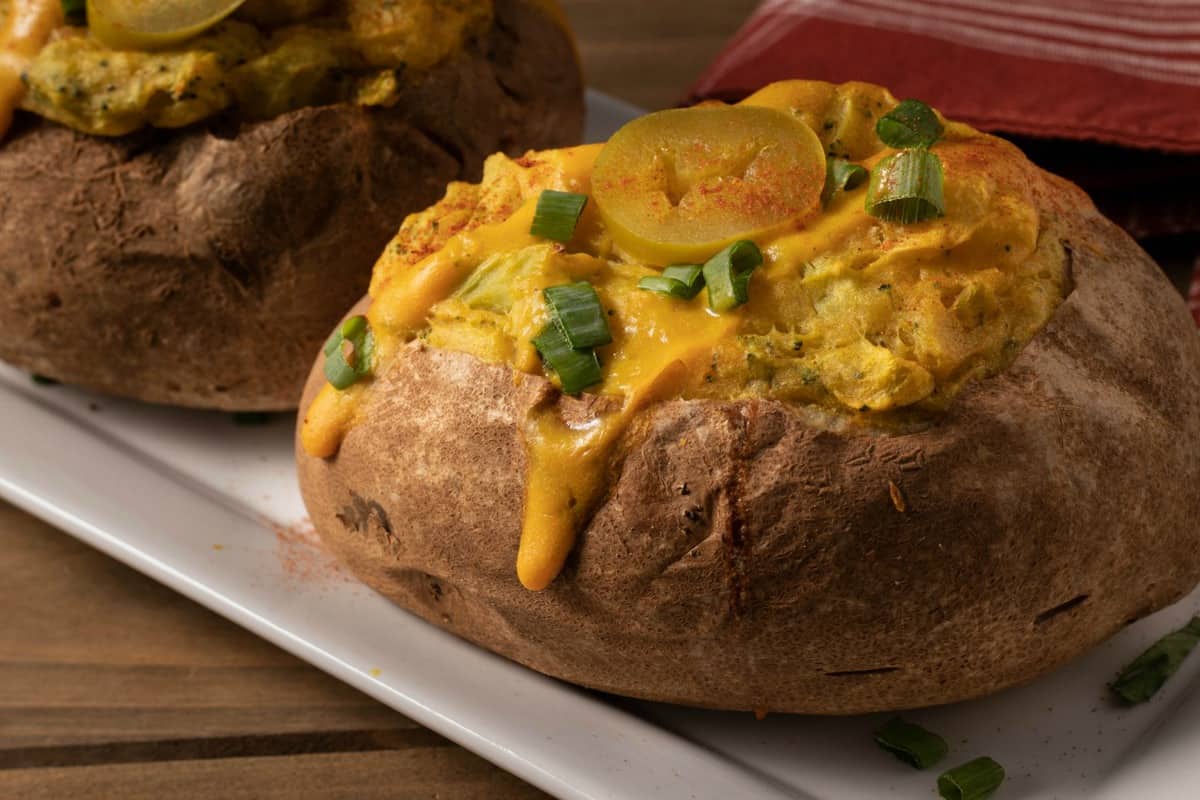 Vegan Twice Baked Potatoes Recipe
By Brand New Vegan
🔪Prep Time: 5 min
👩‍🍳Cook Time: 75 min
Ingredients
2 large russet potatoes (about 1.5lbs ea)
1 cup steamed broccoli (chopped)
1/2 cup vegan cheese sauce
1 Tbs unsweeteend almond milk
1/2 tsp garlic powder
1/4 tsp salt
1/4 tsp pepper
chopped green onion & ground paprika for garnish
Instructions
1Scrub potatoes and prick several time with a fork. Bake in 400° F oven for 1 hr 15 min.
2Remove potatoes when a fork will insert smoothly. Allow to cool 20-30 min.
3Prepare cheese sauce according to recipe. Reserve 1 cup and store the rest in an airtight container.
4Microwave broccoli and chop uniformly. Pack a 1 cup measuring cup and set aside.
5Remove top 1/3 of potato (lengthwise) and discard (or eat).
6Scoop out flesh to within 1/4″ of the skin and place in a bowl.
7Mash potato flesh with 1/2 cup cheese sauce, broccoli, garlic powder, salt, & pepper.
8Pack mashed potato mixture back into the potato skins and bake an additional 15-20 min.
9Drizzle with additional cheese sauce if desired and garnish.
View Full Recipe
Top Vegan Recipe Resources
🥑