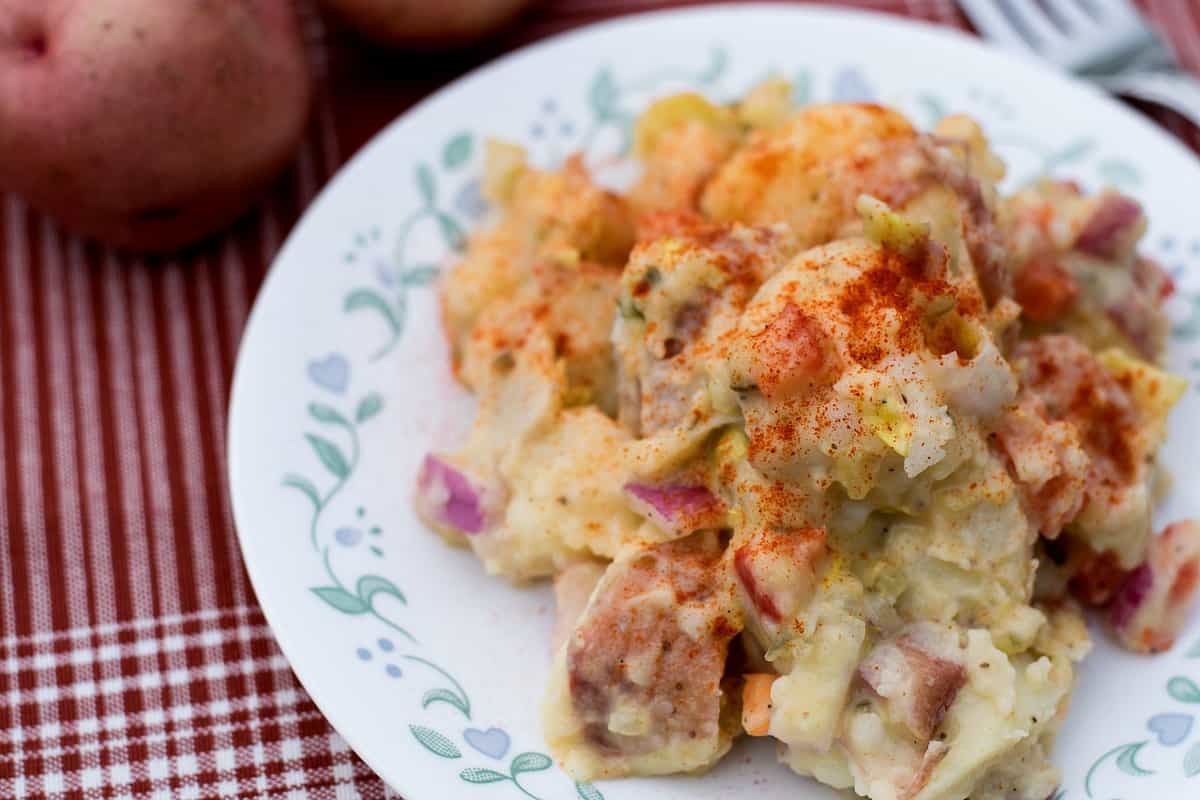 Vegan Potato Salad Recipe
By Brand New Vegan
Ingredients
6 Red Potatoes scrubbed clean
2 Ribs Celery finely chopped
1/4 Red Onion finely chopped
1/4 Red Bell Pepper finely chopped
2 Tbs Dill Pickle Relish
1 can Cannellini Beans 15oz
3 Tbs Lemon Juice
1 Tbs Red Wine Vinegar
1 Tbs Tahini
1 Tbs Dijon Mustard
1 Tbs Dill Pickle Juice
1 tsp Brown Sugar
1/2 tsp Garlic Powder
1/2 tsp Ground Pepper
1/2 tsp Celery Seed
1/4 tsp Onion Powder
1/4 tsp Salt
Instructions
1Wash and scrub 6 medium-sized Red Potatoes and cube into large chunks.
2INSTANT POT:  Add your steamer trivet to your IP, the potatoes, and 1 1/2 cups of water.  Set to MANUAL and cook for 4 minutes.
3STOVETOP:  Add the potatoes to a large pan and cover with water.  Boil until just fork tender - 5-10 minutes.
4Remove potatoes, drain, and set aside in refrigerator to cool while preparing salad and dressing.
5Finely chop onion, red bell pepper, and celery and add to a large bowl.  Stir in relish and mix thoroughly.
6For the dressing, empty the can of beans (including the juice) into your blender and add all the remaining dressing ingredients.  Blend on high until smooth.
7Carefully mix the cooled potatoes with the salad ingredients and then fold in at least 1 cup of the dressing.  Mix carefully.
8Note:  The dressing makes about 2 cups - I would start with just 1 cup of the dressing and add more if necessary.  Use the remainder as a salad dressing or mayo substitute.
9Chill for at least 30 minutes and serve.
View Full Recipe
Top Vegan Recipe Resources
🥑