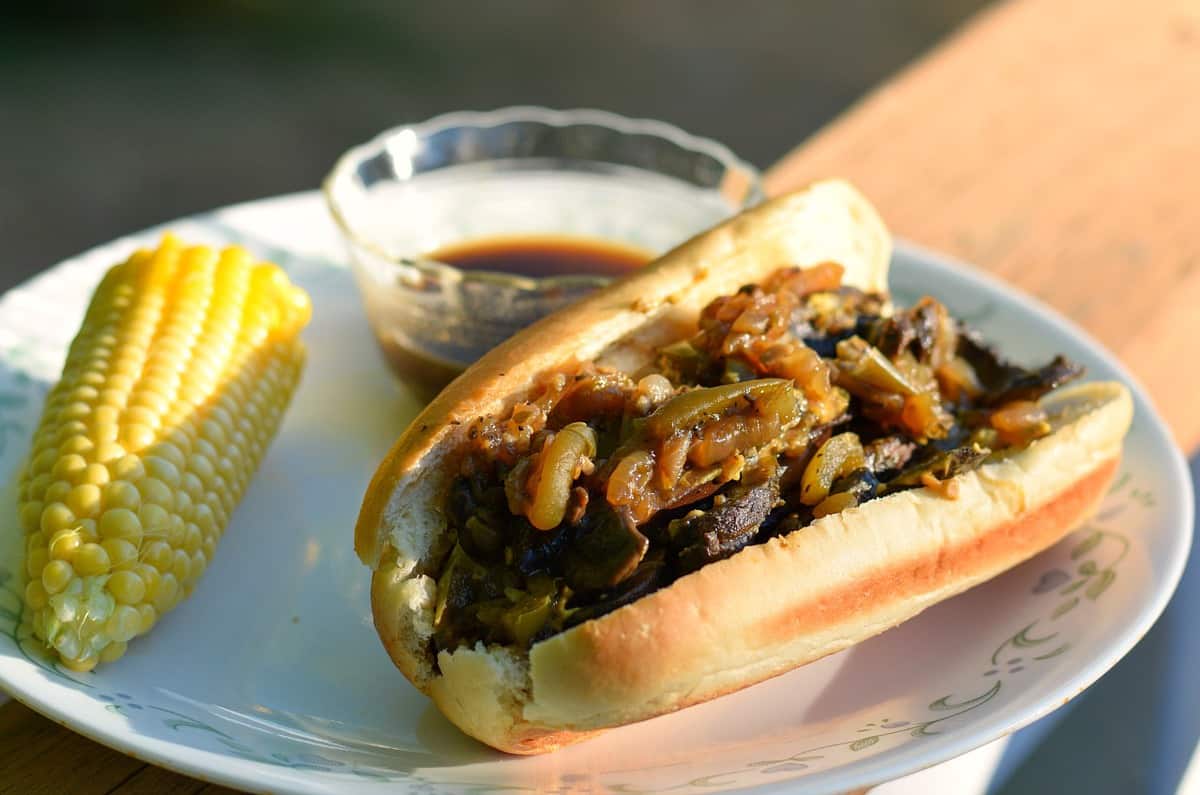 Vegan Portobello French Dip Recipe
By Brand New Vegan
🔪Prep Time: 15 min
👩‍🍳Cook Time: 15 min
Ingredients
1 large sweet onion
2 med bell peppers
1/4 tsp salt
2 tsp minced garlic
16 oz portobello mushroom caps (4 large)
2 Tbs water or veg broth (if needed to prevent sticking)
1 tsp Italian seasoning
1 3/4 cup low sodium veggie broth
2 Tbs low sodium soy sauce
1 Tbs vegan worchestershire sauce
2 tsp molasses
1/4 tsp liquid smoke (or smoked paprika)
1 Tbs corn starch or arrowroot
Instructions
1Slice onion and peppers into thin rings/strips and add to a large skillet, sprinkle with salt.
2Cook onions and peppers on med heat, stirring frequently, until they begin to soften – use 1-2 Tbs veg broth or water to prevent sticking
3Add 2 tsp chopped garlic and stir to combine.
4Cut mushrooms into 1/4″ thick slices.
5Add mushrooms to skillet and saute until they begin to shrink in size and release their liquid. Add Italian seasoning and mix well.
6In a small bowl, whisk together the Au Jus ingredients – veg broth, soy sauce, Worcestershire, molasses, liquid smoke, and cornstarch
7When the liquid from the mushroom has almost evaporated, slowly pour in the Au Jus.
8Simmer mushrooms in Au Jus until sauce slightly thickens. Season with salt and pepper to taste.
9Assemble sandwiches on the bread of your choice and enjoy!
View Full Recipe
Top Vegan Recipe Resources
🥑