Recipes

Vegan Hungarian Goulash (Instant Pot)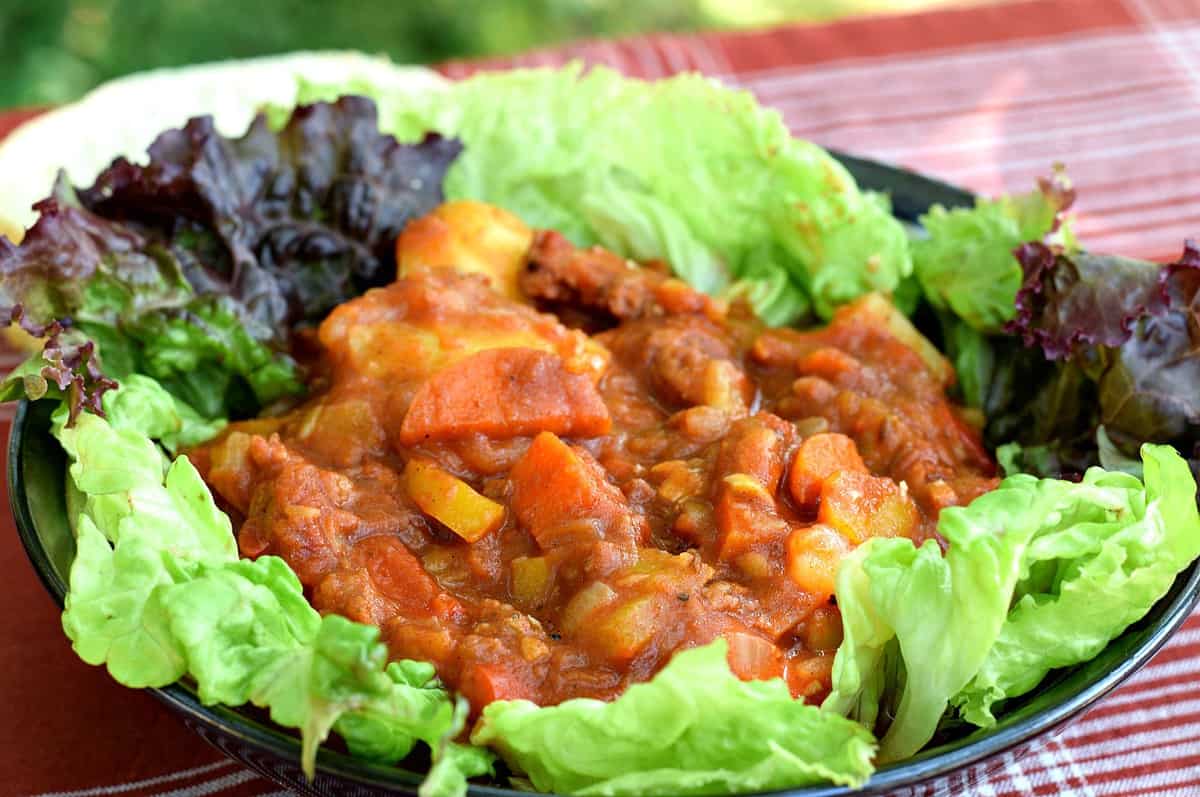 Vegan Hungarian Goulash (Instant Pot) Recipe
By Brand New Vegan
Ingredients
1 1/2 to 2 cups Butler Soy Curls
2 med Yellow Onions (diced)
1 Green Bell Pepper (diced)
1 Red Bell Pepper (diced)
1 Carrot (sliced)
5-6 cloves Garlic (minced)
3-4 med Yukon Gold Potatoes (cubed)
2 cups Vegetable Broth (low sodium)
1/2 cup Water
1/4 cup Red Wine
4 Tbs Hungarian Paprika
1 tsp Caraway Seeds
1/2 tsp Black Pepper
1 Bay Leaf
2 Tbs Tomato Paste
1 can Fire Roasted Tomatoes (15oz)
1/4 tsp Salt
3 Tbs Balsamic Vinegar
2 Tbs Corn Starch Slurry (as needed to thicken)
Instructions
1Add just enough hot water to Soy Curls to rehydrate.  Add 2 Tbs Soy Sauce for flavoring if desired.
2Add diced onions, peppers, and carrot to Instant Pot.  Set heat to SAUTE - LESS mode and soften veggies in 1-2 Tbs Veg Broth or Water.
3Add garlic and stir to incorporate.
4Drain Soy Curls (squeezing out any excess water) and add to IP.  Also add Tomato Paste, Black Pepper, Caraway Seeds, and Paprika.  Stir to mix well.
5Continue heating on SAUTE mode until liquid has evaporated.  Deglaze any stuck bits with the Red Wine and turn OFF the pressure cooker.
6Add Veg Broth, Water, cubed Potatoes, and Tomatoes and stir to mix well.
7Add a bay leaf and attach lid to Instant Pot.  Set to MANUAL MODE, LOW PRESSURE, and 10 Minutes.
8After stew is finished, carefully remove lid and season with salt and Balsamic Vinegar.  Add corn starch slurry as needed to thicken.
View Full Recipe
Top Vegan Recipe Resources
🥑