Recipes

Vegan Greek Salad With Oil-Free Dressing And Tofu Feta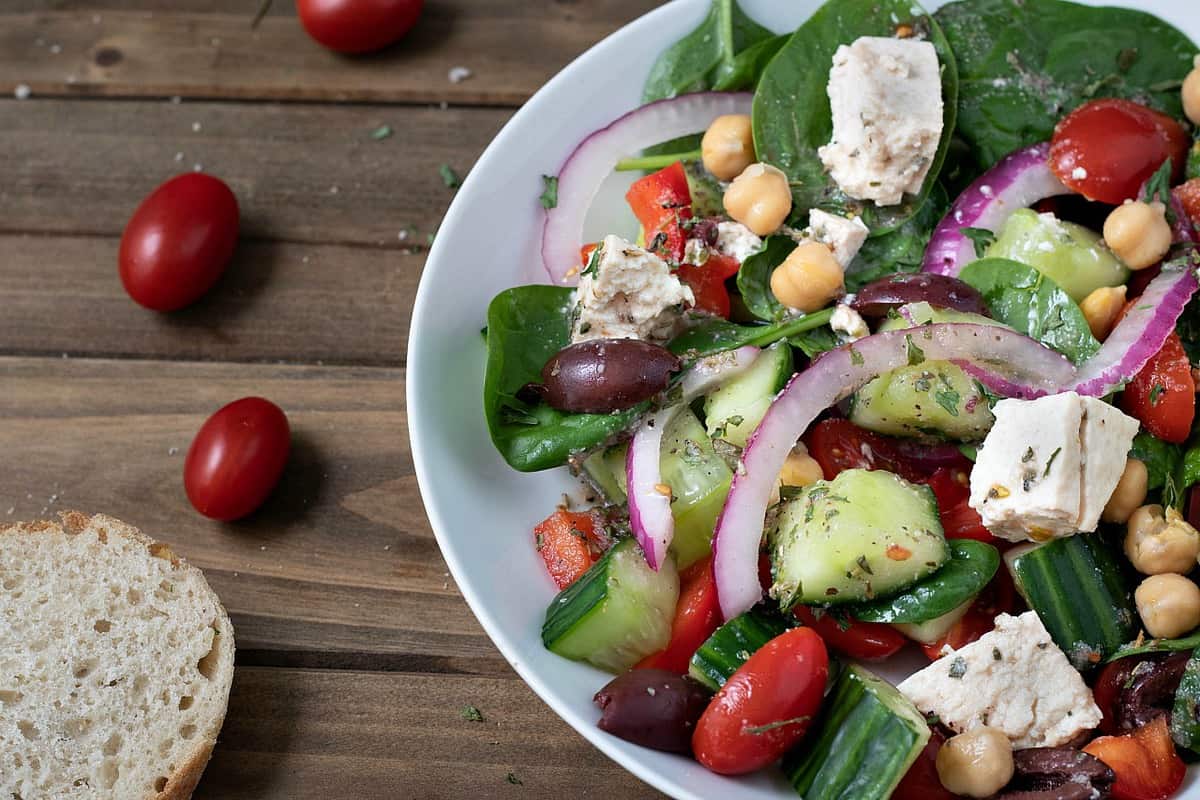 Vegan Greek Salad With Oil-Free Dressing And Tofu Feta Recipe
By Brand New Vegan
Ingredients
12oz extra-firm Tofu
1/4 cup Red Wine Vinegar
2 Tbs Lemon Juice
1 Tbs White Miso
2 Tbs Nutritional Yeast
1 tsp Oregano
1/2 tsp Garlic Powder
1/4 tsp Salt
1/3 cup Red Wine Vinegar
1/4 cup Aquafaba (garbanzo bean juice)
1/2 tsp Dijon Mustard
3/4 tsp dried Basil
3/4 tsp dried Oregano
3/4 tsp Garlic Powder
1/2 tsp Onion Powder
1/4 tsp Salt
1/4 tsp Pepper
1 Tbs chopped Kalamata Olives (optional)
2 English Cucumbers, chopped
1 Red Bell Pepper, chopped
1 pint Cherry Tomatoes, sliced
1/2 small Red Onion, thinly sliced
15oz can drained Chickpeas
Handful fresh Spinach
1/4 cup Kalamata Olives, sliced (optional)
Instructions
1Drain and press Tofu and crumble into bite-sized pieces.
2Mix remaining Feta Ingredients and pour over the crumbled tofu in a shallow bowl. Mix, cover, and refrigerate until needed.
3Drain the juice from a can of Garbanzo Beans and save (we'll need 1/4 cup for the dressing). Save the beans too and we'll add those to the salad.
4Mix all Dressing Ingredients together. Whisk or shake until thoroughly mixed and set aside.
5Chop cucumbers and bell pepper into bite-sized pieces and place in a large salad bowl. Thinly slice the onion, and cut the cherry tomatoes in half and mix into the salad. Add the chickpeas, spinach, and the dressing and toss to coat.
6Add as little or as much feta as desired and garnish with sliced Kalamata Olives, fresh Basil and/or Parsely.
View Full Recipe
Top Vegan Recipe Resources
🥑