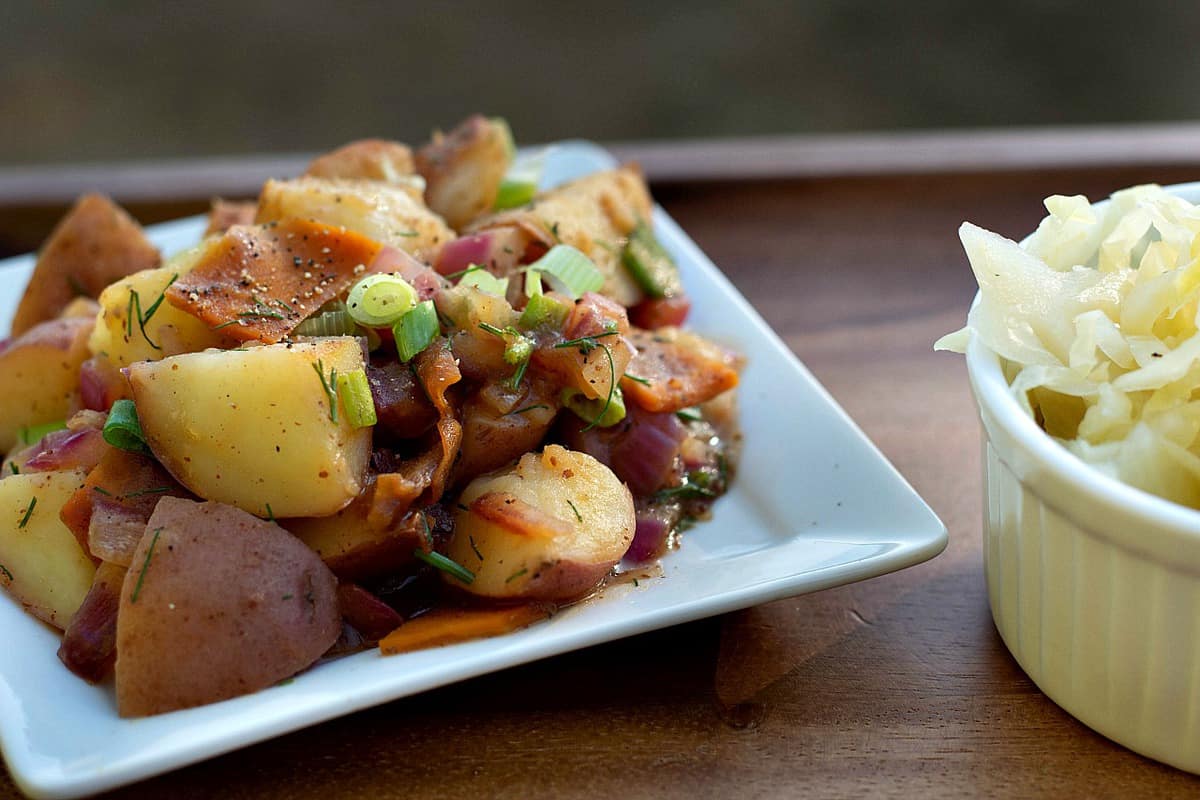 Vegan German Potato Salad Recipe
By Brand New Vegan
Ingredients
24oz Baby Red Potatoes, quartered (about 3 cups)
1/2 large Red Onion, diced (about 1 cup)
Carrot Bacon, at least 5-6 strips (recipe follows)
2–3 Green Onions, chopped
1 Tbs Fresh Dill, finely minced
1 large Carrot, thinly sliced into strips
1/4 cup Soy Sauce, low sodium
1 Tbs Maple Syrup
1 Tbs Molasses
2 tsp Liquid Smoke
1/2 tsp Smoked Paprika
1/4 tsp Garlic Powder
1/8 tsp Black Pepper
1/4 cup Red Wine Vinegar
1 Tbs Maple Syrup
2 tsp Stoneground Mustard
1/2 tsp Salt
1/4 tsp Black Pepper
Instructions
1Whisk marinade together, and cut the carrot into thin strips. Cover the carrot slices with the marinade and set aside for at least 30 min to an hour to soak.
2Wash and chop the potatoes into even sized pieces, about 3/4″ to 1″.
3Stovetop: Place chopped potatoes in pan and cover with 1-2″ of water. Boil until just fork tender. (about 10 minutes)
4IP Instructions: Place trivet in IP bottom and add potatoes and 1 cup water. Cook on MANUAL for 4 minutes and then quickly release the pressure.
5Drain and rinse potatoes with cold water. Set aside.
6Lay carrot slices onto a parchment-lined baking sheet and bake at 400 degrees F for 15 min. Flipping halfway through.
7Saute onion in either a few tbs of water, veg broth, or leftover marinade until softened. Once carrots are done, chop and add to onions. Stir and simmer on low heat for about 1 minute.
8Fold in potatoes and stir gently to mix.
9Remove from heat, whisk together the dressing, and add to potatoes along with green onions and dill.
10Mix gently and serve warm.
11Season with salt and pepper if needed.
View Full Recipe
Top Vegan Recipe Resources
🥑