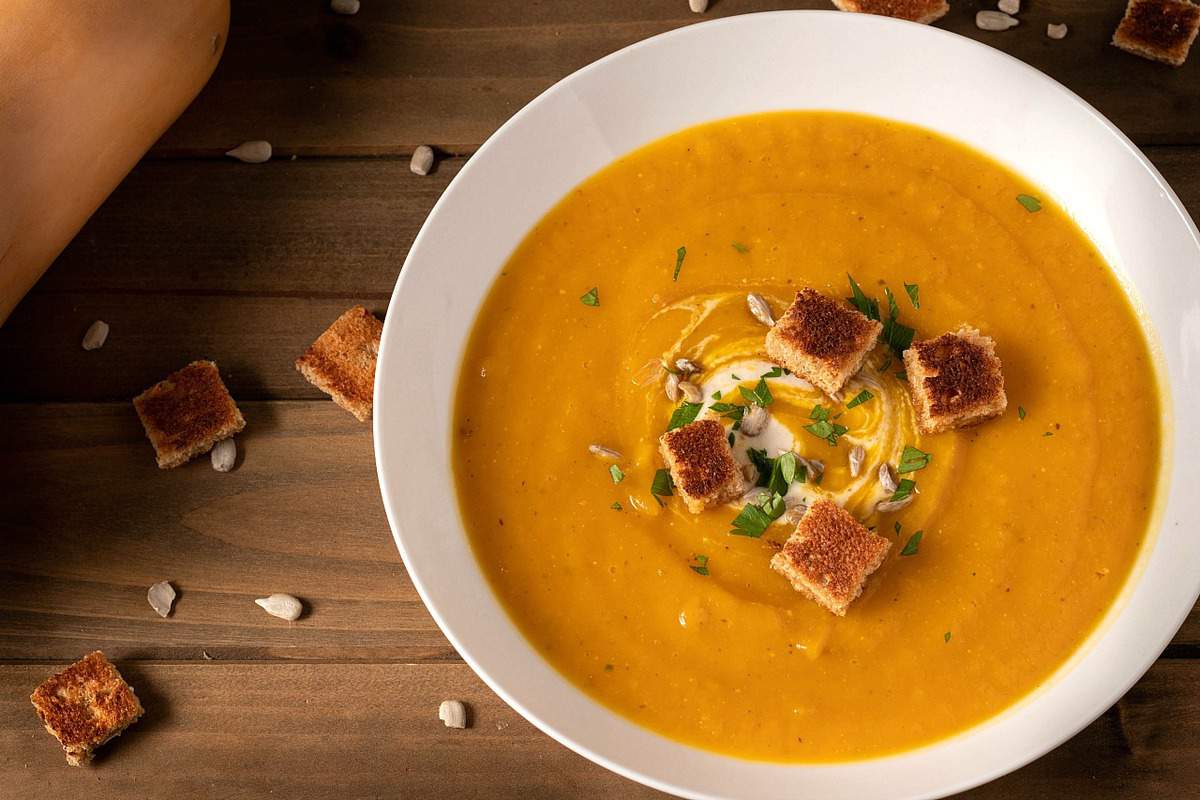 Vegan Butternut Soup Recipe
By Brand New Vegan
🔪Prep Time: 60 min
👩‍🍳Cook Time: 30 min
Ingredients
1 large onion
2 carrots
5–6 cloves garlic
1 butternut squash (3.5 lbs)
4 cups low sodium vegetable broth
2 cups of water
1 Tbs maple syrup
1/2 tsp salt
1/2 tsp italian seasoning
1/2 tsp rubbed sage
2 Tbs Apple Cider Vinegar
Instructions
1Preheat oven to 400° F.
2Peel onion and cut into quarters. Peel garlic cloves. Clean carrots and cut into 3-4 pieces and arrange all veggies on a parchment lined baking sheet.
3Carefully cut squash lengthwise into 2 equal pieces, and remove seeds & pulp. Arrange squash, cut-side UP, next to veggies, sprinkle a little salt, and roast for 1 hour.
4Allow squash to cool enough to safely handle.
5Scoop out the cooked squash, (discarding the skin) into a large soup pan or dutch oven and add the other roasted veggies.
6Add veg broth, water, maple syrup, salt, italian seasoning, and sage and bring to a boil.
7Reduce heat to a steady simmer and cook for 30-45 min.
8Blend until smooth.
9Add apple cider vinegar and salt to taste
10Serve with your favorite garnish like roasted pumpkin seeds, cashew cream, parsley, chives, etc.
View Full Recipe
Top Vegan Recipe Resources
🥑