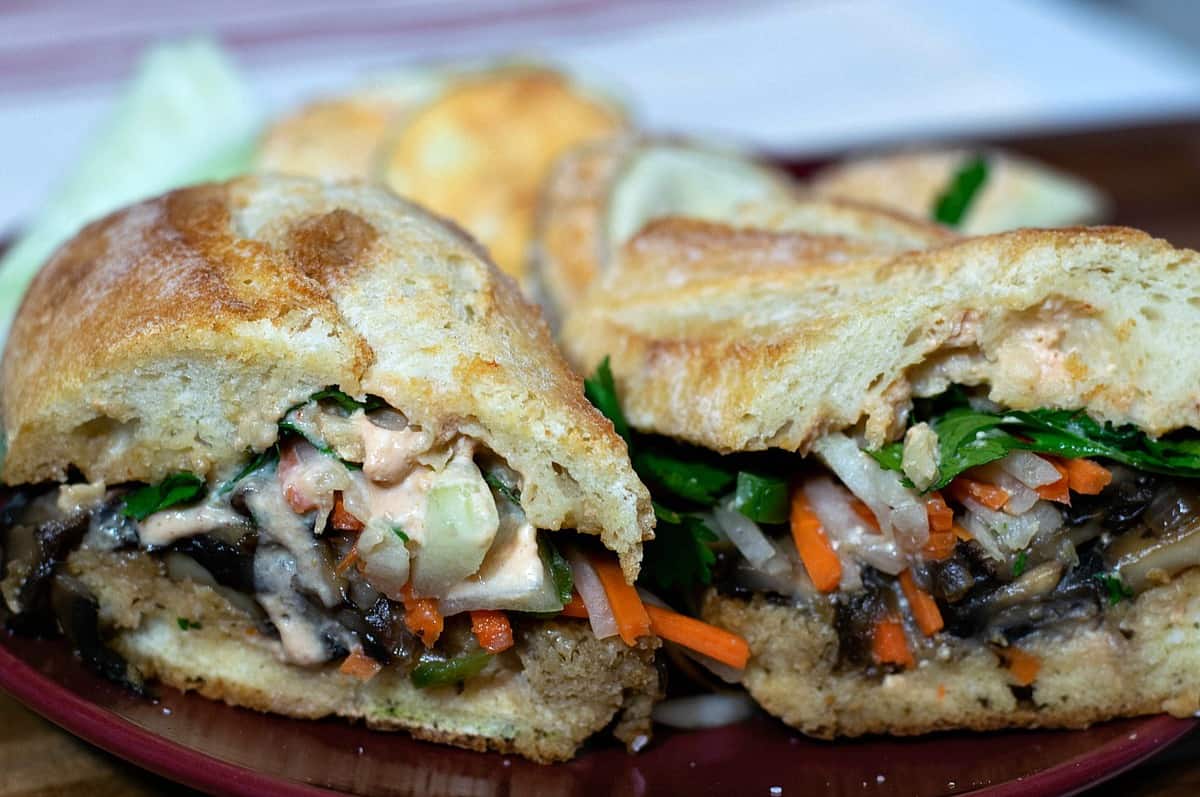 Vegan Banh Mi Sandwich Recipe
By Brand New Vegan
🔪Prep Time: 40 min
👩‍🍳Cook Time: 20 min
Ingredients
1 cup shredded Carrot
1 cup shredded Daikon Radish (or Jicama)
2/3 cup Rice Vinegar (or Apple Cider Vinegar)
1/3 cup Hot Water
6–8 oz Silken Tofu
1 Tbs Lemon Juice
1 Tbs Sriracha (or to taste)
2 tsp Hoisin Sauce
1 tsp Apple Cider Vinegar
1 clove Garlic, crushed
1/4 tsp Salt
Two 6" French Baguettes
16oz Portobello Mushrooms
1/4 cup Onions, sliced
Marinade 1/4 cup Low Sodium Soy Sauce 2 Tbs Maple Syrup 1/2 tsp Liquid Smoke
1/4 cup Low Sodium Soy Sauce
2 Tbs Maple Syrup
1/2 tsp Liquid Smoke
Sliced Cucumber (optional)
Freshly Sliced Jalapenos (optional)
Fresh Cilantro (optional)
Instructions
1Peel carrots and daikon
2Carefully shred or julienne about 1 cup each of the carrot and daikon
3Place veggies in a glass bowl and add vinegar and water.
4Stir occasionally and set aside.
5Drain before using.
6Place all of the sauce ingredients into a blender
7Adjust Sriracha to your own taste preference
8Blend until smooth, scraping down sides as necessary
9Slice onion and gently saute in 1-2 Tbs water until softened
10Clean the mushrooms and remove the stems.
11Slice the Portobellos thinly and add to pan
12Gently saute until softened and they begin to release their own liquid
13Add marinade and stir well
14Simmer until most of the liquid has cooked off and evaporated
15Although not necessary, I recommend toasting the baguettes
16Slice each baguette lengthwise and slather with the remoulade
17Toast 5 min at 350 degrees F
18Pile high with generous amounts of mushrooms, drained slaw, and garnishments
View Full Recipe
Top Vegan Recipe Resources
🥑