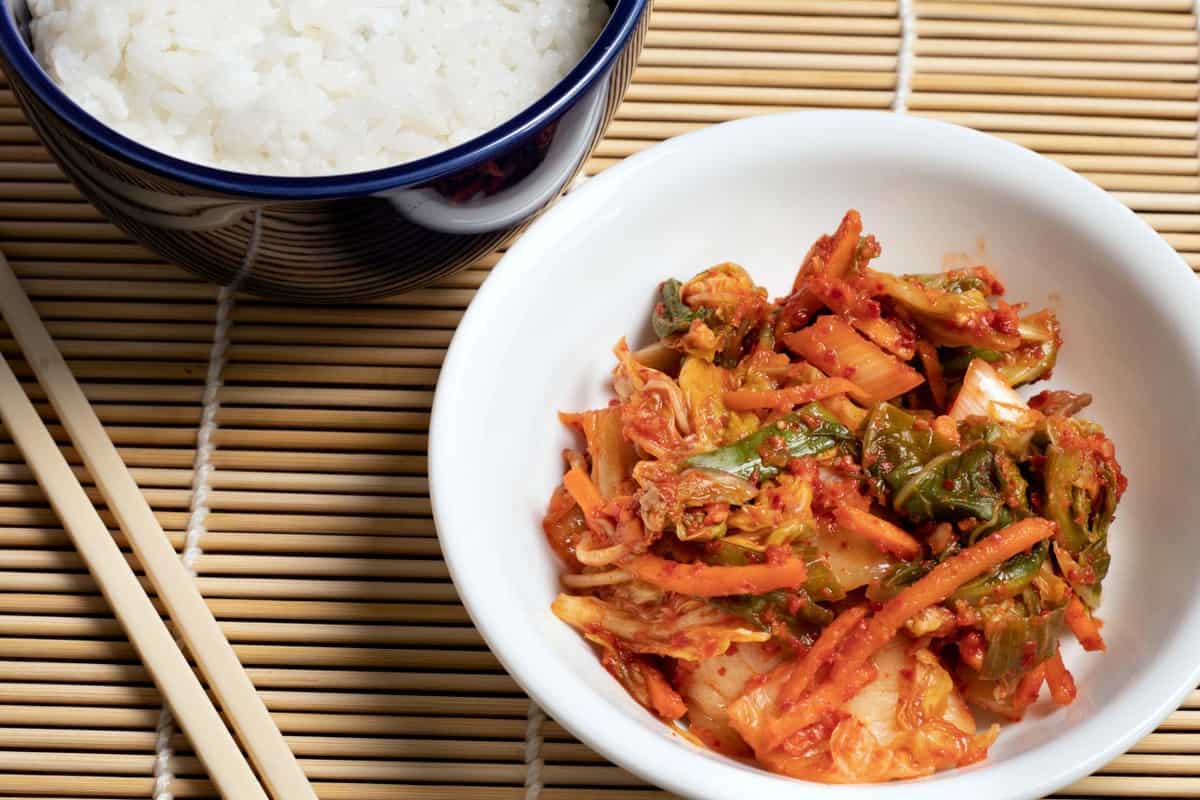 Spicy Vegan Kimchi Recipe
By Brand New Vegan
Ingredients
1 large head napa cabbage
1 cup water
6 Tbs salt
1 bunch green onions
2 cups shredded carrot
1 cup water
1 palm-sized piece of kombu
4–5 baby bella mushrooms
2 Tbs rice flour
1 Tbs arrowroot or cornstarch (if needed)
1 Tbs maple syrup
1/2 white onion
6 cloves garlic
1 Tbs miced ginger
1/4 cup low sodium soy sauce
1/2 cup gochugaru korean chile flakes
Instructions
1Wash cabbage, cut into quarters lengthwise, then bite-sized pieces, and add to a very large bowl
2Add 1 cup of water and 6 Tbs salt and mix thoroughly
3Set aside and stir/massage ever 30 min for 2 hrs
4Chop green onions, and mix with carrots in a separate bowl – set aside
5Add kombu and sliced mushrooms to another cup of water – bring to boil
6Remove kombu & mushrooms and add rice flour – whisk to thicken.
7If porridge does not thicken, add arrowroot or cornstarch
8Set aside to cool.
9Mince onion, garlic, & ginger in food processor
10Add to cooled rice porridge along with maple syrup and soy sauce
11Stir in chile and mix thoroughly
12Drain cabbage and rinse thoroughly – at least 4 times
13Let drain completely at least 30 min
14Thoroughly mix cabbage, veggies, and sauce.
15Lightly pack into canning jars, covered loosely
16Let ferment on counter 3-5 days then store in fridge.
View Full Recipe
Top Vegan Recipe Resources
🥑