Recipes

Pizza Muffins – Perfect Party Pleasers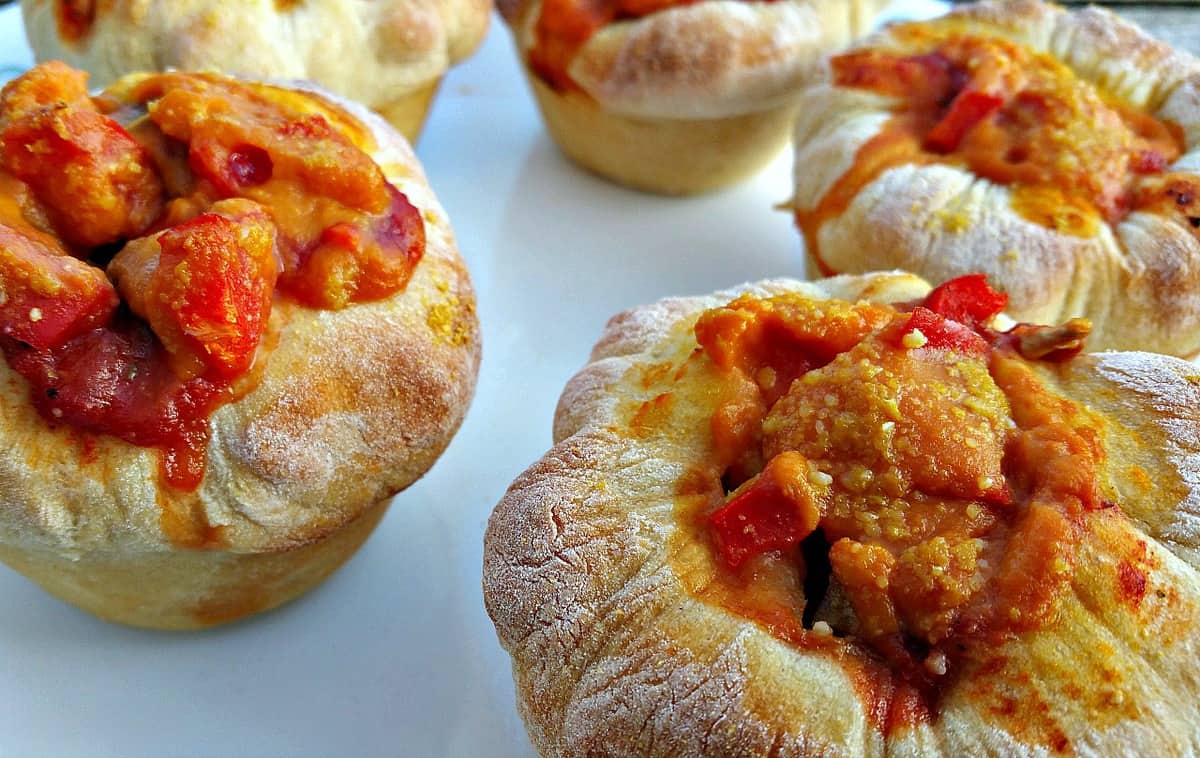 Pizza Muffins – Perfect Party Pleasers Recipe
By Brand New Vegan
Ingredients
1 cup warm water
1 Tbs sugar
2 1/4 tsp Active Dry Yeast
3/4 tsp Salt
1/2 tsp Garlic Powder
1/2 tsp Italian Seasoning
1 1/2 cups Bread Flour
1 cup White Whole Wheat Flour
Marinara Sauce (see link below)
or Homemade Pizza Sauce (see link below)
Pizza Veggies your choice
Amazing Vegan Cheese Sauce (see link below)
Instructions
1Add sugar and yeast to warm water and stir well.
2Allow to proof for 10 minutes.
3Add salt and other seasonings and mix.
4Add flour and mix well using the dough hook attachment of a stand mixer.
5Allow the mixer to knead the dough until it forms a ball and pulls away from the sides of the bowl.
6Cover and let rise in a warm place for 60 minutes.
7Prepare sauce by mixing all sauce ingredients and stirring well.Recipe link to Marinara SauceRecipe Link to Pizza Sauce
8Chop veggies finely and place in bowls to have ready for assembly.
9Once dough is risen, separate into 8 individual dough balls.
10Flatten each ball, using extra flour as necessary to prevent sticking
11Drape 8 muffin cups with flattened dough balls forming cups.
12Spoon 1 Tbs of sauce into each cup
13Top with veggies of choice
14Top with a spoonful of cheese sauce (optional)Link to Cheese Sauce Recipe
15Bring outside edges of dough up and over top to enclose
16Bake in 500 degree F oven for 10 minutes
View Full Recipe
Top Vegan Recipe Resources
🥑