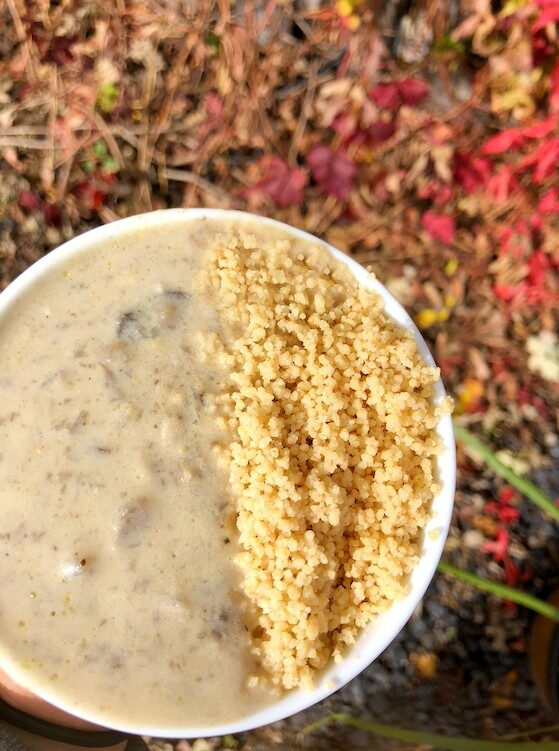 Healthy Mushroom Soup Recipe Recipe
By Peanut Palate
🔪Prep Time: 10 mins
👩‍🍳Cook Time: 25 mins
Ingredients
2 tbsp avocado oil
1 medium yellow onion diced
2 cloves garlic minced
3 cups white button mushrooms sliced
⅛ tsp italian seasoning mix
1 tbsp white wine vinegar
1½ tbsp cornstarch
½ tsp pink salt
¼ tsp black pepper
2 cups vegetable broth use hot water for the broth
¼ bouillon veggie cube only the dry cube, not the water needed to make it into broth
1 cup cashew milk
Instructions
1In a saucepan over medium heat, add the oil. Once it's hot enough, add in the garlic and onion.
2Sautee these together until the onions are becoming tender – for about 2 minutes.
3Add in the rest of the ingredients, EXCEPT the cashew milk, veggie broth and cornstarch.
4Allow the mushrooms to sautee in the spices for a few minutes. I would give this maybe 4-5 minutes.
5In a separate small bowl, whisk the cornstarch into the veggie broth so it doesn't cause clumps in the soup.
6Whisk the cashew milk and the broth + cornstarch mixture into the soup.
7Whisk to incorporate all ingredients, and turn the heat to medium-high to allow it to come to a boil.
8Once it boils, keep stirring it and reduce the heat to low, to let it simmer for about 15-20 minutes. The soup will thicken a lot! Stir it every couple minutes (I would say every 2 minutes).
9Once the soup is thickened, flavor it with any other seasonings to taste, and turn off the heat. Enjoy hot! See storage details below.
View Full Recipe
Top Vegan Recipe Resources
🥑