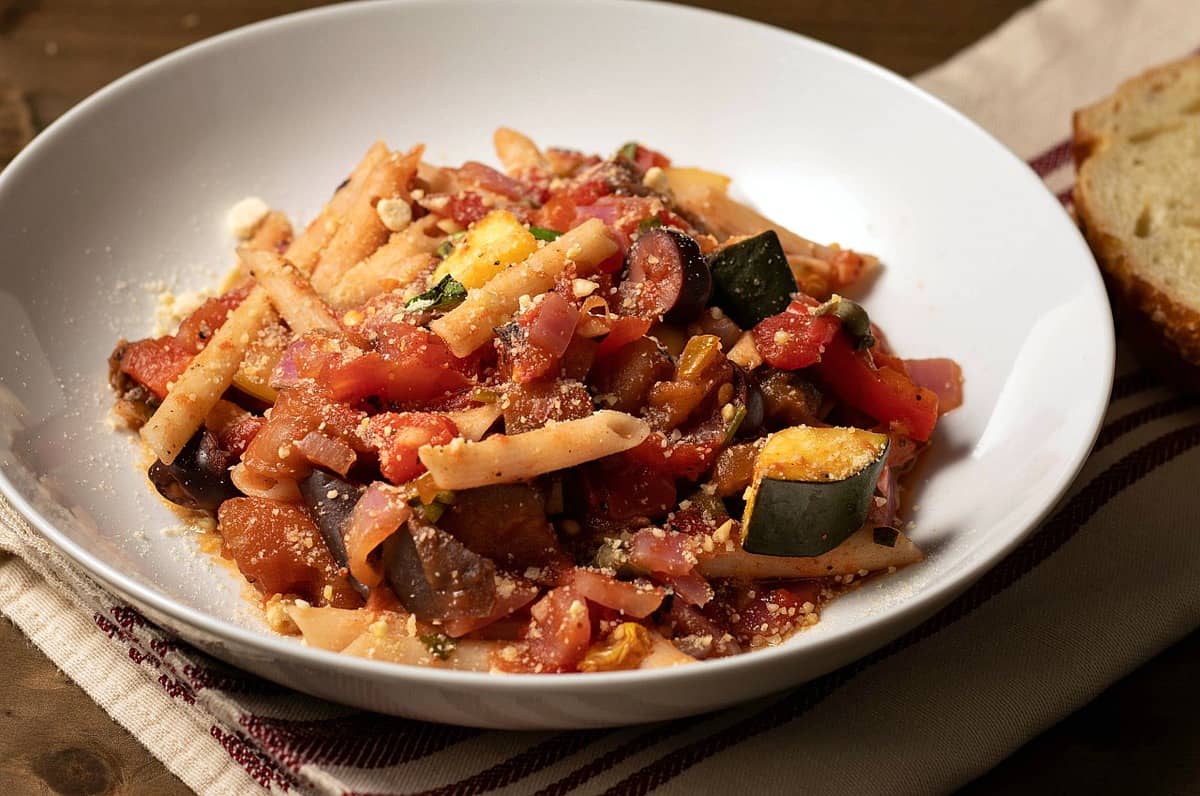 Oil-Free Caponata Pasta Recipe
By Brand New Vegan
🔪Prep Time: 30 min
👩‍🍳Cook Time: 30 min
Ingredients
1 med eggplant, cut into 1" cubes
1 med red onion, diced
1 med zucchini, cubed
1 rib celery, chopped
1 red bell pepper, diced
2 cloves garlic, minced
2 cans diced tomatoes (14 oz)
1/4 cup red wine vinegar
1/2 tsp oregano
1/4 cup golden raisins
1/4 cup kalamata olives, chopped
1 Tbs capers
salt, pepper
fresh parsley & basil to taste (maybe 1/4 cup each) and for garnish
2 cups of your favorite pasta
Instructions
1Cut your eggplant into 1″ rounds and then into evenly sized cubes. Roast them in a dry pan until slightly browned. Remove and set aside.
2In a saucepan, saute a diced red onion until softened, then add in the celery, zucchini, and bell pepper. Cook over low heat until softened, then stir in the minced garlic.
3Add the tomatoes and vinegar and stir until everything is mixed well. Season with oregano.
4Add the eggplant back in and mix.
5Stir in the raisins, olives, and capers.
6Season to taste and add fresh basil and parsley to taste.
7Prepare pasta and when it's almost done, add it to the sauce along with a ladle of the pasta water to thin if needed.
8Garnish with parely and/or basil and serve with a side salad or a nice hunk of crispy bread.
View Full Recipe
Top Vegan Recipe Resources
🥑